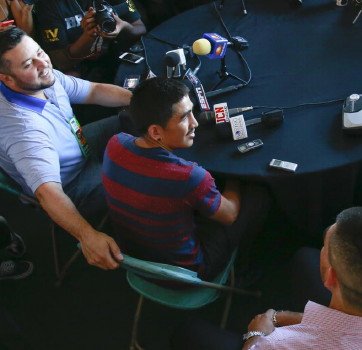 WBC super bantamweight champion Leo Santa Cruz (27-0-1, 15 KOs) is talking about wanting to fight WBA/WBO 122 pound champion Guillermo Rigondeaux (14-0, 9 KOs) in the near future in a unification match.
Rigondeaux has been taunting Santa Cruz and giving him grief on twitter by saying that he's terrified about wanting to get in the ring and face him. Santana says he wants to show Rigondeaux how unafraid he is by facing him. Needless to say, this is a very tough match-up for Santa Cruz, because Rigondeaux is the best fighter in the super bantamweight division by far.
"Guillermo (Rigondeaux). He's the one who's been calling me out saying that I'm scared," Santa Cruz said. "I want to prove that I'm not scared. I know it's a hard fight for me, but we don't care. I want to give the fans what they want. I want to please them and if they're happy, I'm happy."
Since Santa Cruz doesn't make his fights, I wouldn't be surprised if we never see a Rigondeaux-Santa Cruz fight unless Santa Cruz pushes Golden Boy Promotions to make the fight happen.
To be sure, Santa Cruz is a good fighter with excellent power, a great chin and an aggressive fighting style that makes him fan-friendly. But with that said, I believe he's nothing more than Joseph Agbeko 2.0 for Rigondeaux.
Santa Cruz would likely wind up being clowned by Rigondeaux in the process of losing to him. The loss for Santa Cruz would be as bad as Nonito Donaire's defeat to Rigondeaux. I'm sure Golden Boy would be able to resurrect Santa Cruz's career afterwards, but it'll take a while before that happens.
Santa Cruz will be in action on the September 13th Floyd Mayweather Jr vs. Marcos Maidana 2 card at the MGM Grand in Las Vegas, Nevada. Santa Cruz will be fighting #13 WBC bantamweight contender Manuel Roman (17-2-3, 6 KOs) in the co-feature bout on that card. Surprisingly, Santa Cruz, Golden Boy and Showtime haven't gotten much criticism about the Santa Cruz-Roman fight, because it shapes up to be just as much of a mismatch as the Rod Salka vs. Danny Garcia fight.
Like Salka, Roman fights in a division below his opponent and he has little power to speak of. We're talking about a huge mismatch here. The only thing that's good about the Santa Cruz vs. Roman fight is that it's taking place in the co-feature bout instead of in the main event like we saw with the Garcia-Salka fight.