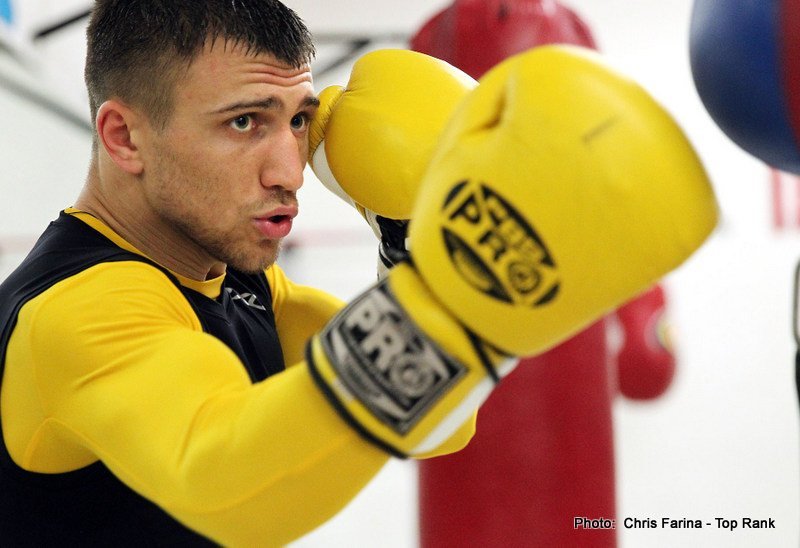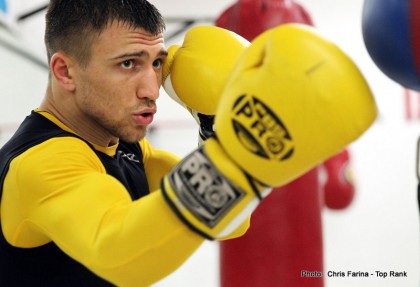 HBO Boxing lights up Broadway on the eve of New York's Puerto Rican Day Parade when HBO BOXING AFTER DARK: ROCKY MARTINEZ VS. VASYL LOMACHENKO AND FELIX VERDEJO VS. JUAN JOSE MARTINEZ is seen SATURDAY, JUNE 11 at 10:00 p.m. (live ET/tape-delayed PT) from The Theater at Madison Square Garden, exclusively on HBO. The HBO Sports team will be ringside for the event, which will be available in HDTV, closed-captioned for the hearing-impaired and presented in Spanish on HBO Latino.
Other HBO playdates: June 12 (11:30 a.m.) and 13 (10:30 p.m.)
HBO2 playdates: June 12 (3:30 p.m.) and 14 (11:35 p.m.)
The doubleheader will also be available on HBO NOW, HBO GO and HBO On Demand.
The 12-round main event is a spectacular junior lightweight showdown featuring titleholder Rocky Martinez (29-2-3, 17 KOs) in the second defense of his crown versus the heralded Vasyl Lomachenko (5-1, 3 KOs). Hailing from Vega Baja, Puerto Rico, Martinez, 33, is ring-tested and willing to meet any challenge. Lomachenko, 28, had a brilliant amateur career, winning two gold medals as a member of the Ukrainian Olympic team. Since turning pro, he has battled elite competition, capturing a featherweight world title.
The opening bout pits fan favorite Felix Verdejo (21-0, 14 KOs) against Juan Jose Martinez (25-2, 17 KOs) in a ten-round lightweight showdown. The gem of Puerto Rico's thriving boxing program, Verdejo, 22, calls San Juan home and is a fixture on the New York boxing scene. Martinez, 29, who hails from Mexico City, is riding a six-bout winning streak in the 135-pound division.
Launched 20 years ago, HBO BOXING AFTER DARK was the network's initial platform for a host of exciting talents, including Floyd Mayweather, Arturo Gatti, Marco Antonio Barrera, Fernando Vargas, Terence Crawford, Felix Verdejo, Canelo Alvarez and Gennady Golovkin.
The weekend is packed with boxing events: Sunday, June 12 the International Boxing Hall of Fame will induct a new class of members. Included is HBO unofficial scorer Harold Lederman, who joined the network in 1986. He also served for 44 years as an accomplished boxing judge.
Follow HBO boxing news at hbo.com/boxing, on Facebook at facebook.com/hboboxing and on Twitter at twitter.com/hboboxing.
All HBO boxing events are presented in HDTV. HBO viewers must have access to the HBO HDTV channel to watch HBO programming in high definition.
The executive producer of HBO BOXING AFTER DARK is Rick Bernstein; producer, Thomas Odelfelt director, Johnathan Evans.
###
Three-time junior lightweight world champion Roman "Rocky" Martinez will travel to New York on Tuesday, June 7, to complete his training for his defense against the WBO featherweight champion Vasyl Lomachenko, to be held on Saturday, June 11, at The Theater at Madison Square Garden in New York televised on HBO.
Martinez (29-2-3, 17 KOs), from Vega Baja, Puerto Rico, will defend his WBO belt for the second time versus Lomachenko (5-1, 3 KOs), a two-time Olympic gold medalist and two-time Amateur World Championships gold medalist. Martinez travels to New York with his team led by his trainer Raul "Papo" Torres and Peter Rivera, Vice-President of PR Best Boxing Promotions (PRBBP).
In 2015, Martinez fought two times against Mexican Orlando "Siri" Salido. The first time, Martinez won an unanimous decision over Salido to become world champion again, while in the second fight the result was a draw.
Lomachenko had two fights in 2015 too. In May, 2015, beat Puerto Rican Gamalier Rodriguez by KO9, and in November beat Mexican Romulo Koasicha by TKO10.