Rodriguez, Russell, and Maestre Won Big Over the Weekend. Here Are 3 Things We Know After Watching the Rodriguez vs. Lopez Card – Cruz, Marshall, Navarrete, Valdez, Santiago, Photos, More!
By Paul R. Jones!  Here are my top 3 takeaways from Saturday's SHOWTIME CHAMPIONSHIP BOXING®: Rodriguez vs. Lopez fight card at the MGM National Harbor in Maryland:
1. Emmanuel Rodriguez Triumphed over Melvin Lopez. But at what cost?
Emmanuel Rodriguez (22-2, 13 KOs) claimed the IBF Bantamweight World Championship for the second time in his career after a five-year gap. But, despite scoring big by knocking Melvin Lopez (29-2, 19 KOs) down three times in the final round, and pitching a shutout on the scorecards, this was an off night for 'Manny' from statistical and practical standpoints.
For instance, Rodriguez threw 389 punches over 12 rounds (SHOSTATS), averaging about 32 punches per round. Meanwhile, on a dueling ESPN telecast, Emanuel Navarrete threw over 1,000 punches against Óscar Valdez (COMPUBOX) in a Fight of the Year candidate.
And, while Rodriguez's efficiency was admirable (landing 44% of his punches) and he closed the show in style, the Puerto Rico native appeared unwilling to take risks. In fact, both fighters seemed stuck in neutral for a good chunk of the fight.
Plus, boos from the crowd during the championship rounds didn't help.
Of course, it takes two to tango, and the lack of sustained action could be partially due to Rodriguez's badly swollen eye.
More important, however, is that this kind of performance from Rodriguez is unlikely to get it done against the other Bantamweight champs, including Takuma Inoue (18-1, 4 KOs) and Alexandro Santiago (28-3-5, 14 KOs).
On the bright side, Rodriguez became the 4th current world champ from Puerto Rico. He also made it clear that his highest priority is a unification bout with Santiago, which is a win for boxing if it happens. Nevertheless, Rodriguez will have some brand rebuilding to do among fight fans, who, as former World Champ Abner Mares and SHOWTIME Analyst put it, ". . . were left wanting more."
2. You Should Be Pretty Bullish on Gary Antuanne Russell
Gary Antuanne Russell (17-0, 17 KOs) put the super lightweight division on notice, laying waste to former undefeated prospect, Kent Cruz (16-1-3, 10 KOs), in a single round.
It wasn't just the win; it was the way that Russell carved up Cruz's midsection that made jaws drop. Russell's body-snatching strategy paid off big time, showing that targeting the body can be a knockout punch in itself, giving credence to the old boxing adage, "kill the body and the head will die." It was the kind of sustained body attack that lets future opponents know, if they decide to skip abs/core days in the gym, they'll do so at their own peril versus Russell, especially if his foes plan on going the distance with him.
Simply put, despite flying under the radar of most boxing pundits and casuals, Russell passes the eye test, checking all the boxes for a fighter on the verge of breaking out. Fortunately, after his commanding performance against Cruz, and with steady guidance from former World Champ, Gary Russell Jr. (31-2, 18 KOs), Gary Antuanne Russell's talent is now out in the open.
3. Maestre was too much, too soon for Marshall
In the upset of the night, Gabriel Maestre (6-0-1, 5 KOs) showed young prospect Travon Marshall (8-1, 7 KOs) that experience matters. Despite Marshall being the favorite, Maestre proved to be too much, too soon for the self-proclaimed 'Sniper'.
The 36-year-old Maestre displayed his craftiness, scoring a pair of knockdowns that ultimately delivered a knockout in the second round. It's a lesson for everyone: jumping into the ring with a seasoned fighter is like diving into deep waters without learning to swim.
Marshall's lack of a Plan B cost him, and Maestre's years of boxing wisdom and experience made it look easy.
Maestre's win was also wake-up call for young fighters. Sometimes, experience is your best weapon.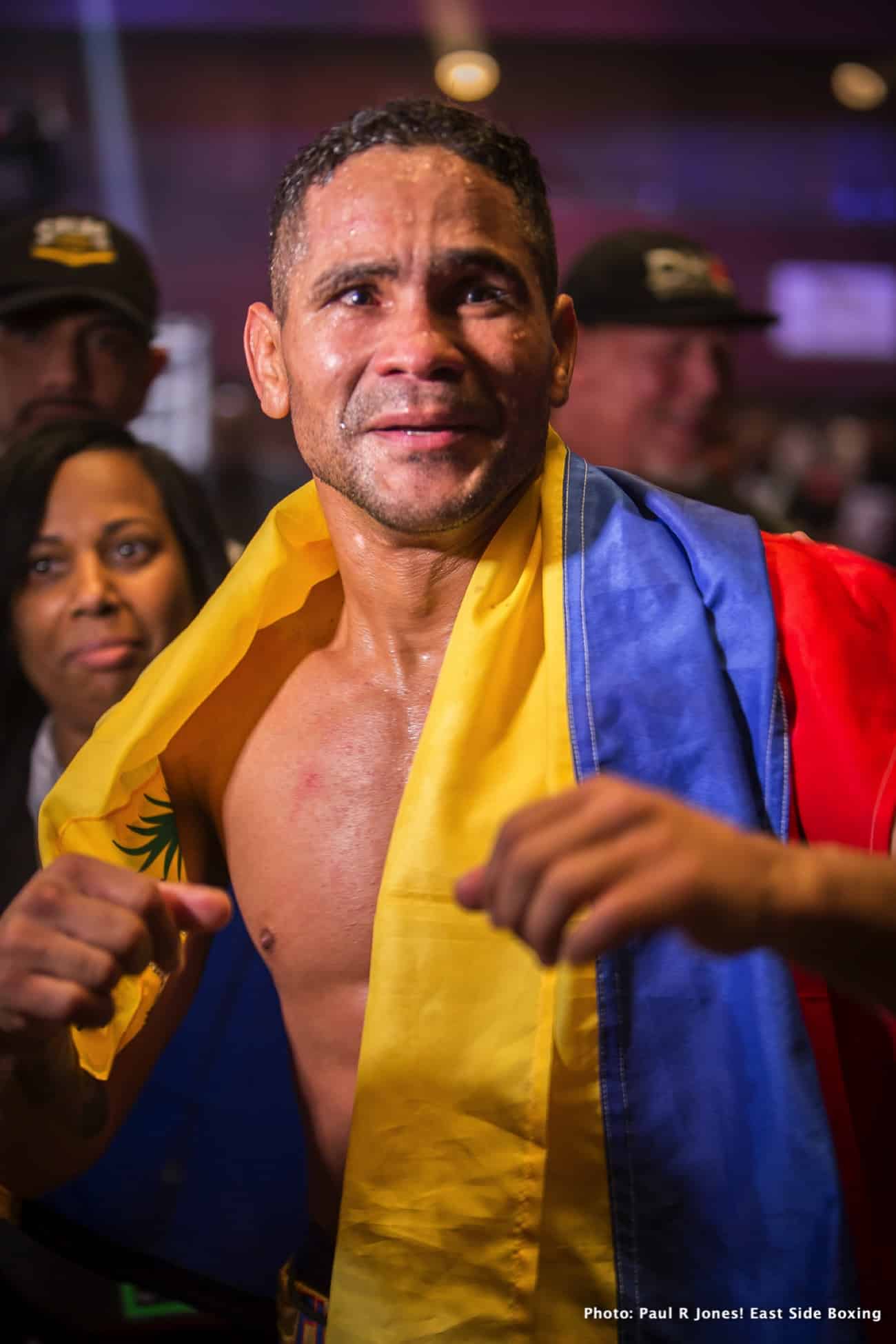 Help Spread the Word!
Please share this article on Twitter and Instagram, it would mean a lot to us.
About the Author: 
Paul R. Jones! is a longtime writer and ringside photographer for EAST SIDE BOXING. His articles, photographs, and commentary have appeared in Boxing News 24, Round by Round Boxing, Boxing Insider, Medium.com, and more.
Follow me on Twitter and Instagram @boxingepicenter. Email me or send me a secure tip at prjones1@hotmail.com.
More Great Articles from Paul R. Jones!
3 Things to Look for on SHOWTIME's Rodriguez vs. Lopez Fight Card Tonight
Boxing's Best Of 2022: East Side Boxing Hands Out Its Annual Awards!
2021's Best Fighters, Fights, And Knockouts: East Side Boxing Hands Out Its 2021 Awards!
Which Fighters, Fights, And Knockouts Were Truly the Best Of 2020? East Side Boxing Hands Out Its 2020 Awards!
The "ESBYS": Handing Out East Side Boxing's 2019 AWARDS – Winners and Nominees!
EAST SIDE BOXING's 2018 AWARDS: Complete List of Winners, Nominees, More!