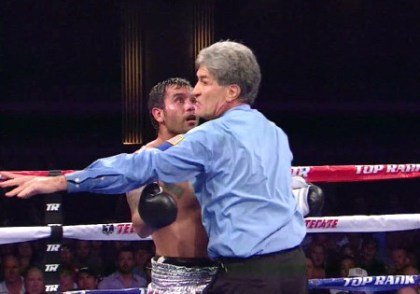 It seems no one at the Cosmopolitan of Las Vegas, NV was happy with the way the fight between Brandon "Bam Bam" Rios and Diego Gabriel Chaves ended. It was a close, rugged battle that fans undoubtedly were enjoying. They certainly didn't want it to end so abruptly at the hands of referee Vic Drakulich. Diego clearly didn't want it to end with him on the losing end. He felt he was winning the fight, and that it was snatched away from him. Even Rios expressed dissatisfaction with the way things ended, but he felt Diego deserved to be penalized.
The fight was a war. Most people thought that it would evolve into a war, but it wasn't expected to start that way. Diego controlled that surprise. He came out throwing power jabs and hard overhand rights. Would he run out of steam? Rios seemed to be caught off guard initially, but by the second round he already had Diego backing up. He got in close and started throwing punishing shots to the body. Diego was hit with his first penalty point in the third round, apparently for excessive holding.
The pattern seemed to be when Chaves stayed outside, he was able to control things and avoid most of Rios' big shots. On the other hand, when Rios was able to get in close, he seemed to hold an edge. Ref Drakulich must have wanted to even things up, when he penalized Rios one point for throwing Diego down. Drakulich also could be heard telling Diego not to overact. It was in english though, and Diego probably didn't understand it.
Diego did more than just overact. He threw several hitches in the flow of things. He obviously didn't want Rios to work him over in close, so he would grab both of Rios' elbows and pull him into a clinch. As a result, Rios would place his head on Chaves' chest. That's when Chaves would deliberately overreact by raising his chin up high in hopes that referee Drakulich would think he was getting head butted. When the ref wouldn't buy into it, twice Chaves moved his head down and around, bouncing the top of his head off the side of Rios' face! Then he would resume the old position, with chin up high.
One of the major fouls, at least according to Rios, was when in clinches, Chaves would heel, or rub the tape on the wrist area of the gloves into Rios' face. Rios felt Chaves was thumbing him, or rubbing the glove into a small cut over his left eye. In the six round, both fighters exchanged words. Ref Drakulich stopped the action and warned them both that one or both were in danger of a DQ. Diego probably won the round on two or three big right hands that landed.
The commentary by HBO's Jim Lampley, Andre Ward and Harold Lederman was unfavorable for referee Vic Drakulich. None of the three felt there was sufficient warning given to Chaves to warrant a DQ. If the fight had been allowed to continue, it's likely Chaves would have won on points, so the DQ left a sour taste in everyone's mouth. The three judges all had the same score 75-74, with two for Chaves and one for Rios. In the post fight interviews, Rios listed the transgressions he felt were committed. When Jim Lampley asked if he felt he was back? Rios answered no, explaining he wasn't as sharp as he wants to be. He planned to go right back to the gym and continue to hone things to a finer edge.
When Jim asked Chaves about the DQ, and whether he wanted to come back to America since he now lost to Keith Thurman and now the DQ. Chaves eagerly said yes. He wants to fight Rios again, adding it could "here in Vegas or in Rios' backyard." That sounded a little like something Rios usually says. A rematch is definitely in order. Obviously, there not much chance Drakulich will be the ref, but whoever is chosen, that referee would be wise to go into great detail prior to the fight concerning what will not be tolerated.
In the co-feature at the Revel Resort, Atlantic City, NJ Serqey Kovalev knocked Caparello down three times and out in the 2nd round 1:47 sec. There was one minor scare in the first round when the southpaw Caparello stepped on Kovalev's left foot, and at the same time he landed a straight left. Kovalev was off balance, so he stumbled backwards touching his gloves to the canvas. Referee Sparkle Lee correctly called a knockdown and administered the count. Kovalev was not hurt at all by the punch.
In the second round, Kovalev kept on closing the distance. When he had the range he wanted, he let go with a straight right to the body. It used to be called taking "one in the bread basket!". Caparello didn't like it one bit, as he sunk to the canvas for his first time in the fight. Soon thereafter Kovalev put him down again with a right to the head. The third and final time came when Kovalev bounced several shots off of Caparello's bald noggin. Sparkle signaled that's all she wrote.
This Atlantic City venue was being covered by HBO's Max Kellerman and Roy Jones, Jr. It was interesting to note that Kovalev's trainer, John David Jackson, told Roy that Kovalev had some abilities that couldn't be taught. They were just gifts. Roy added that if it couldn't be taught, then it couldn't be prepared for either.
That kind of talk doesn't scare the "Alien". Bernard Hopkins joined the interview, and immediately took over. Of course it was easy because of the language barrier. Kovalev had to bend an ear toward his translator while Bernard let go with his patented act. When he was done, he sauntered off, telling Max he should know better than that? It didn't appear Max knew what he was talking about, so he turned to Sergey and asked, "How he would deal with Hopkins? Serqey wisely said he would become the Alien. Cool, it should be some kind of "out of this world" fight.
The first fight of the night was also at the Cosmopolitan in Vegas. It pitted hometown boy Jessie Vargas against Russian Anton "The Pick Hammer" Novikov. Both men were undefeated. As the close fight progressed Jim Lampley pressed Compu Box numbers, which often were in favor of the southpaw Novikov. However, it was clear Vargas was landed the harder, cleaner shots. All you had to do was look at Novikov's swollen face to know that.
More importantly, Novikov was visibly hurt on at least three occasions. Vargas was never visibly hurt; although, Andre Ward thought some of Novikov's body punches hurt Vargas. Andre felt Vargas was just better at concealing the effects of the punches.
He was so good at it that he convinced all three judges (each from Vegas) that he won the fight in lopsided fashion. Good old Harold called the scores preposterous!
Two judges had the twelve round fight 118 – 111, and the third 117-111.