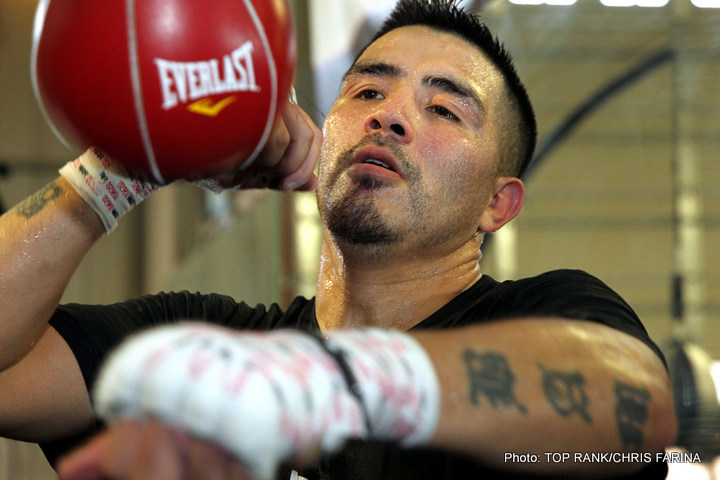 Tim Bradley will walk in as favourite with the oddsmakers when he defends his WBO welterweight title against Brandon Rios on Saturday night in Las Vegas, a fact that doesn't bother the challenger, who alluded to the odds as meaningless – or in his own choice phrasing – as 'bulls***.'
Rios hasn't boxed since he destroyed old foe, Mike Alvarado, way back in January, in what was their third fight, although the Robert Garcia trained fighter feels that not only is he being underestimated against Bradley, he isn't getting the credit he feels he deserves, and still won't even if he pulls off the win, as was the case against Alvarado, who clearly turned up 'out of sorts' that night.
"I don't get credit. It's all good. I don't need credit. I'm not really worried about it. I can go buy a house without a down payment because I have good [financial] credit," Rios said at this weeks presser.
"I don't care about all the BS. All I know is I'm ready for the fight. I can be a 10-1 underdog. It doesn't matter. All this underdog stuff is bull—-."
They were sentiments shared by Garcia, who claims that people only seem to find the negatives in Rios' performances, adding that when his fighter does beat Bradley, people will simply say that 'Desert Storm' was washed up.
"Brandon never gets credit for anything,"Garcia said. "I've had a few great wins in my career as trainer and I don't get credit. We don't care. That's just the way boxing is. We do our work and prove ourselves and just move on."
"If Brandon can have a sensational victory here, they'll just say Bradley was finished. I guarantee you that that. It's just the way Brandon's career is going to be. Never gets the credit, but we don't really care."
Either way, Rios claims he is itching to get back in the ring, and will look to take the frustration of almost 10 months inactivity out on Bradley, who is hooking up with new trainer, Teddy Atlas, for the first time.
"It's about time I get back in the ring. I've been ready for a fight," Rios said. "People can talk but the odds don't bother me. All that's in my mind is going out there and giving a great performance and doing the best that I can do.
"I'm happy to be back in the spotlight. I still got the fire in me. I'm still young, I still got a lot of gas in my tank and I'm not going nowhere yet," he added.
Bradley v Rios is on HBO (US) and Boxnation in the UK.
Twitter @undilutedpoison