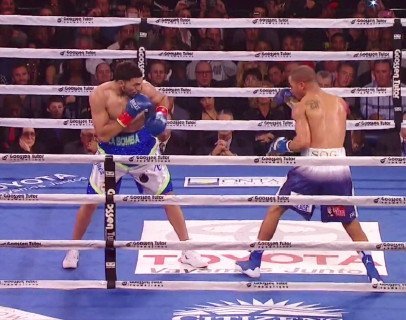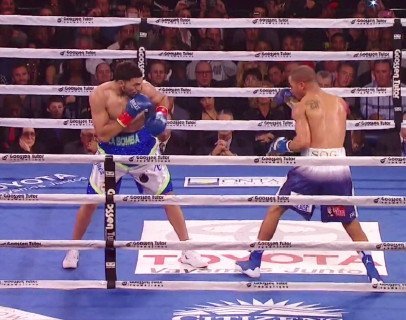 On a chilly Saturday night in Ontario, California, the No. 2 boxer in the world made his return and cemented his status near the top of the fight game with an oftentimes roughhouse outing against a willing yet limited challenger in Edwin 'La Bomba' Rodriguez.
A decently filled Citizens Business Bank Arena was treated to more than decent action in the lead up as Jonathan Arellano traded leather with Charles Huerta in an entertaining back and forth that saw the hometown Arellano take home a decision nod and Sergio 'The Latin Snake' continued to extend his relevance in the sport with a knockdown and a stoppage win over Milton Nunez.
Yet all eyes were on the main event as Ward was making his return after a ring absence of over one year.
However, headlines were made just the day prior as comedian/actor Rob Schneider, the MC for the weigh-in on Friday, announced a surprising number.
"Rodriguez, 170," said the comedian more known for saying funny things like 'you can do it', and 'fumblaya, fumbulrooski'.
The handlers of the fight found nothing funny out of Schneider's mouth with that number and Rodriguez' promoter, Lou Dibella, angrily scowled with wide eyes in the direction of Team Rodriguez, not needing any words to express his thoughts on his fighter missing the contracted weight.
Just like that, Rodriguez bumped up the champion's purse from 1.9 million to a cool $2 million and dropped 20% of his $800,000 handbag, with $100K going to Ward and $100K going to the Commission as a penalty. (And we think women carry around expensive purses.)
The ringside area was pulsating with entertainment prior to the nights main event as a trio of boxing's best, Roy Jones (HBO commentator), Mike Tyson (promoting his HBO documentary) and Sugar Ray Leonard, (no known HBO affiliation, none needed) all were within inches of each other posing for pictures with each other and fans. Security did its best, but having these three popular boxers all in one spot, well, it's going to get intense.
The start time of the first and only televised fight of the night was 7:00 PM, yet Ward took a few minutes of his own prior to leaving his dressing room. This writer was backstage and watched Camp Rodriguez walk in to take their shot at No. 2., then stuck around to catch Ward walk into the HBO cameras and into the ring.
Referee Jack Reiss, who made headlines later that night by becoming perhaps the first referee in the sport to take two-points away from each fighter simultaneously, commented to me, "What's it, 7:08 now?" It was actually 7:04, yet I could only shrug my shoulders at Reiss and continue to wait while he and I, as well as the fans and HBO audience, awaited the ring walk of No. 2.
To his credit, Rodriguez took his shot at making a splash early, which was about the only chance anyone in the building not Team Rodriguez was giving him, as he stormed towards Ward in the early seconds of the fight, only to be counter punched and figured out by the third round as No. 2 found his route and traveled down the road to a unanimous decision in defense of his Ring, WBA and WBC titles.
The Oakland native didn't press for a KO, yet neither was he gun shy in his ring return as he exhibited uppercuts and a highly effective lead hook as well as straight rights whenever he felt like it. It was a solid performance by a solid champion in the fight game; just not one anyone will be watching for years to come via replay.
Ward readily seceded to one Floyd Mayweather Jr. as being the No. 1 consensus fighter in the world in the post fight press conference and even shared that he watched tape of Floyd Mayweather in the week leading up to his fight against Rodriguez. (Doesn't say much about Rodriguez as an opponent when Ward is watching tape of another fighter just days prior to fighting him, does it?)
It's admirable to have a fighter so gracefully and rightly admit when another fighter is above him in the fight game; at the same time though, as a fight fan, one would like to know that the No. 2 fighter wants to knock No. 1's block off and be known as the definitive fighter of his era.
Until Ward shows that kind of passion, his status in the game will remain exactly where it is; the highest rated guy next to Mayweather whose name nobody knows.
No. 2.