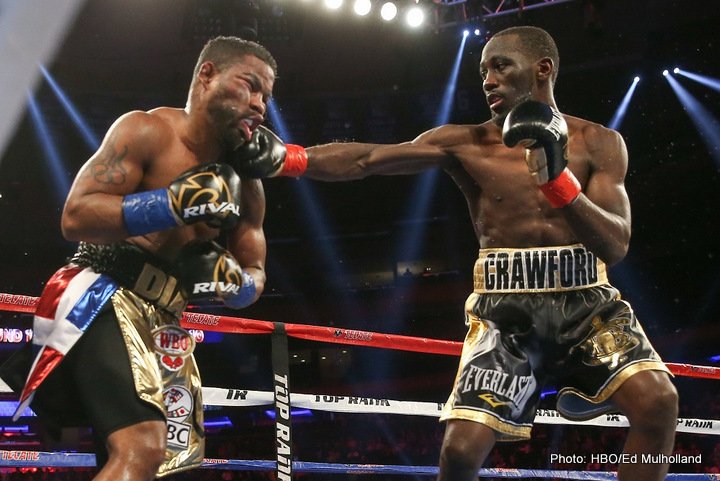 Terence Crawford successfully defended his WBA and WBC 140 pound titles in beating welterweight Felix Diaz by a 10th round TKO at Madison Square Garden in New York. It was a clinical performance from the 29-year-old Crawford in dispatching the smaller 5'5" Diaz (19-2, 9 KOs) in front of a large crowd of pro-Crawford boxing fans.
The fight was shown on HBO. The fight was stopped after the 10th at the urging of Diaz's corner. Both of Diaz's eyes were swollen to the point where they were almost closed. Diaz wasn't putting up much of a fight during the bout other than the 7th. When Diaz did go on the attack, Crawford would move laterally around the ring to avoid his attacks.
Crawford would also do a lot of clinching. It wasn't thrilling to watch if you're fan of good two-way action, but it was interesting to see how Crawford could dismantle and over-matched opponent. The problem Crawford has is the 140 pound is barren of talented fighters right now. There's only Crawford and Julius Indongo, the IBF/WBA champion. The rest the fighters in the 140 pound division are marginal fighters. Adrien Broner struggles to make the 140lb weight. You have to consider him a welterweight at this point.
Diaz fought well in round 7 in landing 16 shots against Crawford. The rest of the rounds saw Diaz landing infrequently. Crawford is not an easy to hit fighter, especially when he's fighting defensively as he was tonight.
Diaz stopped fighting for the most part in the 8th. He was having eye problems by that point in the fight and no longer taking chances. The boxing fans got to see Crawford jab and pot shot Diaz in rounds 8 through 10. Diaz stood with his back against the ropes and occasionally would throw a wild shot that would mostly miss. Crawford did a lot of mugging for the boxing fans. He would stick his tongue out at Diaz, who I'm not sure could see much of what Crawford was doing by this point. It was not exciting stuff unfortunately.
After the fight, Crawford's promoter talked of wanting to get him back inside the ring in the summer to match him against Indongo. If Crawford wins that fight, then his promoter Bob Arum will try and match him against Manny Pacquiao. That's the fight that is believed will turn Crawford into a PPV star. I don't think that's going to happen. Tim Bradley, Brandon Rios, Chris Algieri and Jessie Vargas aren't PPV stars, and they fought Pacquiao.
Bradley even beat Pacquiao and it didn't do much for his career. It's the wrong time for Crawford transformed into a star if he beats Pacquiao. The Filipino fighter is too old now, and Crawford doesn't possess an exciting enough fighting style to become a PPV star if he beats Pacquiao. If Crawford can't get the fight against Indongo, then he'll move up to 147 where he'll likely look to fight Pacquiao right away.
If Pacquiao doesn't want to fight him, then Crawford can force the fight by using his status as the WBO light welterweight champion to be made the mandatory challenger for Pacquiao, who holds the WBO welterweight title. We saw Saul Canelo Alvarez use his WBO 154 title in the past to become the No.1 contender for the WBO middleweight title. Canelo chose to face Julio Cesar Chavez Jr. rather than fight WBO middleweight champion Billy Joe Saunders.
The co-feature fight on the Crawford-Diaz card saw lightweight Ray Beltran (33-7-1, 21 KOs) defeat Jonathan Maicelo (25-3, 12 KOs) by a 2nd round knockout. Beltran hit Maicelo with a left to the head to knock him out. Maicelo had to be taken out of the ring afterwards on a stretcher.