Bowie State University (BSU) hosted its second fight card at the Leonidas James Complex on Saturday, showcasing a handful of D.C. and Maryland-based fighters trying to generate a palpable buzz for their boxing brand.
Here are my scorecards and round up of selected fights:
Nicholson Pummels Castaneda, earns 20th Win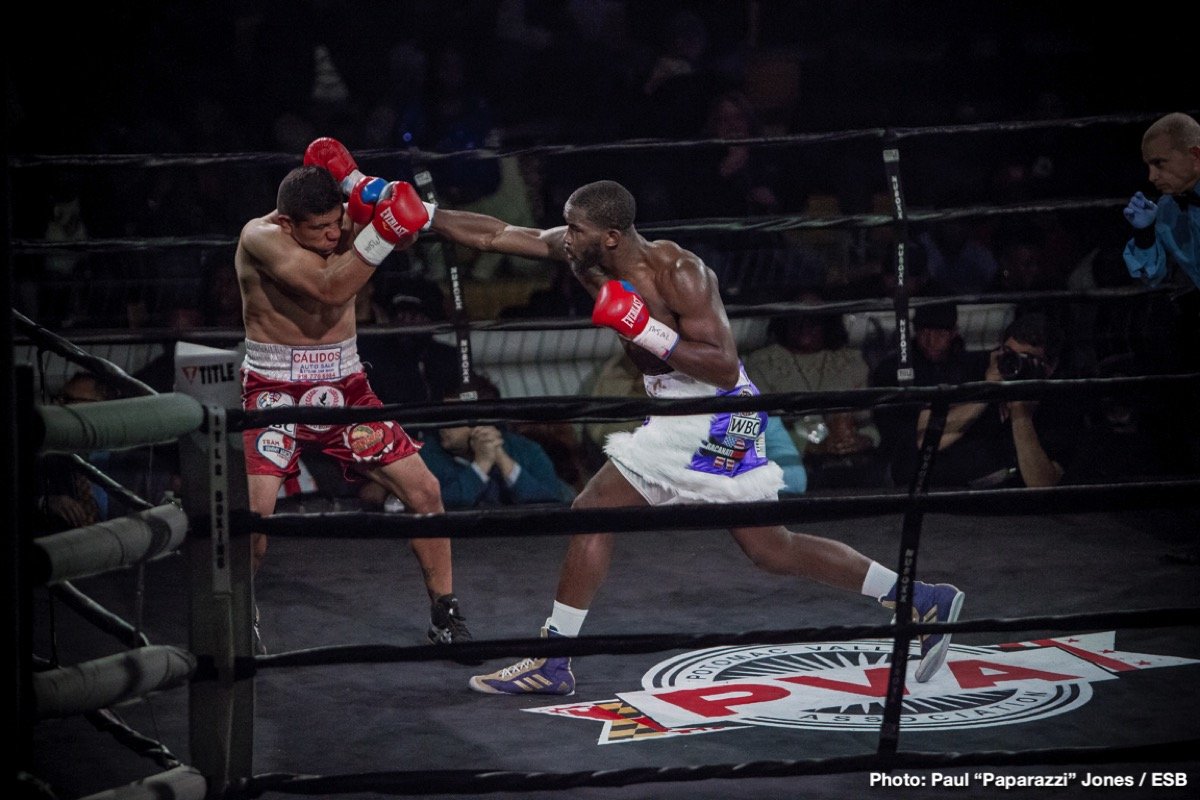 Scorecard: WBC USNBC Super Middleweight titlist, Demond "The Best at It" Nicholson, registered a second-round knockout over Fernando Castaneda, of Mexico, in the main event.
Nicholson's record improves to 20-3-1 with 18 KO.
Castaneda drops to 26-13, with 17 KOs.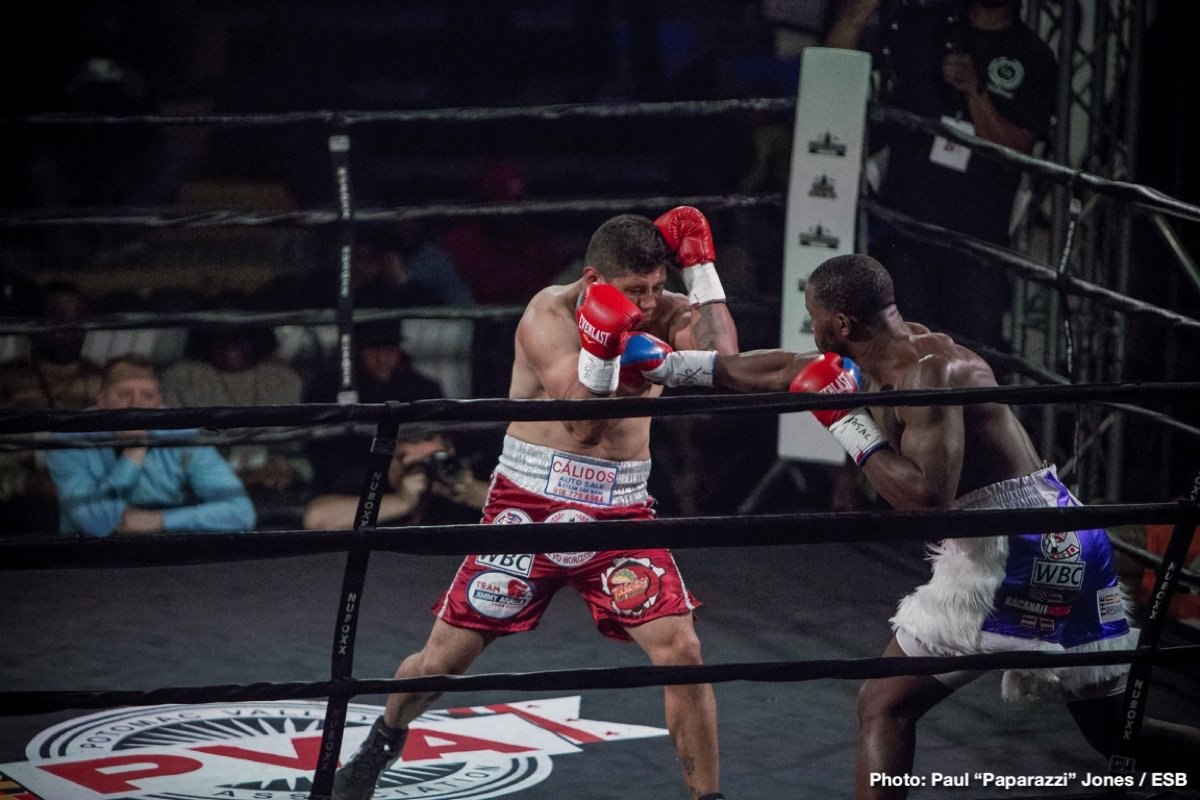 Roundup: 25-year-old, Demond Nicholson logged his second consecutive win after coming up short against NABF titlist Jesse Hart (25-1, 21 KOs) in April. In Castaneda, Nicholson faced an experienced fighter meant to serve as a barometer for Nicholson's to gauge his progress since the Hart fight.
By all indications Nicholson is back.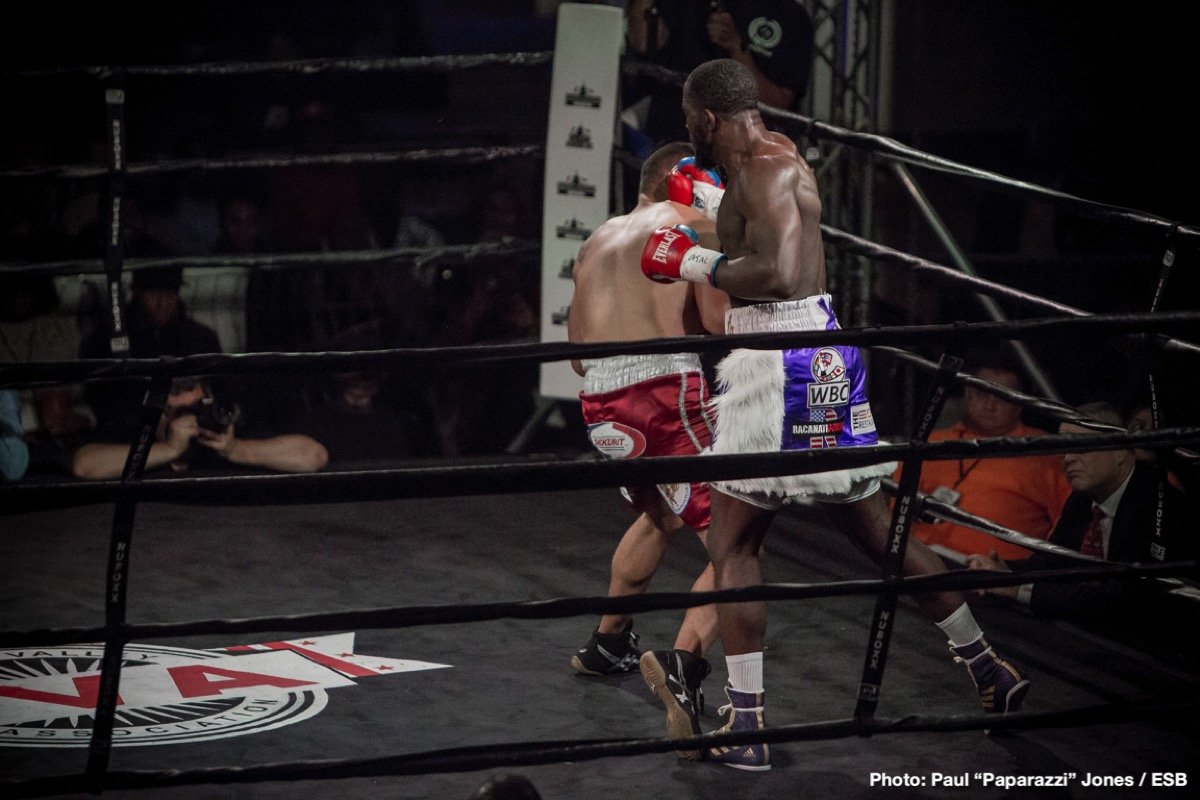 Nicholson took only two rounds to dispatch of Castaneda, showing good composure, movement, and punch placement throughout. Nicholson was clearly the more imposing and stronger fighter, landing hard power shots, virtually at will, in the first and second rounds.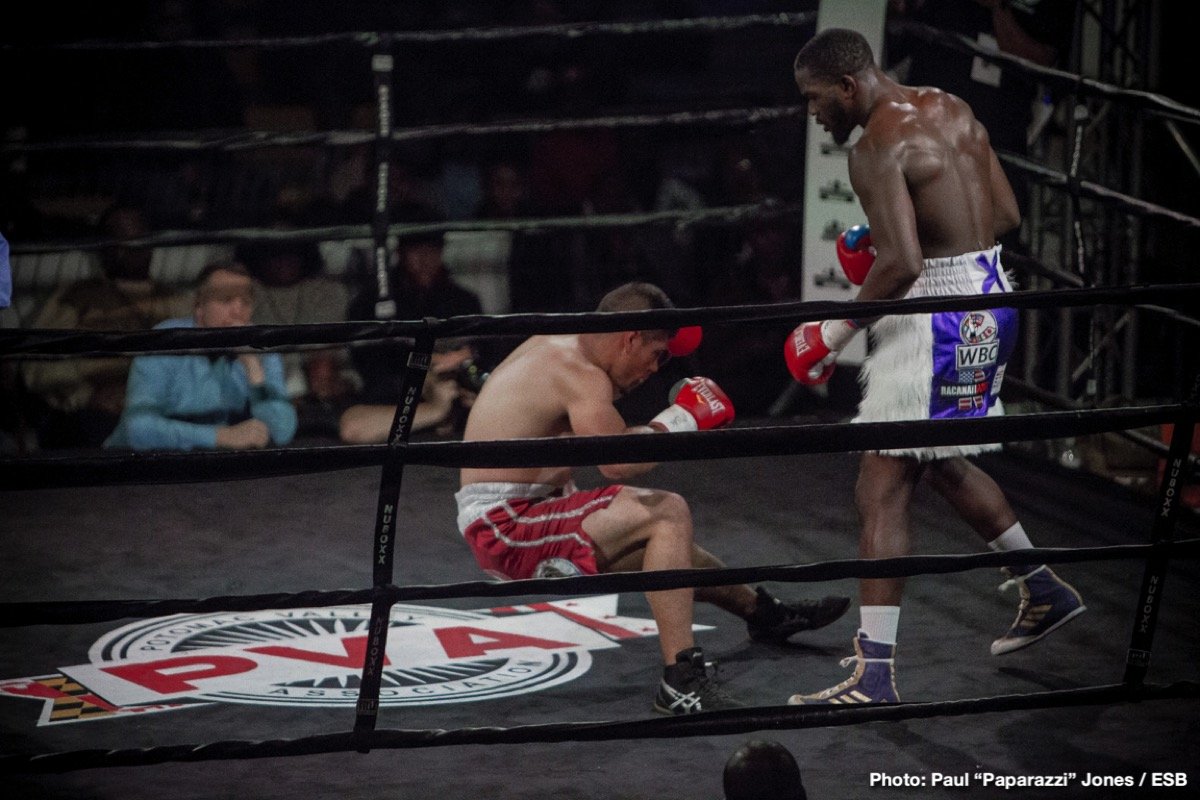 Ultimately Nicholson's right hand found pay dirt on Castaneda's chin, flooring the Mexican and prompting referee Kenny Chevalier to waive off the bout at the 2:10 mark of round 2.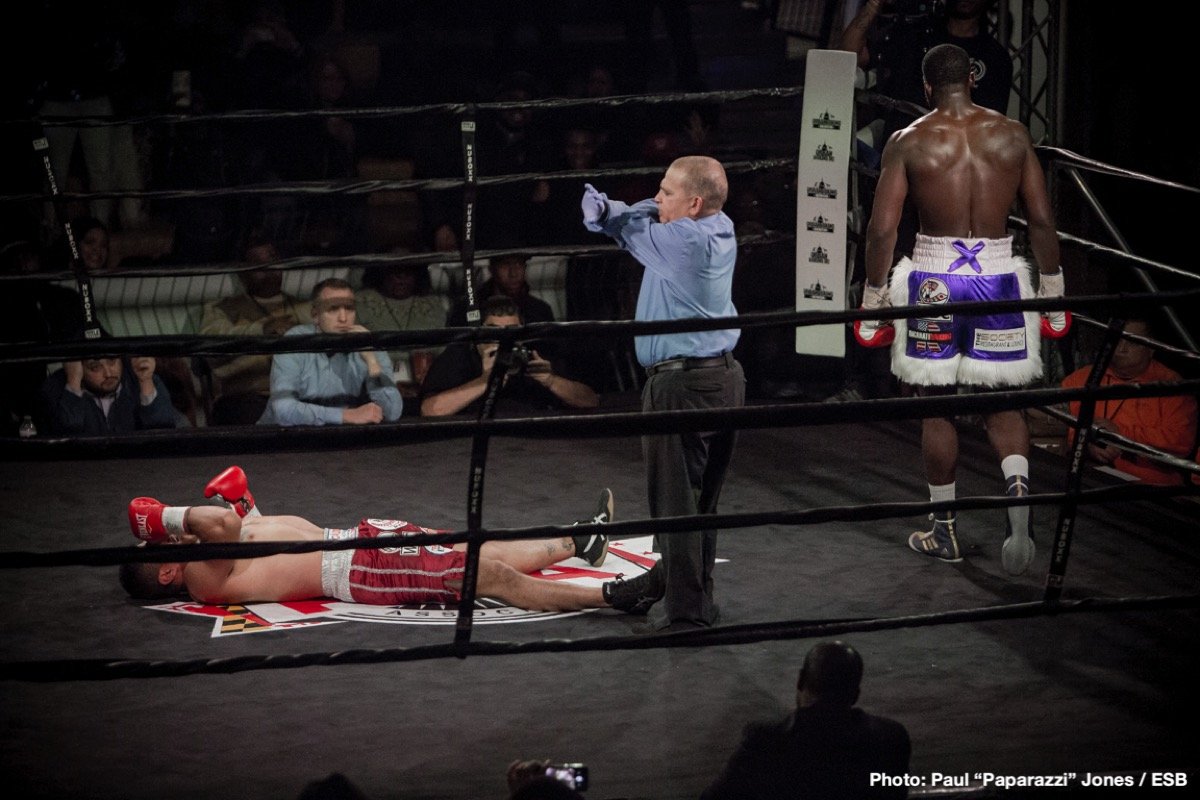 All things considered, it would be interesting to see a Hart-Nicholson rematch, should Hart win (or lose) his rematch with Gilberto Ramirez on December 14.
* * *
Outlaw Outduels Allison IV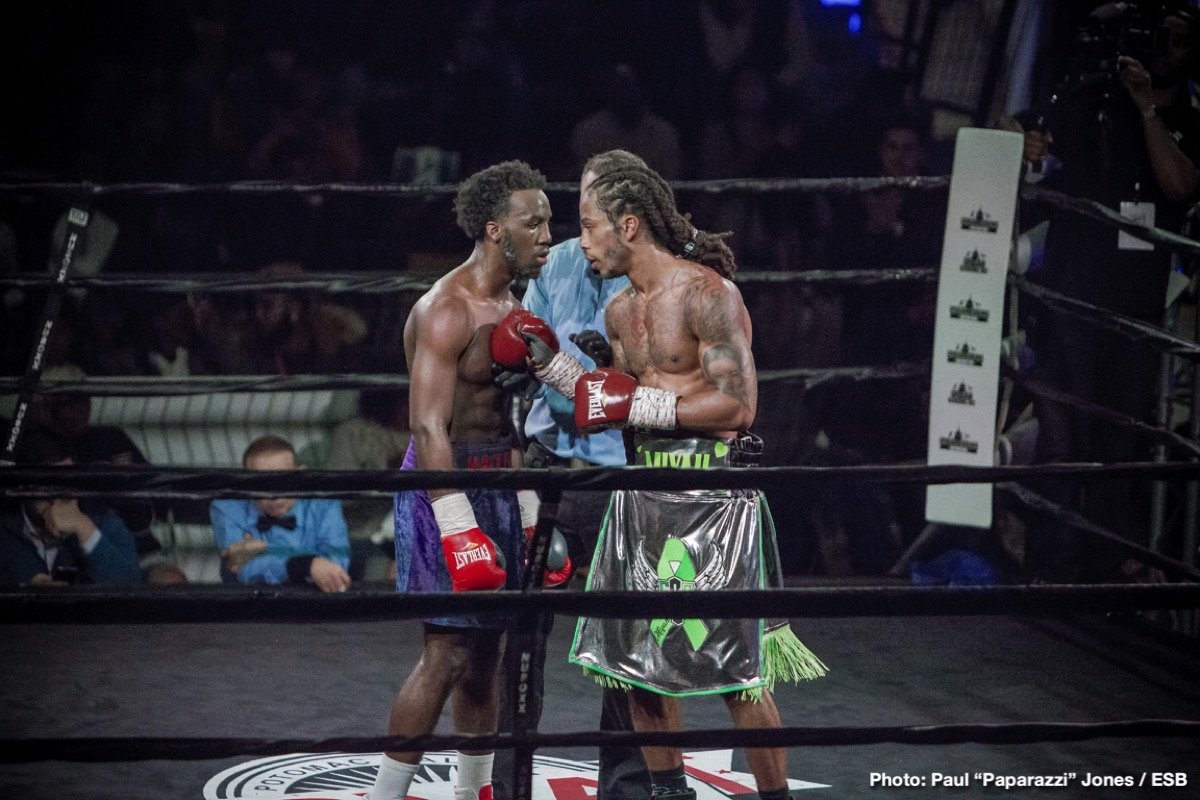 Scorecard: Undefeated super lightweight prospect and BSU alumnus, Greg "Sharpshooter" Outlaw took on Mack Allison IV, of Baltimore, in a six rounder. Outlaw earned his 7th win, registering a unanimous decision over Allison.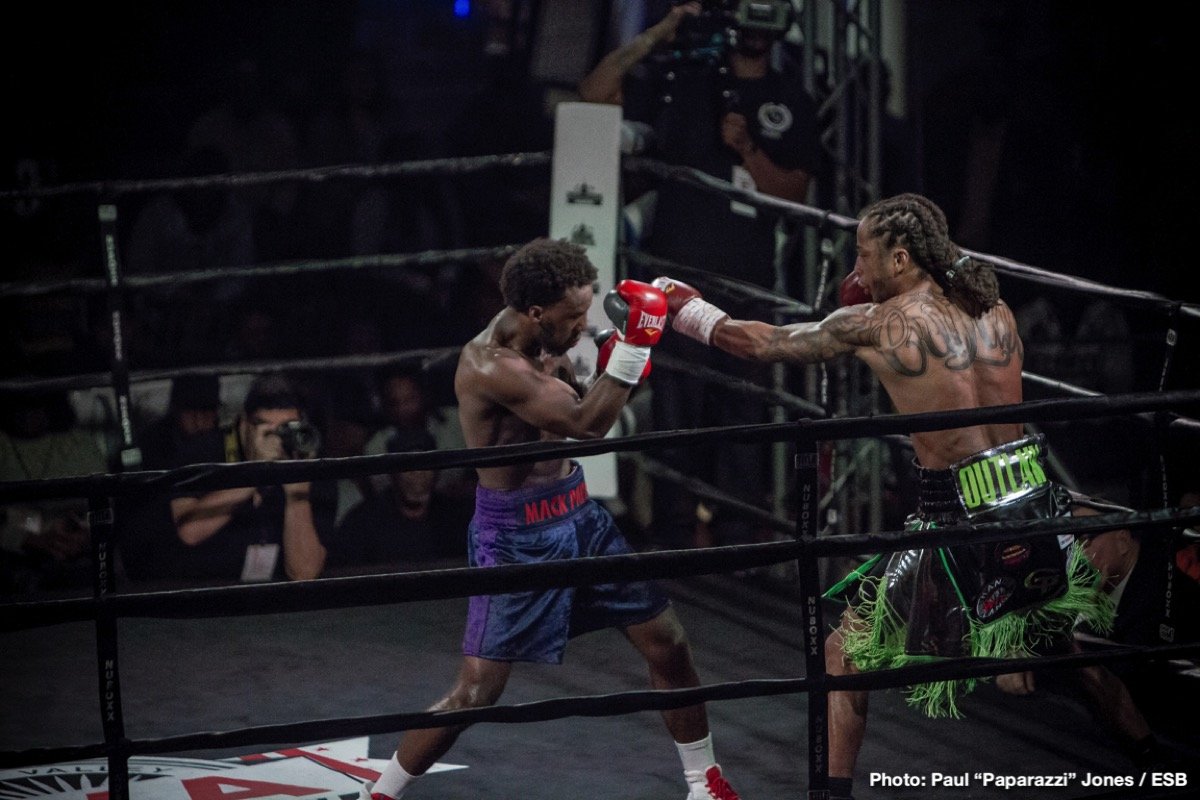 Scores were 60-54 (thrice) for Outlaw, running his record to 7-0 with 2 KOs.
Allison falls to 8-2-1, with his second loss in his last three fights.
Eastsideboxing also had it 60-54 for Outlaw.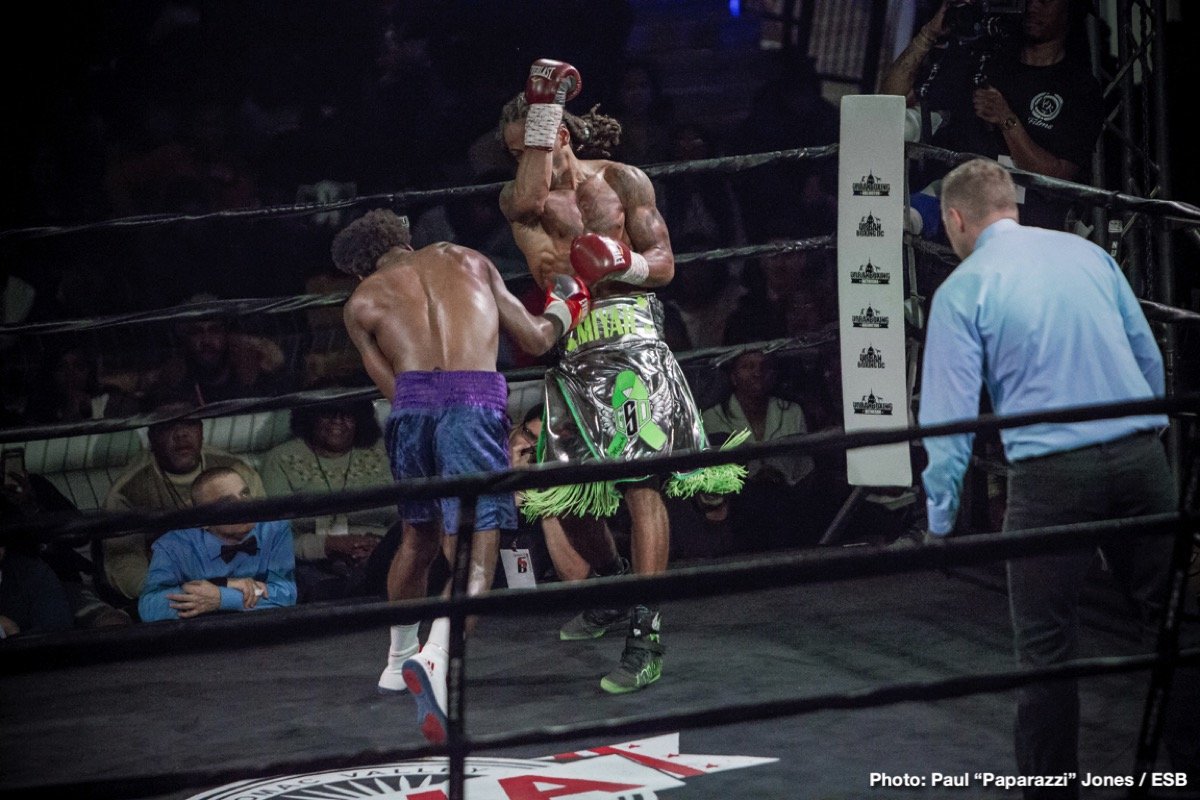 Roundup: Fighting with a heavy heart, in remembrance of a child who passed away from a terminal illness, 25-year-old Greg Outlaw entered Saturday's bout with two clear purposes: win and help generate funds to pay for a headstone for the fallen child. Missions accomplished.
Outlaw opened Saturday's contest versus Allison IV in counter-puncher mode: timing Allison and making him pay for his errant punches with crisp counters to the body and head. Outlaw also used an intelligent jab throughout the round, probing for openings and spinning and turning Allison to make the Baltimorean constantly reset his feet. In addition, Outlaw began to commit to Allison's body, sapping vital energy from his opponent that would pay dividends later in the fight.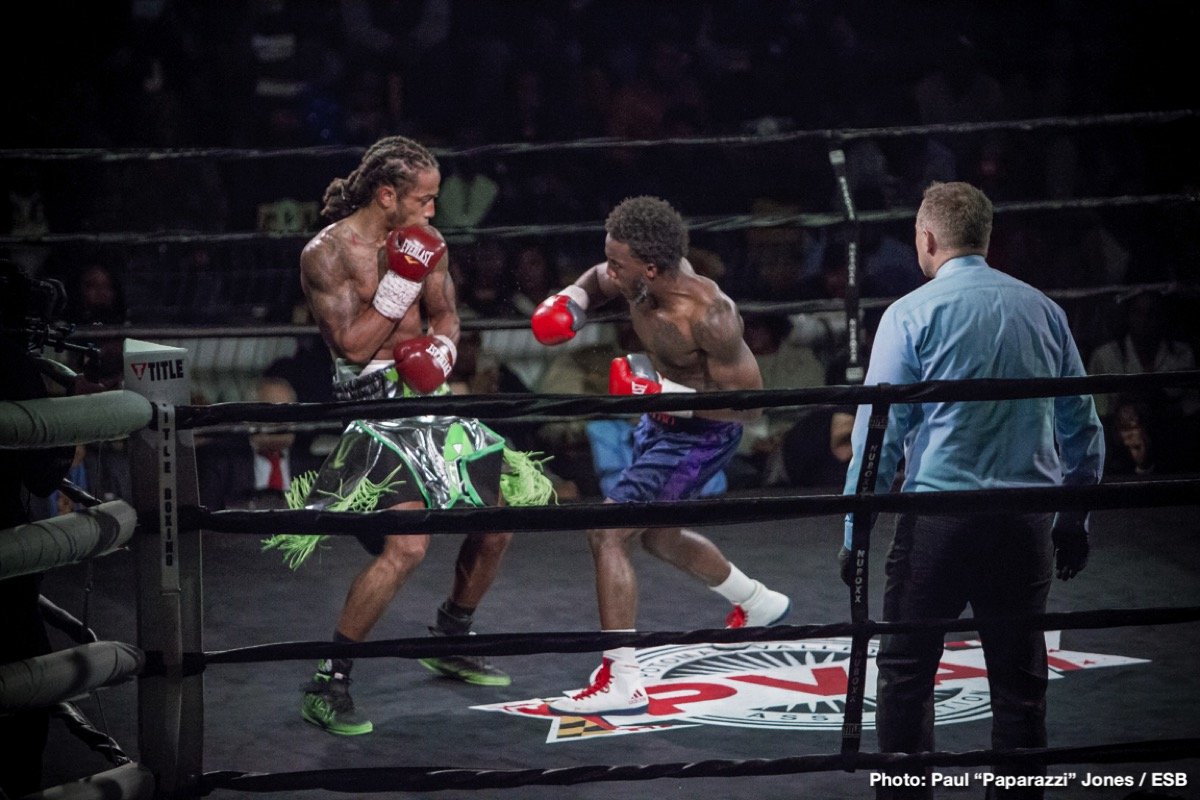 In round 2, Outlaw stepped up his punch output, sitting down on his punches and repeatedly snapping Allison's head back with well-placed right hands.
Round three featured both fighters landing heavy leather, with Allison registering his best round. Nevertheless, Outlaw was still the busier fighter, building a comfortable lead on the cards.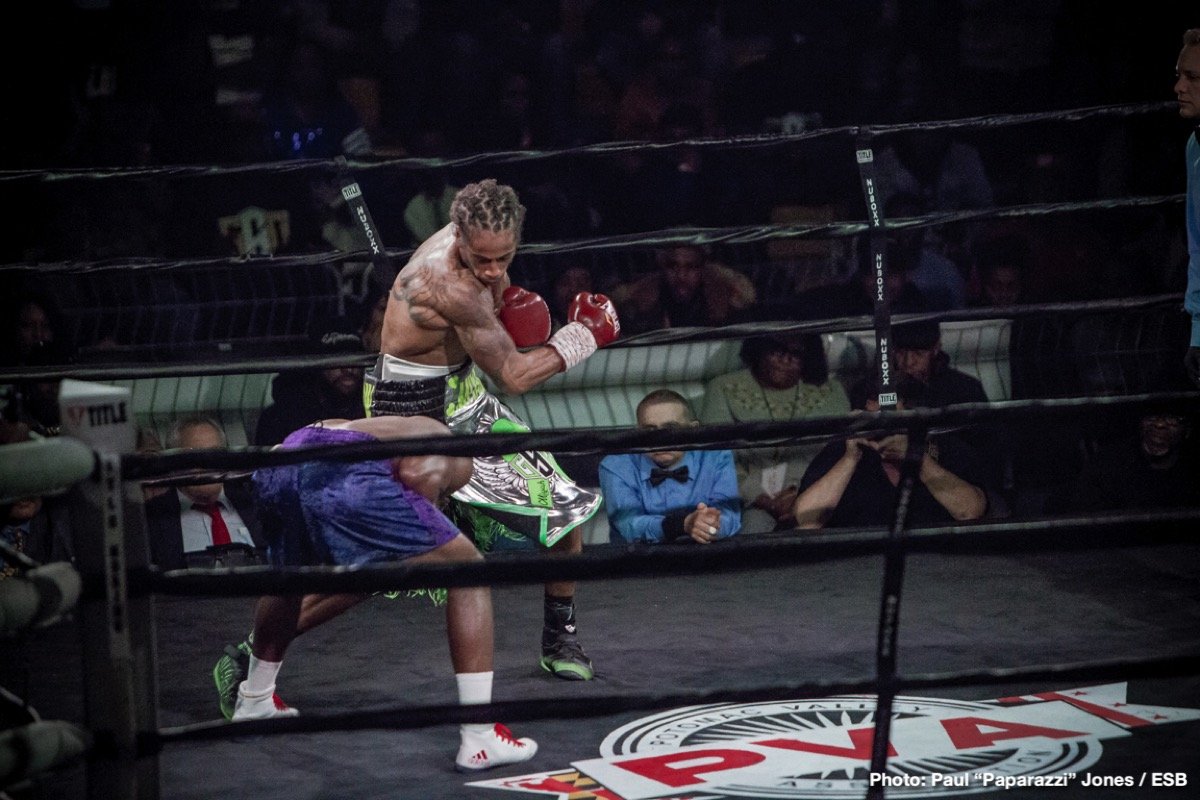 In rounds five and six, Outlaw was in cruise control, continuing to make Allison miss with wild punches. More important, Outlaw's body attack started to show with Allison becoming visibly winded and less effective as a puncher.
By this point, it was clear that Outlaw was simply the better fighter.
The final scorecards verified this fact, giving Outlaw his seventh consecutive win.
Moving forward, however, a step up in opposition would probably serve the BSU alum well.
* * *
Simpson Shines in Debut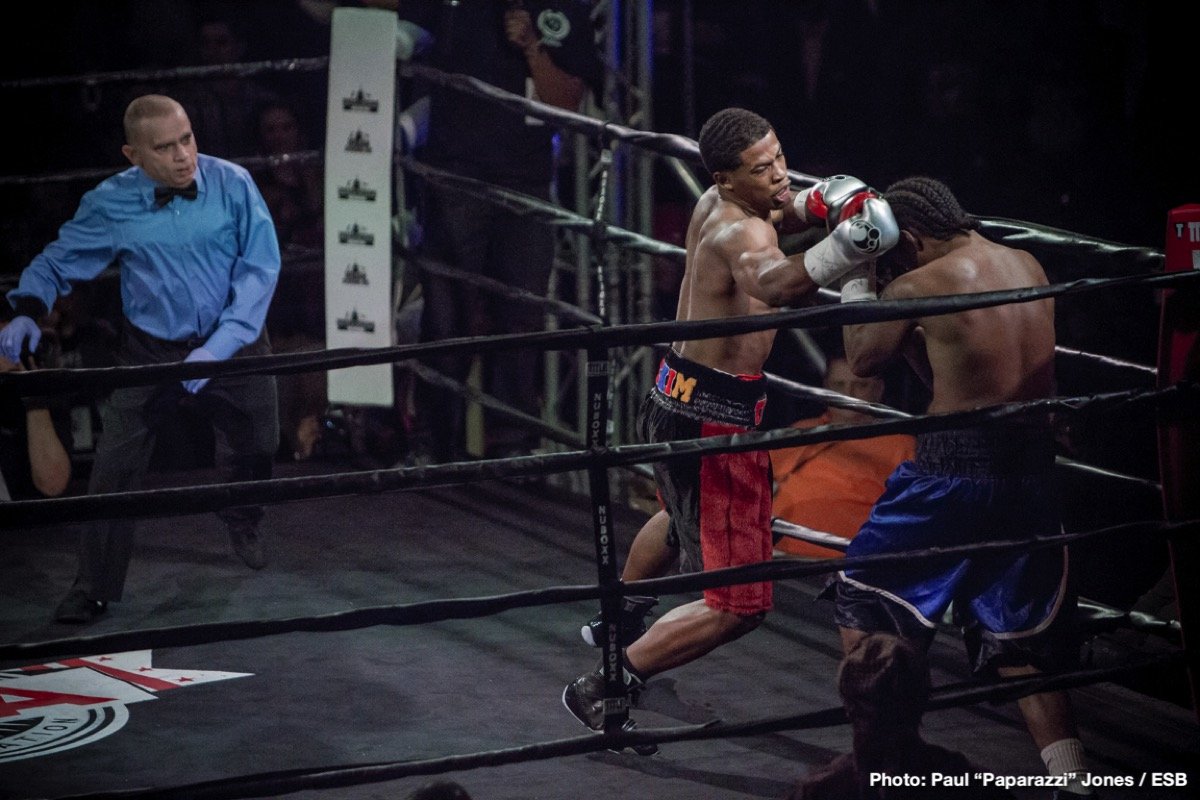 Scorecard: Highly-touted middleweight prospect Lorenzo "Truck" Simpson looked impressive against Deandre West in his pro debut, winning the contest by first-round technical knockout. Simpson is the latest high-profile prospect fighting out of Coach Calvin Ford's Upton Boxing Center in Baltimore, which rapidly building a pipeline for blue-chip fighters.
Simpson's record is now 1-0 with 1 KOs.
West lost his third fight in a row, falling to 0-3 (0 KOs).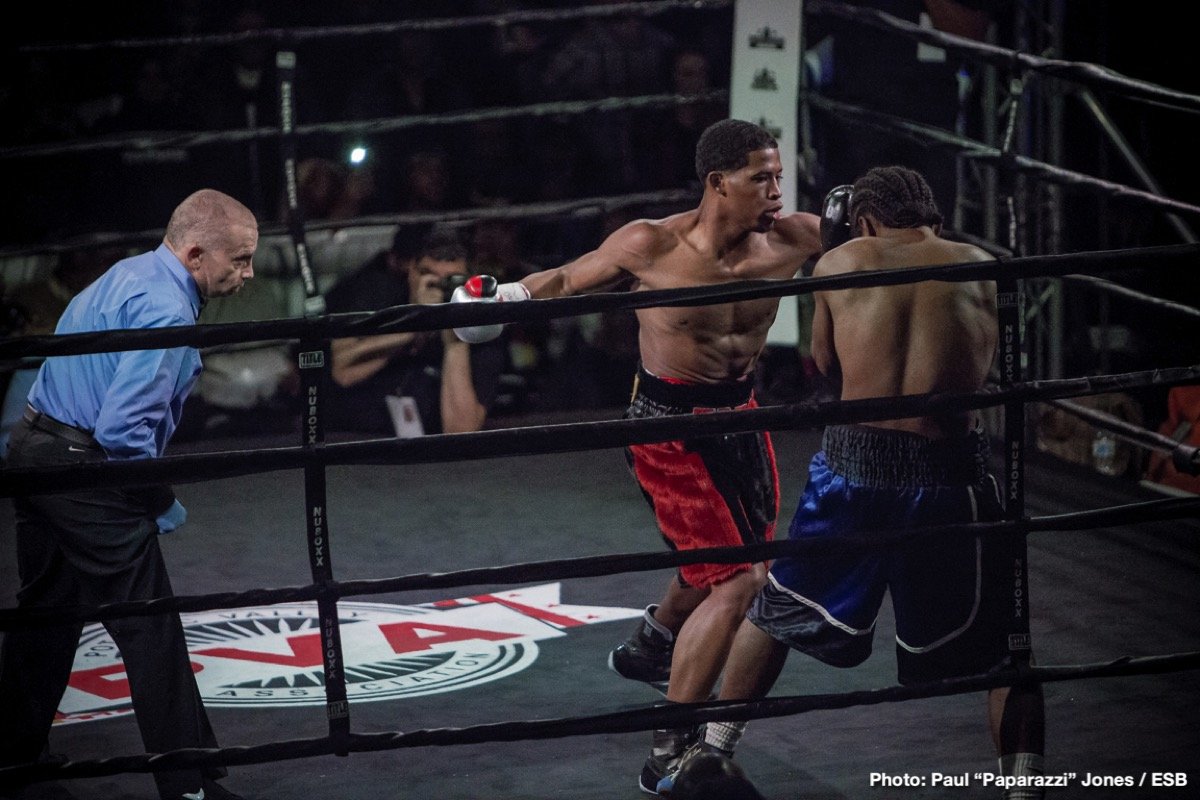 Roundup: Coming out of the tough streets of Baltimore—the same streets that took Simpson's father at a young age and proving grounds that produced reigning WBA Super Featherweight Champion Gervonta Davis—Lorenzo Simpson is one of the most highly-decorated U.S. amateurs around.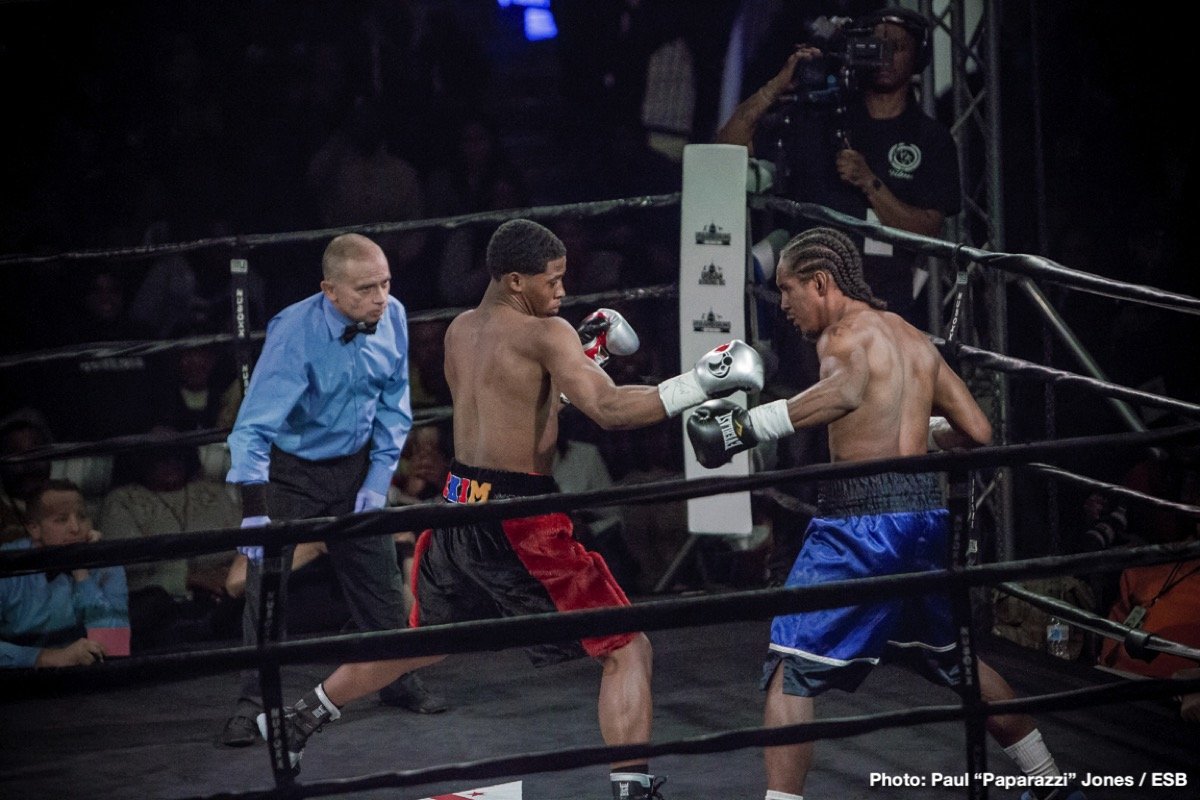 At 18, his list of amateur accomplishments is staggering:
• 182-3 record as an amateur
• 2018 Youth Continental Championships silver medalist
• 2018 Youth World Championships qualifier
• 2017 Youth National Champion
• 2017 Youth Open Champion
• 2016 Youth Open Champion
• Most Outstanding Male Boxer of Tournament, 2016
• 6-time National Silver Gloves Champion
• 6 Ringside Boxing National Silver Gloves Championships
Therefore, it's easy to see why there is considerable buzz surrounding Simpson at this nascent point in his career, and why Simpson's pro debut was significant.
And Simpson didn't disappoint.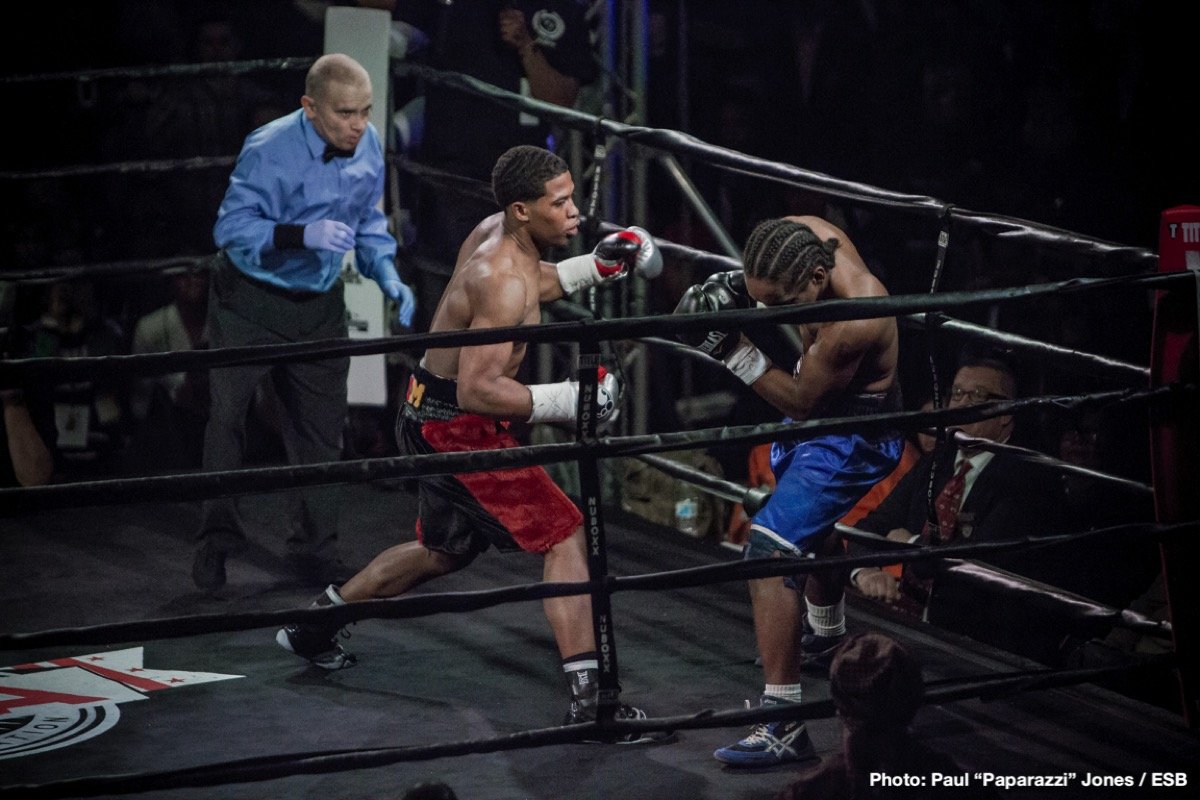 Put succinctly, the young man they call "Truck" did just that to longshot Deondre West, of Virginia, on Saturday night.
From the opening bell, Simpson wasted little time in cutting off the ring and bringing the fight to West. Simpson started to break down West with thudding shots to the body, which were immediately followed with heavy punches to West's head.
With only a minute elapsed, it was clear that West was in over his head and in a heap of trouble.
Simpson continued his onslaught, but the bout was waived off shortly (and inexplicably) thereafter by referee Kenny Chevalier who declared Simpson the winner by first round TKO at the 1:26 mark.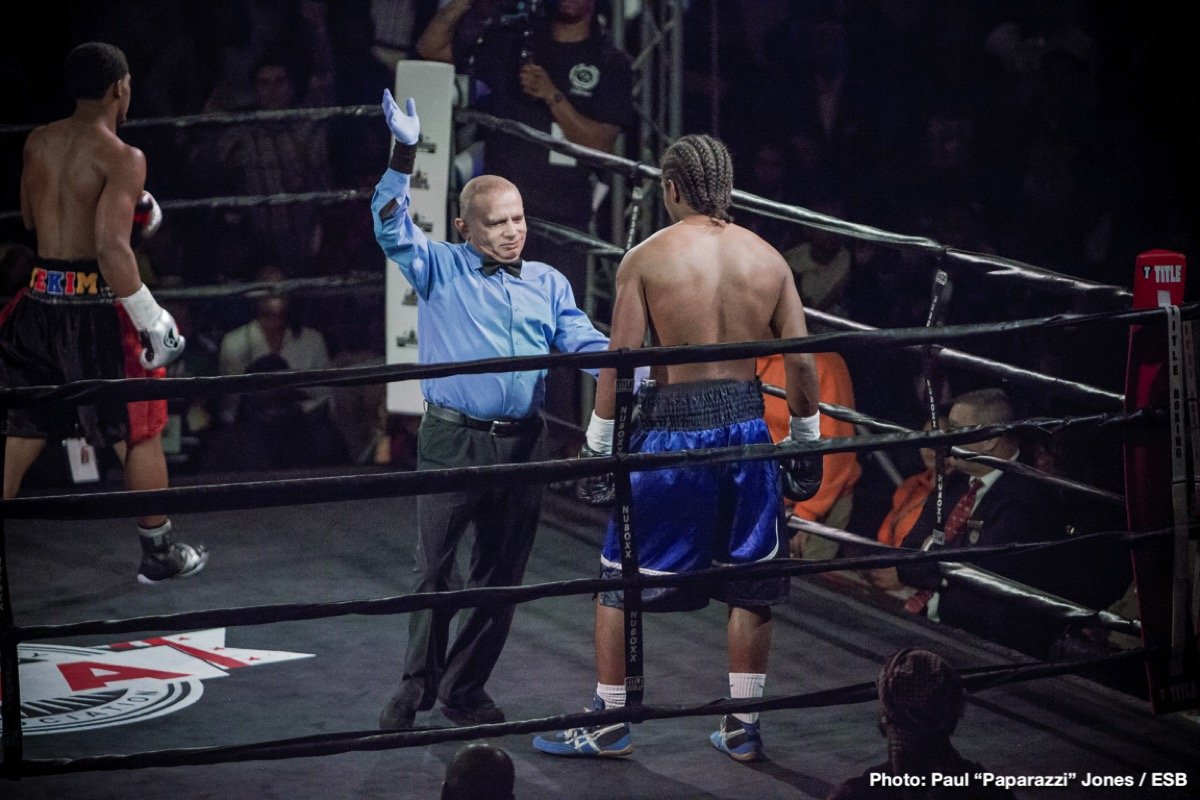 Nevertheless, many in attendance were perplexed why Chevalier pulled the plug so quickly on Simpson's debut, when West appeared to be defending himself intelligently at the time of the stoppage. Though Simpson was in control, Chevalier's quick hook left many in the crowd feeling short-changed from not being able to see more of Simpson.
Hopefully, Simpson will keep a busy schedule in the future, giving fight fans a chance to see more of this surefire prospect that has already garnered the praise of Gervonta Davis and Floyd Mayweather Jr.
* * *
Other Results:
• Super lightweight contender Mykal "The Professor" Fox (19-0, 5 KOs), younger brother of middleweight Alantez "SlyAza" Fox, knocked out Gonzalo Carlos Dallera (5-1, 4 KOs) in the second round. Fox moves one step closer to title contention.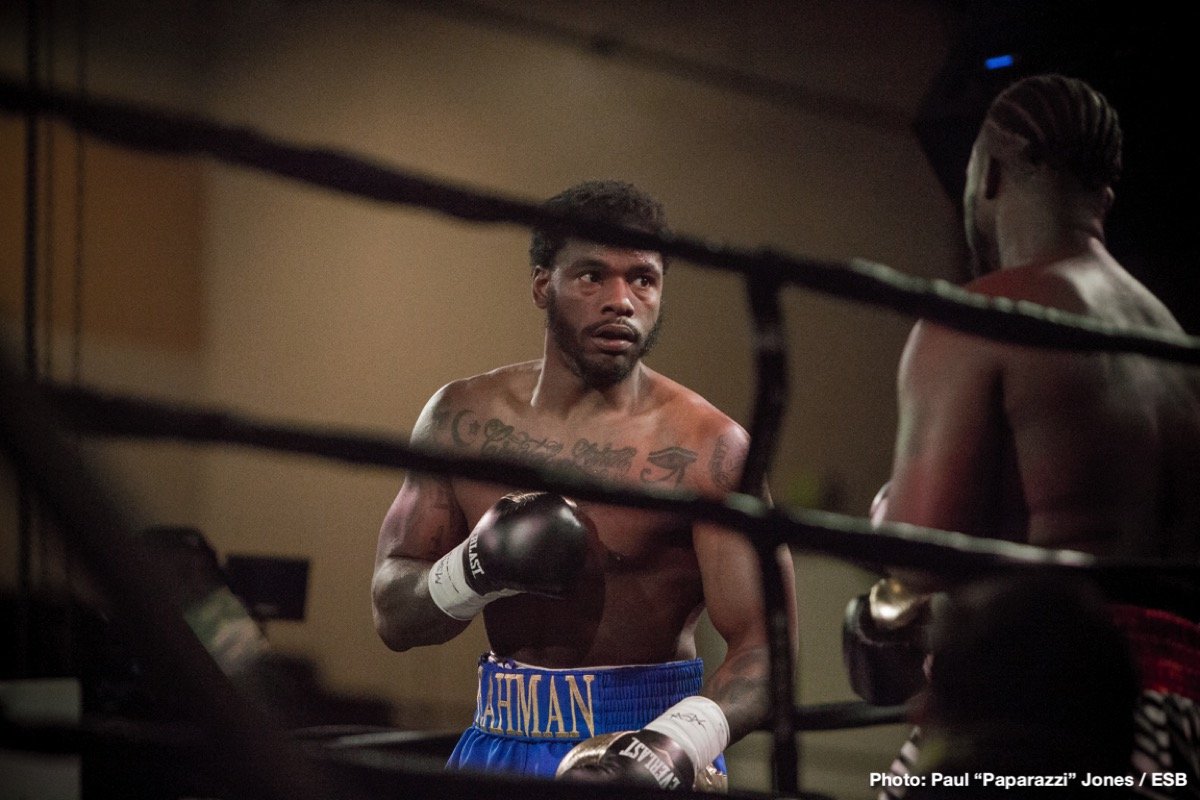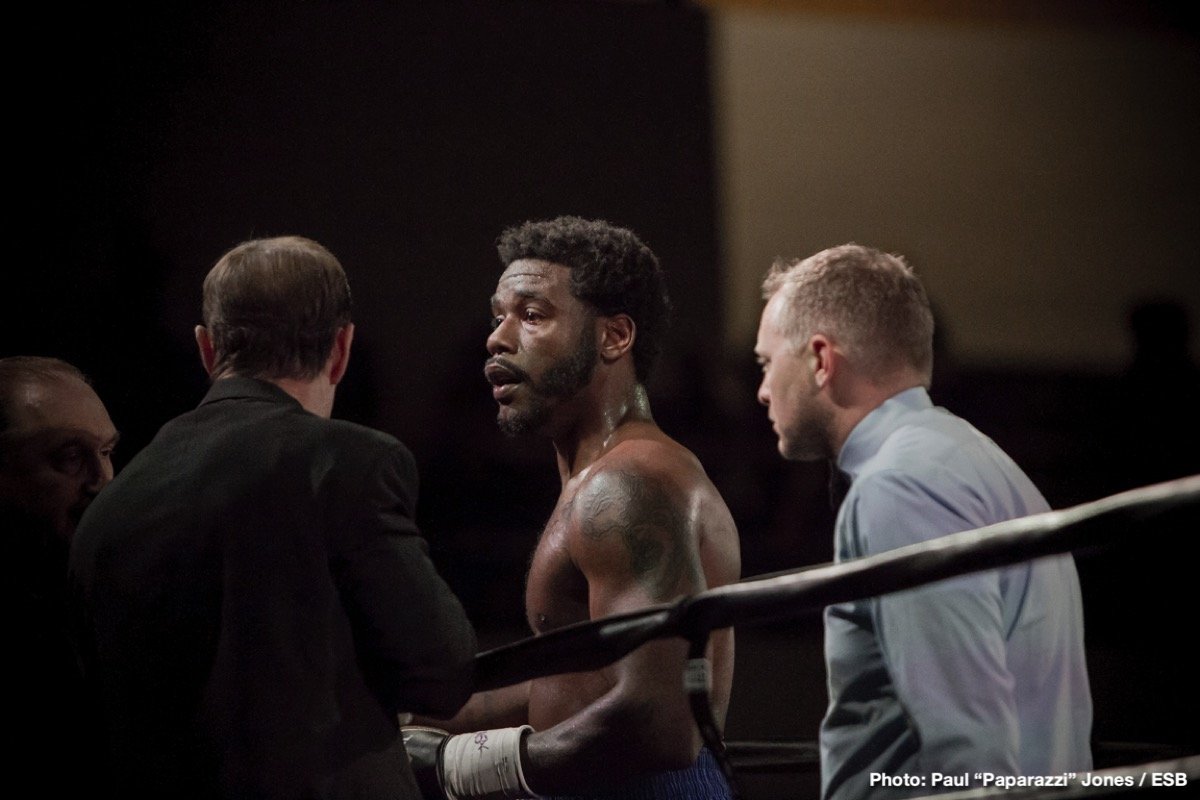 • Heavyweight Hasim "Gold Blooded" Rahman Jr. (7-0, 4 KOs), the son of Hasim Rahman, beat journeyman Damion Reed (3-20-1, 1 KO) by unanimous decision in a four rounder. Scores were 39-37 (Thrice).
Author Contact:
prjones1@hotmail.com | Twitter @boxingepicenter