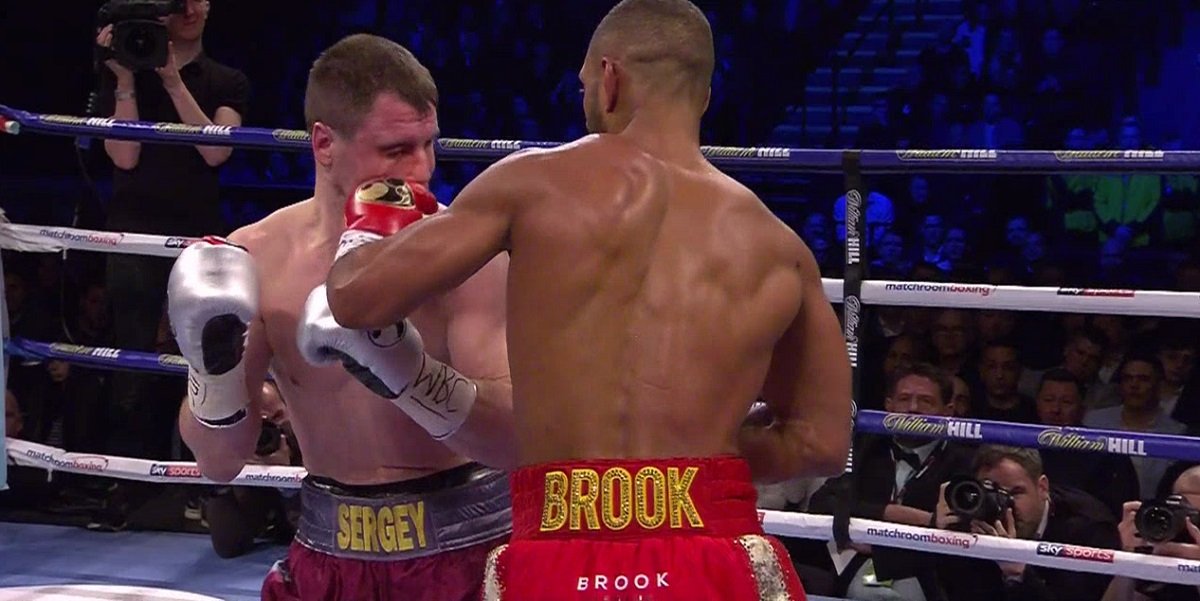 Kell Brook (37-2, 26 KOs) got off to a good start in his first fight at junior middleweight in knocking out contender Sergey Rabchenko (29-3, 22 KOs) in the 2nd round to win the vacant WBC light middleweight title on Saturday night in front of a large crowd at the Sheffield Arena in Sheffield, UK.
In round 2, Brook stunned Rabchenko with a crushing right uppercut to the head. Brook then moved forward and landed a right hand down the pike that sent the 31-year-old Rabchenko down. Rabchenko had hard time getting up from the knockdown. The contest was stopped by referee Steve Gray after Rabchenko got back. He was not going to be allowed to continue fighting looking as bad as he was.
Brook, 31, now is 1-0 at junior middleweight, and he says he wants to go after world titles in the weight class. Brook's promoter Eddie Hearn has other ideas. He wants him to fight Amir Khan, who has a fight already scheduled against Phil Lo Greco next month on April 21.
Brook got through the Rabchenko fight without suffering any apparent injuries. He had suffered broken eye sockets in his last 2 fights to Errol Spence Jr. and Gennady Golovkin. Rabchenko didn't last long enough to land more than a tiny handful of shots, and none of them were hard punches. This wasn't even a fight. It was a massacre. Brook can take credit for that, but he had the perfect opponent in front of him in the form of the slow and very hittable Rabchenko. Brook can beat fighters like this. Where he fails is when he faces guys with loads of talent like Golovkin and Spence. Those guys would have likely beaten him if they'd been inside the ring with him tonight.
. "It was all about getting my timing right tonight," Brook said to Sky Sports. "I just needed to settle down and I was timing these shots I know that buckled him. The temple shot done him. It's all about timing."
It was a right uppercut that did the job for Brook against Rabchenko in round 2 rather than a temple shot. Brook knocked Rabchenko down with a right temple shot, but he was so hurt from the initial right uppercut that he'd landed moments before that. Brook could have knocked Rabchenko down with anything at that point, as he was stunned from the uppercut.
Rabchenko couldn't handle the speed from Brook, who was able to hit the Belarusian fighter with anything he wanted to in the fight.
It was a good comeback win for Brook after being winless in his last 2 fights. Before tonight, Brook's last win came against Kevin Bizier in early 2016. That was a long time ago. Bizier is no longer a contender at 147. It shows you long ago the victory was for Brook. A lot has changed since then in boxing.
Brook wants a mega-fight against Amir Khan, but that fight will likely have to wait until later this year. If Brook faces someone good at 154 before that fight, he could lose. WBC junior middleweight champion Jermell Charlo wants to face Brook, it's unlikely Hearn would be willing to give his blessings for such a dangerous fight. Rabchenko was never a real threat. Charlo is a huge threat. He's someone that has the potential to beat Brook and beat him just as bad if not worse than Golovkin and Spence.
Brook will be fighting next in June, according to Hearn. He can face Charlo if he wants, but it's probably not a good idea to hold your breath waiting for that fight to happen. Hearn and Brook will likely take the safe option of steering around Charlo and finding another vulnerable contender with same amount of talent as Rabchenko. In other words, you can expect Brook to face another easy mark for his next fight.
Other boxing results:
Gavin McDonnell UD 12 Gamal Yafai