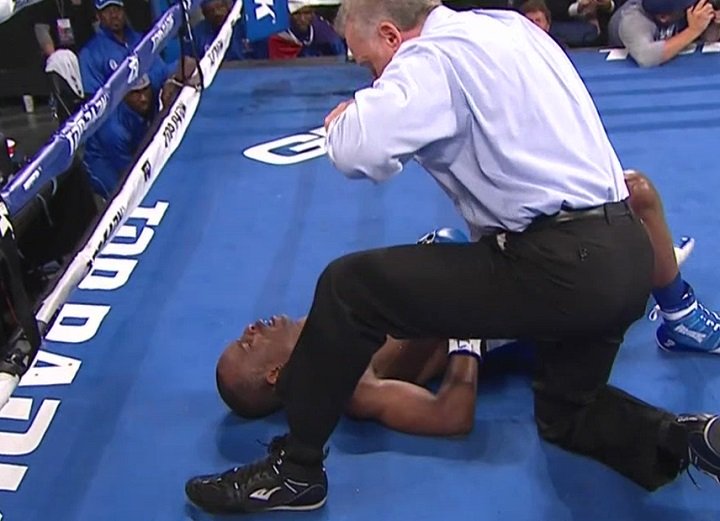 WBC/WBO light welterweight champion Terence Crawford (32-0, 23 Kos) got the better of IBF/WBA light welterweight champion Julius Indongo (22-1, 11 KOs) in beating him by a knockout in round 3 of their unification bout on ESPN and ESPN Deportes on Saturday night at the Pinnacle Bank Arena in Lincoln, Nebraska.
Crawford ended the fight with a body should in round 3. Indongo couldn't get up off the canvas to bet the count. The fight was promptly stopped by referee Jack Reiss. The time of the stoppage came at 1:38 of the 3rd.
Crawford, 29, also knocked Indongo down in round 2 with a left to the head when he was crouched down. Indongo lost his footing after getting hit and he fell down. He wasn't hurt though.
Crawford is the light welterweight unified champion. If he stays at 140, he'll likely be stuck defending all those titles against non-stars like Kiryl Relikh and Rances Barthelemy.
The good news is Crawford will likely be able to hold onto his titles for a long time before someone eventually beats him and takes his titles one of these days. He'll never be a star if he stays at 140, because the division is a dead one. If Crawford moves up to 147, he still won't have a lot of options other than fighting his promoter Bob Arum of Top Rank's fighters in his stable and guys that do business with that promotional company. Crawford talked this week of wanting to fight Keith Thurman. That's not going to happen. They're with different promoters and management, so it's likely a non-starter.
If Crawford moves up to 147, he'll have a possible chance of fighting Manny Pacquiao, Jessie Vargas or Jeff Horn. Presumably, they'll have a choice of whether they want to fight Crawford or not. If they so no, then he's going to be in a bad position whether he'll have limited options for fights. Crawford is almost better off staying a 140 than moving up to welterweight and not having anyone to fight due to the politics of boxing. Some fighters and promoters will likely avoid Crawford like the plague now. Why have your fighters face a counter puncher when you don't have to? It's not as if Crawford is a big pay per view star. He's not a huge star. He fights on ESPN on free television.
Crawford didn't have much to say after the fight other than him feeling he should be the No.1 pound for pound in the Ring ratings. They might as well give it to him. He holds all the belts at 140. Of course, the division is totally barren of talent. Ring Magazine might want to factor that in their decision making. Crawford is rated below Ward, Gennady Golovkin and Roman Gonzalez. If the ratings are based on who are the more exciting fighters, then it's hard to rate Crawford, a counter puncher, above all action fighters like Gennady Golovkin and Roman Gonzalez.
Ring Magazine already has a counter puncher at No.1 with Andre Ward. If Crawford takes the top spot and Ward gets pushed to No.2, it would suggest the pound for pound rankings are more a rating of who the best counter puncher is. Ideally, the top pound for pound fighter should be the guy that provides the most excitement. In watching tonight's fight between Crawford and Indongo, I don't personally feel that Crawford's fighting style is more exciting than Golovkin or Roman Gonzalez. I also think Vasyl Lomachenko and Guillermo Rigondeaux should be ranked above Crawford in the Ring's ratings. Anyway, this is all subjective stuff.