The decision by Adon Betin, referee from Benin to stop the WBO Africa junior featherweight title fight between the hitherto undefeated champ, Isaac 'Golden Eagle' Sackey (falls to 22-1-1, 19 KOs) and also undefeated countryman, Wasiru 'Gyata Bi' Mohammed (improves to 12-0, 10 KOs) in round 3 after Mohammed's powerful right hand sent Sackey crashing to the canvas, ended up turning what was supposed to be a night of celebrating two of Ghana's rising boxing stars into a near bloodbath as Sackey's team and supporters vented their spleen amid creating chaos and disorder which brought proceedings to an abrupt end Saturday night in Accra.
The highly rated challenger, Wasiru Mohammed appeared to be in control of the fight and had easily won the opening two rounds on many people's scorecards at ringside and appeared to have finally got the measure of Isaac Sackey barely a minute into round 3 when he cornered the champ, caught him with a vicious hook to the chest which rattled Sackey and was quickly followed by a devastating uppercut which sent Sackey down for the first time in his career. Sackey fell with a bang, the back of his head thumping to the floor yet he rose as quickly as he had fallen but referee Betin had already waived off the fight even without counting.
Incensed at losing their unbeaten record and WBO Africa title in what they preceived to be a manner they reckon was unfair from the referee, the corner of Sackey rushed into the ring to attack the Beninois ring official which was followed by securitymen and fans of both boxers also joining in the ensuing melee of clashes, disorder and destruction of facilities inside the Sports Emporium Hall of the Bukom Boxing Arena in the Ghana capital.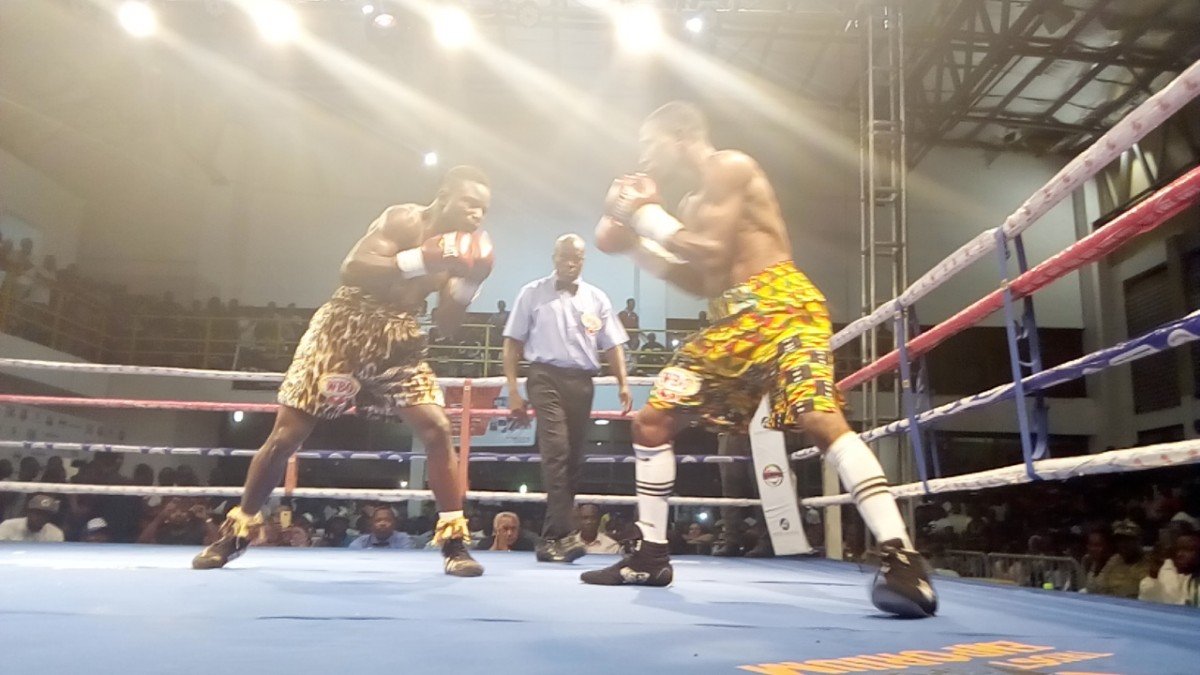 Such was the chaos and lack of safety that everybody scrambled for an escape route out of the venue including the WBO officials, supervisors, ring officials, Ghana Boxing Authority chiefs and even the boxers. It indeed was a night of shame for Ghana boxing, everyone went home without an official declaration and coronation of the winner and fight fans now await communication from the powers that be on what is the official verdict and decisions regarding the WBO Africa junior featherweight championship.
In other fights on the undercard of the E&J Promotions bill, Kofi Johnson overcame the huge height advantage of Daniel Ehizuoje to dominate and pummel his opponent in their super middleweight contest. Ehizuoje resorted to constant clinches and fouls for which referee Michael Neequaye warned him severally and also deducted a point for in round two. It continued into round 3 and barely two minutes into it, the ref had seen enough and disqualified Ehizuoje to give Johnson the win.
The other undercard fight aside four amateur exhibitions that preceded the main bout saw Eric Quarm score the first stoppage win of his career following a round two TKO verdict, Daniel Akornu unable to withstand the incessant attacks and powerful punches of Quarm who was only fighting in his second bout as a pro. Three times Akornu visited the canvas, prompting referee May Mensah Akakpo to halt proceedings and hand Quarm a second straight victory at the beginning of his pro career.