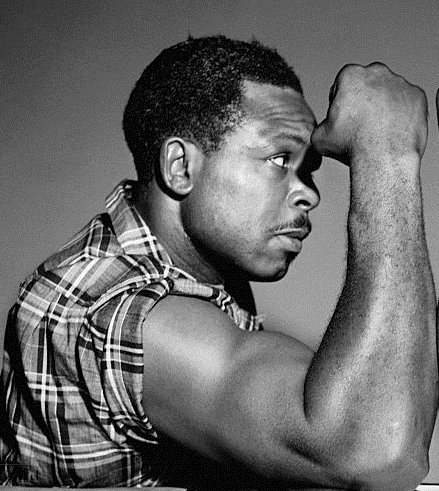 Whenever any list of the greatest-ever light-heavyweights is compiled, two names are ALWAYS present: Archie Moore and Ezzard Charles. Moore, the undisputed KO-King, was world champion at 175; "Ageless Archie" enjoying a both long and memorable reign. Charles, as good as he was, was never world ruler at 175, yet he did go one better than Moore, in winning the world heavyweight crown.
Charles, one fine, fine fighter, also bested Moore on three occasions in non-tile bouts. Many fans rank Moore as the overall greater fighter, but Charles, as the saying goes, really did have Moore's number. Their final fight took place 70-years ago this week (January 13, 1948).
Fight-one was fought back in May of 1946, in Pittsburgh, and it was a non-title bout scheduled for ten rounds. Charles, "The Cincinnati Cobra," as he was known, inflicted the first of his three defeats on Moore with a commandingly wide unanimous decision. He also decked the ageless one with an extremely hurtful body shot in round eight. Moore barely beat the count, rising at nine. Charles had given Moore a clear and undisputed beating.
The following year, again in May, they met again. This time the fight was held in Charles' hometown. Not that he needed the advantage. Again with no title on the line, and again fought over ten rounds, Charles captured a majority verdict. Also as in the first meeting between the two light heavyweight greats, Charles put Moore down with a body shot, this time in the seventh-round. It just didn't seem as though Moore, as good as he was, could gain the upper hand over the younger man. Still, this didn't stop him from trying. For although nowadays the overwhelming urge of many a boxer would doubtless be to avoid such a tough foe, this was not the way of things for fighters back in the 1940s.
Fight-three came just short of a year later. This time they met in Ohio, in January of 1948, and again the match was scheduled for ten rounds. What followed was probably the best fight of their three fight series. Both men started fast and the pace remained unaltered throughout. In this bout, Moore saw his best chance of victory pass him by. He had Charles walking on queer street in round number eight, and was seemingly a punch or two away from at last defeating his nemesis – and by knockout. Yet somehow Charles recovered his senses and came back with some devastating blows of his own to sensationally KO "The Mongoose" in the very same round. The finishing punch, a right cross, was absolutely perfect.
This win finally convinced Moore that, special as he was, he simply could not find a way to beat Charles. Both men went about their careers from then on without hooking up again. And both men's finest accomplishments were still ahead of them, too. Quite amazing is how these two supremely talented light heavyweights were squaring off with one another – three times – before even fighting for a world title.
How the sport of boxing has changed.