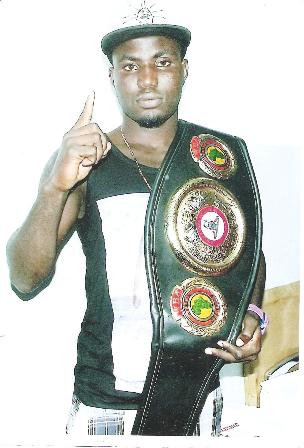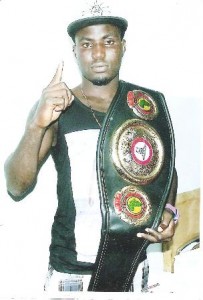 Fresh from earning a career high number 9 ranking on the WBA Lightweight ratings, young Ghanaian pugilist, Rafael Mensah is knocking on the doors to the WBA Lightweight championship.
Rated number 9 in the latest rankings released on Monday, undefeated Mensah has vowed to work his way to the top for a possible shot at champion, Richar Abril or even interim champion, Yuriorkis Gamboa, both Cubans.
"For now, I have to thank my coach, Ofori Asare and my manager/promoter, Anthony Kermah of Landmark Promotions. I turned professional in 2010 and I'm happy with the way my career has been managed up to this time," Rafael Mensah told East Side Boxing exclusively when we caught up with him training at the Wisdom Gym in Accra.
Mensah, 19-0, 14 KOs, has shot ahead in the world ratings on the back of annexing the WBA Pan-Africa Lightweight belt via a unanimous victory over Bilal Mohammed back on July 13 and he is still basking in the glory.
"I will like to thank my fans, my matchmaker, Ako Paterson and Stanley Christodoulou, the WBA Pan-Africa President for giving me this golden opportunity to be the WBA Pan-Africa champion. I am aware of what is ahead of me but I will need the support and prayers of all Ghanaians," Rafael said.
He went on to state his case for shot at world champhionship glory sooner than later with a special preference for the WBA belt.
"I'm ready for anybody but I have to talk it over with my trainer and my team, however whoever they put in front of me, I will beat him. There are other equally good boxers in my division in Ghana but I'm thinking of the Abrils, Gamboas and others since they are on the world stage where I'm aspiring to," the boxer said.
He continued: "I want to be the next boxer to bring the WBA title to Ghana since the great Ike Quartey. The WBA is the oldest belt, so winning it will give me the respect I deserve in and outside the ring."
Mensah added: "I like Azumah (Nelson) and Ike Quartey very much but Pernell Whitaker is my favourite boxer. His style suits me very well. In my opinion he is the best defensive boxer of all time and I want to follow in his footsteps."