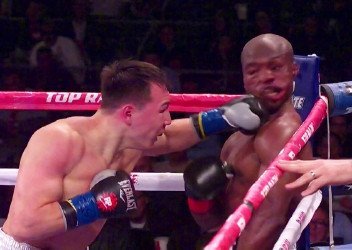 Share the post "Provodnikov willing to fight Bradley again on Timothy's Terms"
Both Timothy Bradley and Ruslan Provodnikov have suffered losses in their last fights.
Bradley wasn't able to solidify his first victory against Manny Pacquiao which he claimed in June of 2012, and lost the rematch in April of this year via UD.
Provodnikov, who was considered a possible next opponent for Manny Pacquiao, lost that opportunity by losing his last fight to Chris Algieri via SD.
Now that both Bradley and Provodnikov are looking to reclaim their momentum, what could possibly be a better way than to offer the boxing fans a rematch between the two of them? After all, their first fight, which Bradley had won, was impressive and highly entertaining; with part of the boxing community still suggesting that Provodnikov should have been announced the winner that night.
The roadblock to their rematch, according to Provodnikov, is Bradley himself.
"I think that Bradley had two good fights against Pacquiao, but I don't believe that he has even been beat up more than in the fight against me, and he knows it. Tim should stop talking, and fight me. If he thinks that his next fight against me will be an ever easier one for him, why is he avoiding the rematch, and saying that he will never fight me again unless there is a lot of money involved?" stated Provodnikov in a recent interview.
This is true; Bradley's fight against Provodnikov was indeed the most brutal war I have ever seen him engage in. Both fighters stood their ground, but it was mostly Provodnikov who pressed the action, walking Bradley around the ring.
"I am ready to fight on his territory. I would like to go to Bradley's hometown and beat him up again, more decisively," added Ruslan.
While both fighters have other options to consider, unless there are other lucrative offers, I think their rematch not only makes sense in the eyes of the boxing community, but might actually prove to be more profitable than expected.
More @ https://www.facebook.com/VitaliFightPress