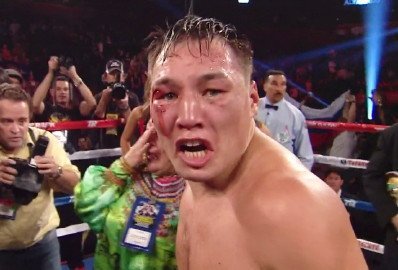 Former WBO 140 lb champion, Ruslan Provodnikov is heading to Europe for his next fight on Nov. 7 after failing to secure a TV deal in the US.
The "Siberian Rocky" will face the (13-0, 10ko) Jesus Alvarez Rodriguez over 10 rounds at welterweight on promoter Rodney Berman's "Night of Champions" card at Salle Des Etoiles in Monte Carlo, plugging the gap left by the postponed 175 lb clash between (injured) WBA (reg) champion Juergen Braehmer and Thomas Van Oosthuizen.
"I am glad that finally I have a specific date and location for the fight," Provodnikov said as the news was announced. "This will be a great experience for me because it's my first time fighting in Europe, and I heard Monte Carlo has a lot of boxing fans."
Provodnikov will be cornered by new trainer Joel Diaz for the fight, the pair's first together since Provodnikov split from Freddie Roach in the wake April's FOTY candidate loss with Lucas Matthysse. Since that all action clash Provodnikov reportedly tried to tempt numerous big names – including Amir Khan, Shawn Porter and Thomas Dulorme – into an Autumn/Fall fight without success, yet says 2016 will be his year.
"I know that next year I will be back in the ring, and the networks will finally have an opponent that will fight me and not just say they want to fight me," he said. "Hopefully we can make a rematch with Matthysse or a fight with Brandon Rios, which would both be great fights for the fans."
The fight with the unbeaten, yet inexperienced (13-0) Rodriguez, should be nothing but a formality for Provodnikov, who could use a win after going 3-3 in his last 6, albeit it against far superior opposition. However the young Mexican claims he is more than ready to spring the upset and propel himself into the limelight.
"I never thought I was going get a fight against Ruslan," he said. "He is one of my favorite boxers to watch, so this is a great opportunity for me, and I want to make a splash. I'm training very hard because I want the world to know who I am."
Twitter @Undilutedpoison