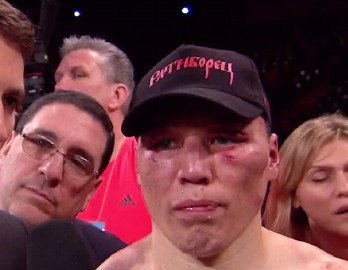 Former 140 lb world champion, Ruslan Provodnikov (24-4, 17ko), is chasing a second world title, a goal he hopes to achieve under the tutelage of new trainer, Joel Diaz, beginning the journey this Saturday in Monte Carlo, when he fights little known Mexican, Jesus Alvarez Rodriguez (14-0, 11ko) over 10 rounds at 147.
Make no mistake that Rodriguez should present nothing but a formality for Provodnikov, who has cited his struggle to get a network TV date as the main reason for facing what many consider a less-than-decent, untested opponent away from the US, the country which has been his fighting 'home' in recent years.
It will also be the first outing for the 'Siberian Rocky' to show off the new tricks that Diaz has been teaching him since he switched from former cornerman, Freddie Roach,(after April's all-action loss to Lucas Matthysse), with his new, Indio based trainer having placed emphasis on tightening up the Russian's notoriously leaky defence.
"I will be world champion again," Provodnikov said ahead of the fight, going on to add via translator that the hook up with Diaz has been productive thus far, and that he is doing 'whatever is asked' of him by his new trainer.
They were sentiments shared by Diaz, who elaborated further.
"He gets hit a lot, so I focus more on defense — head movement and some other tricks of the trade so he don't get hit so much. He wants to go for the kill, but blocks himself. It's hard for him to do offense-defense," he said. "I'm teaching him to use offense as defense. I'm not changing his style. We're working on making opponents miss, and counter punching.
"He needs to put together more combinations and improve his work rate. I'm also working on making him a devastating body puncher.
"He has reacted well. He's so good to work with. I'm excited. I was nervous after the first week and wondered if he liked my work. I know he does because he's a happy fighter and happy fighters always perform better," he added.
Twitter @undilutedpoison