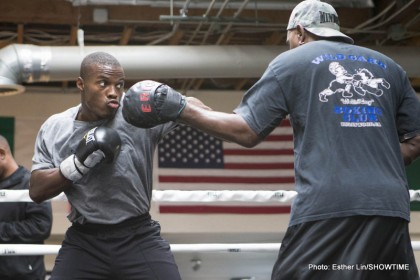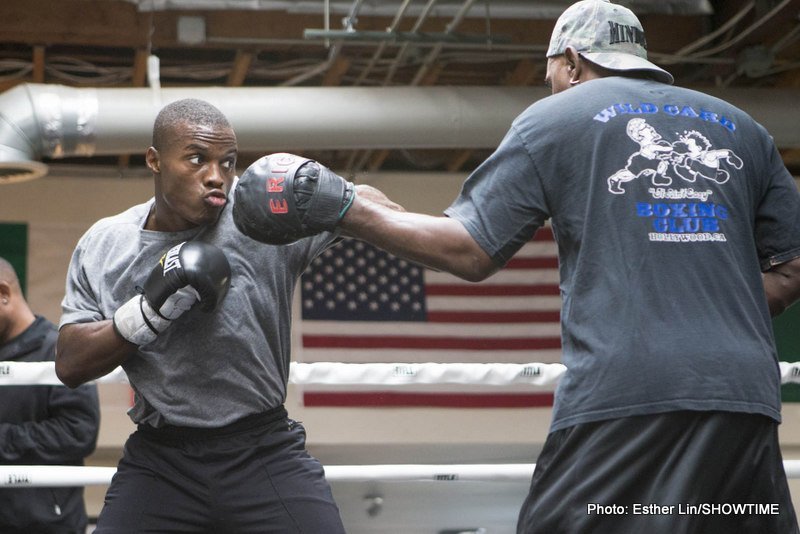 Los Angeles (Oct. 10) – WBO Middleweight World Champion Peter "Kid Chocolate" Quillin put on a clinic today for media members at his gym in Santa Monica, Calif. as he prepares for his title bout against top contender "King" Gabriel Rosado taking place Saturday, Oct. 26 at Boardwalk Hall in Atlantic City live on SHOWTIME CHAMPIONSHIP BOXING. Quillin vs. Rosado will precede the title fight between future IBF Light Heavyweight World Champion Bernard Hopkins and top-rated contender Karo Murat.
The undefeated rising star worked out for well over an hour on the speed bag and heavy bag as well as several 12-minute rounds hitting the mitts with trainer Eric Brown.
Peter Quillin, WBO Middleweight World Champion
"[Gabriel] Rosado presents his own challenges. He's coming to win my world title. I have something that he wants, so I have to respect him for that. We have to put our friendship aside.
"Going into the fight, I have to take myself to a whole another level as far as my work ethic. I'm doing a lot more than I ever have. I've had tremendous training [camp]. Now I have to prove what my hard work does, like I always have, by just going in there and trying my best.
"I don't feel that I'm underrated. I know I have my share of supporters. But I also know that I'm still looking for that clear, career-defining performance against the kinds of guys I can get the credit for fighting.
"So, until then, until I'm in with those kinds of guys, I can't really say I've accomplished anything that would make me feel like I'm the guy that gets all the credit.
"Yeah, I beat Winky Wright, and, yeah, I beat some guys with good records, but beating another world champion is something I really want to do. I feel that once that superstar fight comes along and is on the line, then that's when the credit will come my way.
"I would love to fight any of the top guys.
"I didn't come in here picking and choosing who I want to fight. I have a good team behind me. They make sure when it comes to me proving myself with, that I do my part and they do their part by making the best fights out there for me.
"When there is something unexplainable, like what I am doing, people are going to talk about it.
"I have had 11 knockdowns in my last three fights. I only had 15 amateur fights. People see or hear about those knockdowns and they have a lot to say about it. 'If you hit so hard and have so much power, why don't they just stay down?' But that is not up to them to tell us why they got back up from a punch and fought on. It is up to the guy that I am fighting. The more times you get up, the more times I am going to try to knock you down.
"This will be my fourth fight on SHOWTIME. I really appreciate having them behind me. Exposure-wise, it has obviously been a big boost for me. When I walk the streets in New York City I get recognized.
"SHOWTIME is the network where all of the great fights are being made. The biggest fighter in the world, Floyd Mayweather fights on SHOWTIME. To be connected to someone that is from my hometown of Grand Rapids just like me, is fantastic.
"The most important thing for me is to go out there and inspire people to do things that they never imagined. Whether it is a boxer, a writer or an architect. I didn't have a lot of role models growing up, but it's what's in yourself that counts. And that is what I am trying to get across."
Eric Brown, Quillin's Trainer
"Peter has really grown up a lot since winning the title, having the title and defending it successfully. It has really boosted his confidence. He's a much more composed fighter. He's true to himself.
"Since becoming champion he's really begun to believe in himself more than ever.
"He's always had the confidence that he could win, but winning the title has confirmed it. It has made the job harder for him but it has also made him work harder.
"He's matured into a real professional. I have had him for about three years and he has always been a great young man to work with. He pretty much does everything I ask. The more I ask the more he gives. There is no limit to how far he can go. It's all on him. I would love to see him get the opportunity to unify the division and then up to 168 pounds and unify the division there too."
# # #
Hopkins vs. Murat is a 12-round bout for Hopkins' IBF Light
Heavyweight World Championship, presented by Golden Boy Promotions
and sponsored by Caesars Atlantic City, Corona and AT&T. In the co-main event WBO Middleweight Champion Peter Quillin will put his title on the line against Gabriel Rosado in a 12-round bout. Plus, opening the tripleheader, WBC Continental Americas Heavyweight Champion Deontay Wilder will face Nicolai Firtha in a 10-round showdown. The SHOWTIME CHAMPIONSHIP BOXING telecast begins live at 9 p.m. ET/PT and is available in Spanish on secondary audio programming (SAP).
Tickets priced at $300, $150, $75, $50 and $25, not including applicable
service charges, are on sale now and can be purchased at the Boardwalk Hall Box Office, all Ticketmaster locations, by calling 800-736-1420 or at www.ticketmaster.com.