Both HBO and the PBC on Fox have dueling tripleheaders this Saturday night featuring quality matchmaking from top to bottom whether you're looking for pure entertainment or an evenly matched 50-50. For this boxing scribe (hack) the most intriguing one of all is Joe Smith Jr. vs. Sullivan Barrera and the can't-miss action fights include Berchelt vs. Miura and Figueroa vs. Guerrero.
Here's the rundown on how these fights will play out starting with a true pick'em, Joe Smith Jr. vs. Sullivan Barrera. Just a few days short of 13 months ago the boxing public especially the media, destroyed a PBC on NBC main event that matched Joe Smith Jr. against Andrzej Fonfara. That fight was chastised as yet another (perceived) mismatch from the Al Haymon stable pushed aside as a worthless waste of space for a prime time slot. Then the first round happened and the rest is music to Joe's ears. Once again Joe was seen as a sizable underdog facing The Legend of Longevity Bernard Hopkins late last year. Joe knocked Bhop out of the ring ending his storied career abruptly.
In March of 2016 Sullivan Barrera registered his first loss as a professional against a future Hall of Famer Andre Ward. Before the year was out the Cuban native bounced back with a resounding knockout victory over previously unbeaten Vyacheslav Shabranskyy. With a stay busy bout earlier in the year Barrera should be ready heading into this important bout squaring off with Smith. Neither guy is known for being defensively savvy which opens the door for a fun scrap.
Joe loves to work the body and does it very well using both hands. His main weapons, a left hook to the head or body and an overhand right as well. Joe stood up fairly well to Fonfara after getting buzzed in the early goings so his chin looks to be battle tested. It's safe to say Smith Jr. has more power in both fists.
Barrera employs a solid jab followed with a straight right hand. He prefers a left hook similar to Joe but has quicker hands and foot speed. Barrera has an advantage of being able to attack but also box and move on the outside. Sullivan's chin can be questioned somewhat having been down in back to back fights recently. My gut is screaming to side with Joe Smith Jr. by late stoppage but something tells me Barrera's versatility wins enough rounds.
My Official Prediction is Sullivan Barrera by Majority Decision.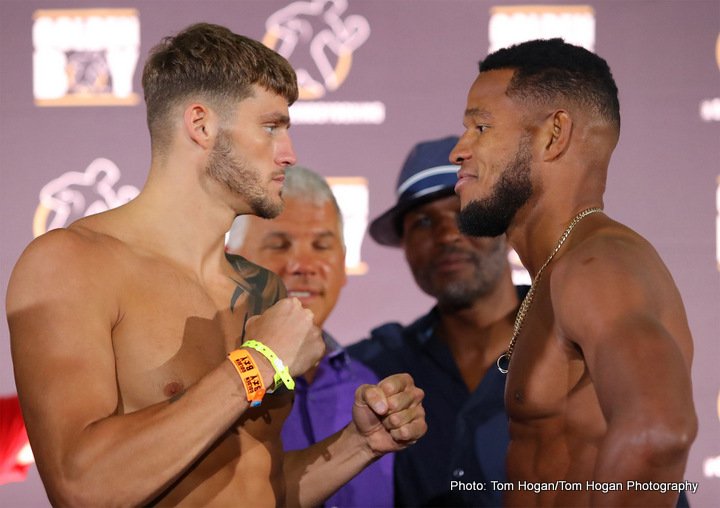 Miguel Berchelt vs. Takashi Miura has a real chance to be a non-stop, action-packed main event on HBO. The first question should be pointed at Miura, wondering just how much is left in the tank. Many pundits are siding with the younger and fresher Berchelt, but let us not count out the Japanese veteran.
They say the last thing to leave a fighter is their power punch and for Miura it's definitely his lead left hand. Every chance Takashi gets to throw his left he makes sure to put everything in to it. Miura spends the majority of his time pushing forward in a bombs away style. He may be labeled as a brawler but Miura has pretty damn good timing with the power to change a fight.
Berchelt has a stiff jab to help set up his offensive attack. Miguel pressures his opponents but also looks to dip in and out with fast combinations. The knock on Berchelt is experience at the top level and a tendency to turn robotic or arm punchy, especially on his 1-2 combo. The mixture of in and out activity will likely get Berchelt through the rough patched he'll face against Miura.
My Official Prediction is Miguel Berchelt by Unanimous Decision.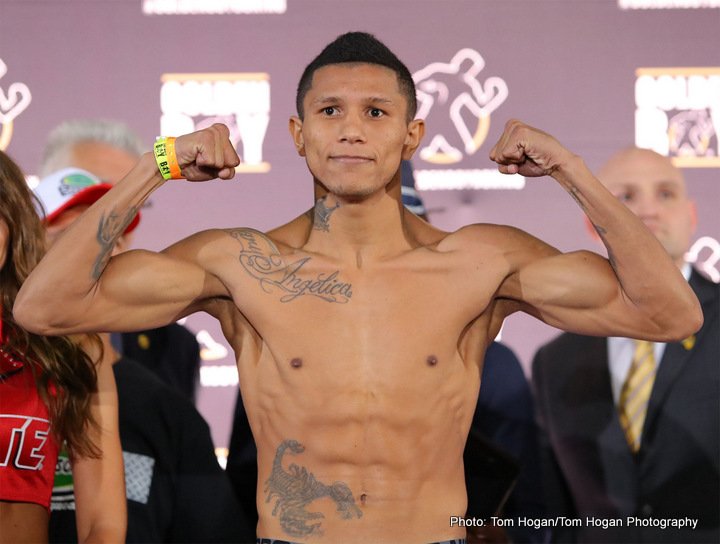 Jezreel Corrales vs. Robinson Castellanos might turn out to be the slowest on the HBO three-bout docket in the way of punch output. In spots expect some hard punches to land but don't be surprised if it's gets a little ugly. Castellanos will press the envelope a lot more then Jezreel's last outing which might be the saving grace for the live crowd. Robinson is a tough customer who is better than what his misleading boxing record lens you to believe. I wouldn't compare him to say an Orlando Salido although he did just beat Yuriorkis Gamboa in May in brutal fashion. If Robinson Castellanos pulls off another upset you can almost guarantee it will be from a wild overhand right.
What makes this fight really interesting Corrales is wide-open to a right hand, a punch he was dropped with by Takashi Uchiyama. Corrales main strengths are fighting at distance and switching from southpaw to orthodox. Beyond several hard connections in the opening frames, look for Jezreel to find his rhythm and timing.
My Official Prediction is Jezreel Corrales by Unanimous Decision.
The PBC on Fox headliner Omar Figueroa vs. Robert Guerrero is a firefight waiting to happen once the first bell rings it will light the fuse. Neither guy is known for being a slow starter both thrive on mixing it up while keeping a high volume of punches. The placement of this fight is definitely a head scratcher for this east coast event. It does however, make a lot of sense at the top of the bill for the television viewing audience standpoint.
Let's not kid ourselves having two Mexican-Americans in the main event makes a lot of sense based off boxing demographics and the all-out brawl that will likely ensue. This one is the 2nd hardest of the weekend to pick a winner because of the great unknowns, a gamblers worse nightmare.
Do you go with the customary youth over age and side with Omar Figueroa? Or do you pick Robert Guerrero who seems to give a good performance every other fight but is clearly past his prime?
Omar throws punches in bunches but doesn't have a back-foot game to speak of. What Figueroa lacks in punching power he makes up for with smothering offense and a good set a whiskers. His glaring weaknesses are brittle knuckles and having been on the bench healing since December 2015.
Will this finally be the time Robert resorts back to his lighter-weight style before the nonstop aggressive welterweight version of Guerrero took over? I'm going to say yes we will see Guerrero mix in his world class skills from the outside as he brawls and circles his way to an entertaining victory.
My Official Prediction is Robert Guerrero by Majority Decision.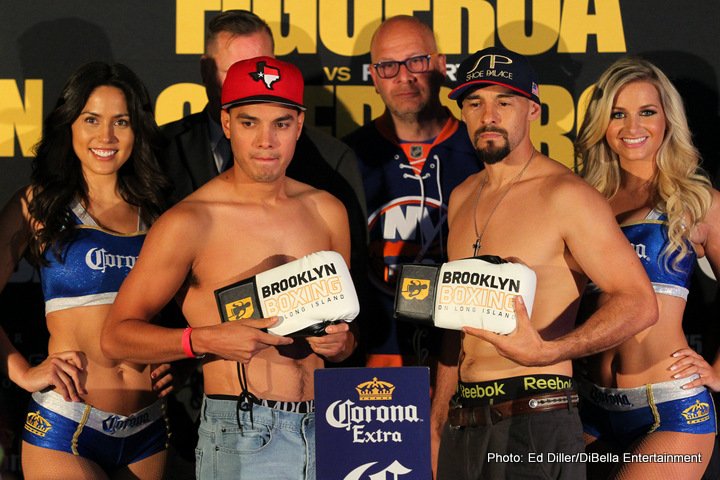 Artur Szpilka vs. Adam Kownacki will live up to what the polish fight fans cheer for which is of course two-way action. Szpilka is generally in a tough fight almost every time out. Although Szpilka has a decent jab and offensive talent he gets hit plenty making for a competitive fight versus Polish-American Adam Kownacki. The main difference that will become evident the second you lay eyes on these heavyweights is physique. Years ago it was Artur who was overweight, now Szpilka is in great shape and will simply outlast any trouble Adam Kownacki presents.
My Official Prediction is Artur Szpilka by knockout.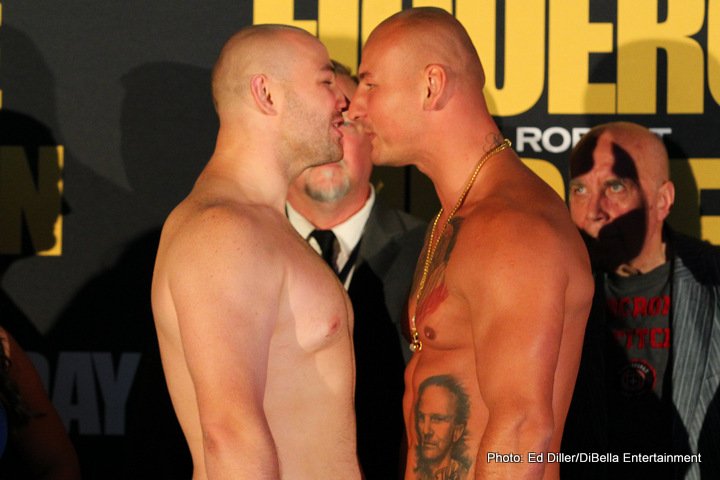 Marcus Browne vs. Sean Monaghan makes this card possible because of the fanbase that Monaghan brings in New York. And being that Sean is from Long Island what better way to kickoff boxing at the newly remodeled Nassau Coliseum. Monaghan is a bit of a plotter on the way inside and won't blow anyone away with foot or hand speed. Once inside Seanie is a handful working to the body and landing powerful overhand rights. He doesn't have any problem taking a few shots to land his barrage of punches. This will be his best opponent to date on a resume that lacks depth.
Standing across the ring this Saturday will be a familiar face in Marcus Browne who's from nearby Staten Island. The two know each other extremely well sharing many rounds of sparring sessions. This will be a battle of skill against grit in a local matchup that will feature exchanges of leather from the jump.
Browne would like to keep Sean at bay with his quick jab and flashy combination punches. If Marcus can keep Monaghan turning forcing him to reset on the way in it gives him the best chance to be victorious. Seanie is not the most skilled guy but his rugged come-forward style may be just what the doctor ordered. Browne can and will get hurt in the first say four rounds, it's just a matter of how he reacts to Sean's intense pressure. In April 2016, Browne was lucky to walk away with a win instead of a draw or a loss two fights ago with Radivoje Kalajdic.
K-Rod was able to get all up in Browne's grill, hurting him a few times and even scoring a late knockdown. The only thing is K-Rod is a faster and much more fluid of a puncher then Monaghan. The winner of this fight moves up the light heavyweight ladder and remains unbeaten
My Official Prediction is Marcus Browne by Split-Decision
Written by Chris Carlson Host of the Rope A Dope Radio Podcast available at blogtalkradio.com/ropeadoperadio Subscribe on Apple Podcasts (iTunes), Player.FM, Tunein, & Stitcher. Visit The Rope A Dope Podcast YouTube Channel & Follow on Twitter @RopeADopeRadio