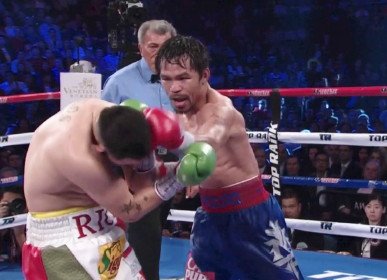 Top Rank promoter Bob Arum is rolling the dice by matching Manny Pacquiao (56-5-2, 38 KO's) against little known college-educated Chris Algieri (20-0, 8 KOs) on November 22nd on HBO pay-per-view from the Venetian Casino & Resort, Macao, Macao S.A.R., China. Arum ironed out the deal on Tuesday with Algieri's promoters Joe DeGuardia and Artie Pellulo, and he says it was an easy fight for him to make in terms of negotiations.
Arum sees the storyline for this fight being an interesting one given that Algieri has a Master's degree and plans on attending medical school in the near future once his boxing career is over.
"I'm excited. This is a college-educated kid, a good boxer, the kind of kid who will draw interest other than just the hardcore boxing can," Arum said to Dan Rafael of ESPN. "And the kid can also fight."
Arum is banking on casual boxing fans that normally don't follow the sport suddenly showing interest in the fight due to Algieri being an educated fighter. Arum and Top Rank will have to go about marketing this fight a little different from the others in the past. Normally the promoters push heavily the prior fights for an opponent to show how much of a puncher they are and how dangerous they are in the ring.
With Algieri, Arum will need to push his academic credentials, and stress how articulate he is. Whether this is something that will sell to the actual fans that purchase fights is unclear. We are talking things that might not go together. If Arum is expecting fans to be excited about a fight just because one of the fighters has a high level college degree then I think he might be making too many assumptions about fans.
Algieri did not look good in winning a narrow 12 round split decision over Ruslan Provodnikov last June. It was a fight where Algieri moved constantly, throwing weak punches and doing a lot of clinching to tie Provodnikov up to keep him from getting his shots off.
Arum might have been better off trying to match Pacquiao up with someone with more power and a better chance of beating him than Algieri. Fans would love to see Pacquiao fight Keith Thurman, Shawn Porter, Amir Khan, Lucas Matthysse, Saul "Canelo" Alvarez, Miguel Cotto or Gennady Golovkin. But then again those are guys that would have a chance to beat Pacquiao. It's hard to say what Arum's angle is at this point with the 35-year-old Pacquiao, who clearly is nearing the end of his career. Is Arum looking to milk Pacquiao's ride for as long as possible by finding a soft touch like Algieri? It's possible.
If you match your aging fighter with no hopers you can definitely extend their careers by a considerable margin.
It looks like Arum is willing to accept the Pacquiao-Algieri fight not doing well on pay-per-view, because this fight clearly isn't going to interest a lot of fans. The downside is that we're probably looking at 800,000 pay-per-view buys for this fight or less. Probably less. But the upside is Pacquiao's chances of winning will be high, he won't take much wear and tear due to Algeiri's lack of power, and he'll likely get a rare knockout.