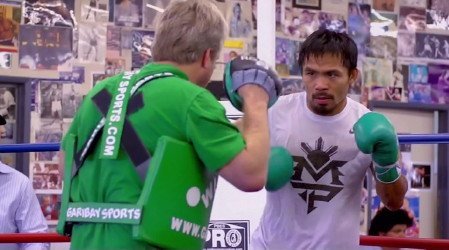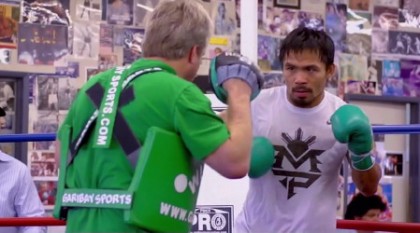 Manny Pacquiao's trainer Freddie Roach has been doing some talking about Pacquiao potentially moving down in weight to light welterweight to fight a new crop of fighters in that weight class. Roach surmises that Pacquiao's power will be better at that weight class and that he will be able to start knocking guys out once again.
Pacquiao's promoter Bob Arum is saying that the Filipino fighter will be staying put at 147. If Arum has the last word then Pacquiao won't be moving down in weight in 2015. It doesn't mean that he won't someday make the move down in weight, but it looks like Arum has other plans for him at welterweight.
Let's hope those plans don't involve more rematches with Tim Bradley or a rematch with Brandon Rios, because Pacquiao badly needs to start fighting more interesting opposition than the guys that Arum has been continually feeding him since 2010.
Pacquiao has had two interesting opponents in the last five years and those were Miguel Cotto and Juan Manuel Marquez. The rest of the guys Pacquiao has faced have been less than thrilling fighters, or at least they weren't by the time Pacquiao fought them.
Arum said "No," when asked by Thaboxingvoice.com if Pacquiao would be moving down in weight to 140. One can only guess whether Arum has spoken to Pacquiao about this recently or if Arum was making a unilateral decision to keep him at welterweight.
If Pacquiao does stay at 147, Arum can always drag his Top Rank stable fighters from light welterweight up to 147 to get them to face Pacquiao. This means we could see him soon fighting Jessie Vargas or maybe Terence Crawford after he moves up to light welterweight.
Mike Alvarado could also be a possibility for Pacquiao as well if Alvarado gets past Brandon Rios in their fight this month in Colorado. The Crawford-Pacquiao fight would be a good one, but it wouldn't be too thrilling to see Pacquiao fight Alvarado or Vargas.
There's a lot of good fighters at welterweight, but unfortunately a lot of them are signed to Al Haymon, the high powered adviser who has collected a massive amount of fighters recently. Haymon and Arum don't work together, so that means that unless Haymon decides he's open to the idea of matching his guys with Arum, we can pretty much forget about a lot of big fights that could take place.