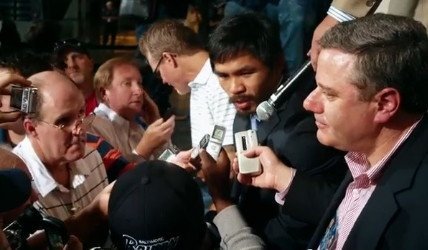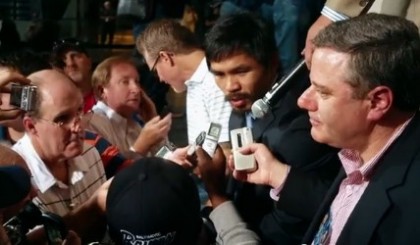 Floyd Mayweather Sr. thinks the 35-year-old Manny Pacquiao (55-5-2, 38 KO's) should quit on the spot if he gets beaten in his April 12th rematch against WBO welterweight champion Tim Bradley (31-0, 12 KO's) at the MGM Grand in Las Vegas, Nevada. Mayweather Sr. already has serious questions about how much Pacquiao has left after watching him lose in back to back fights to Bradley and Juan Manuel Marquez in 2012, but another loss to Bradley will give Mayweather Sr. a clear indication that the Filipino fighter should immediately call it a day to keep himself from fighting on too long.
Honestly, it doesn't look like Pacquiao will retire even if Bradley does another job on him, because Pacquiao already said he wouldn't retire if Brandon Rios beat him before their fight last November. Pacquiao didn't have any problems beating the slow as molasses Rios, but then again he was fighting a former lightweight who had basically eat himself out of the division rather than grew out of it.
"If Pacquiao loses this time, he should not be thinking about no retirement," Mayweather Sr. said to On the Ropes Boxing Radio "He should just total, just quit, over, he don't have to think about, just stop, quit, because it's over. If he gets beat this time, because he's been stopped, that showed one thing right there to me when he got stopped the first time, you know what the showed me, so if he gets stopped again it's time for him to quit. It's over."
I have to agree with Mayweather Sr., as much as it pains me to agree with him. I think Pacquiao should retire if Bradley beats him on April 12th. It would be a sign that it's over for him. It's not as if his promoter Bob Arum could point him in the direction of the other welterweight champions, because those belts are held by Golden Boy Promotions fighters – Shawn Porter and Marcos Maidana. Another loss to Bradley will also end any thoughts of a Pacquiao vs. Floyd Mayweather Jr. fight in the future. It wouldn't even be something that could be considered due to Pacquiao's many defeats in his recent fights. That would be 3 defeats in his last 4 fights, and you can't even count Rios as a real win because he's more of a lightweight with a coat of fat. He's not a top welterweight.
Pacquiao will probably keep chugging along even if Bradley beats him. Pacquiao can continue to fight Arum's other stable fighters for many years, but he can also forget about fighting Marquez again. Marquez wants to fight for the WBO welterweight title, and he cares little about fighting Pacquiao for a 5th time just for the sake of fighting him again.