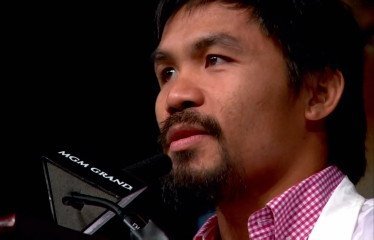 By Rob Smith: For what it's worth, Manny Pacquiao sees Miguel Cotto (37-3, 30 KO's) as coming out on top against WBA World junior middleweight champion Austin Trout (25-0, 14 KO's) on December 1st at Madison Square Garden, in New York. Pacquiao knows Cotto pretty well from having trounced him in a 12th round knockout back in 2009.
However, Pacquiao probably doesn't have clue one about how good Trout is and at this point in Pacquiao's career he would likely struggle badly and lose to a boxer/slugger like Trout. That would be a very tough fight for Pacquiao at any point in his career, especially now when he seems to have lost his ability to move and fight hard for three minutes of every round.
When asked who he thought would win the Cotto-Trout fight during Tuesday's telephone conference with the press, Pacquiao said "I think Cotto will win the fight. Not sure by decision or knockout. Better chance for a knockout but not sure."
It would be definitely good for Pacquiao if Cotto wins because Bob Arum has run out of big names to match him up against and he's resorting to putting him in rematches. If Cotto loses this fight to Trout then that presumably takes away one of the biggest money fights that Pacquiao can get off the table.
It's going to be really tough for Cotto to beat Trout because this guy can do a lot of things and he's not just someone that is slow with a bad eye, a bad knee or just plain old like some of Cotto's recent opponents have been.
Cotto lost his last fight to 35-year-old Floyd Mayweather Jr. last May, but before that Cotto has built himself back up from a 2009 loss to Pacquiao by beating Michael Jennings, Yuri Foreman, Ricardo Mayorga and Antonio Mayorga before losing to Mayweather. Cotto didn't beat anyone that you could call good and now he's someone that is good and who isn't afflicted some kid of physical problem. I think Pacquiao isn't giving Trout credit for being a very good fighter because he's an excellent chance of winning this fight and doing it fairly easily.
With few options available for Pacquiao in 2013 in terms of big fights, we're likely going to see Arum match Pacquiao back up with Cotto even if Cotto loses to Trout. There's just not a lot of options for Pacquiao and Arum to bring in big PPV money.