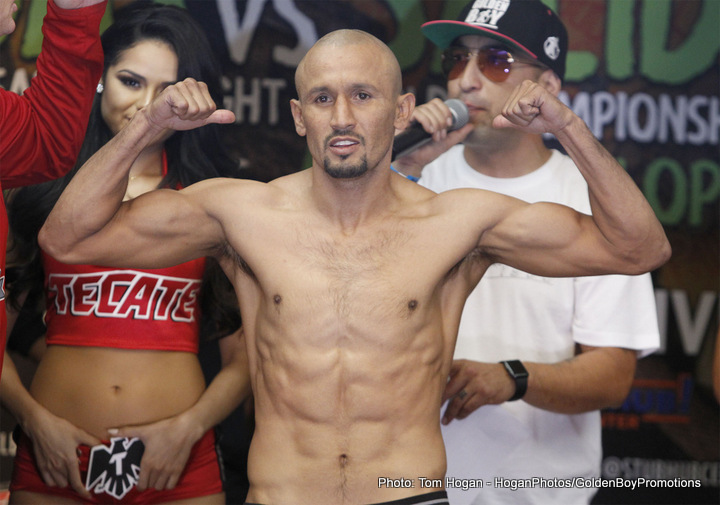 Mexican warrior Orlando Salido is a fine example of the lofty heights a fighter can aspire to as long as he doesn't give in when things are not going well for him. The amazing 35-year-old, who actually lost his March 1996 pro debut by stoppage defeat, went on to suffer double-digit disappointments in the first five years of his pro career (8 defeats and two draws) but he never gave up – even though he admits today he did think about it.
Salido, a tough and skilled fighter blessed with a great engine, a durable chin and dangerous power, fought on, mostly in his homeland but also in America and even Puerto Rico, and his determination paid off. It took "Siri" four attempts before he finally became a featherweight champion – beating Cristobal Cruz in a return meeting that followed an earlier points defeat to Cruz and, before that, decision losses to Juan Manuel Marquez and Robert Guerrero (this result changed to a No-Decision due to Salido reportedly failing a post-fight drugs test, the Nandrolone charges being ones Salido vehemently denies).
Now, in May of 2010, some 14 years after turning pro, Salido was at last the IBF featherweight champion. It wasn't until his upset over an unbeaten Juan Manuel Lopez in 2011, when he won the WBO 126-pound belt, that Salido became anything approaching a big name. Since then, the Mexican has enjoyed a big return win over Lopez, as well as, most significantly, considering how exceptional a talent he has proven himself to be at both amateur and now pro level, a victory over the hugely acclaimed Vasyl Lomachenko. Salido has also engaged in terrific battles with Terdsak Kokietgym (a win), Roman Martinez (a points loss and a draw) and, last time out in a 2016 Fight of The Year candidate, Francisco Vargas (draw).
Now looking ahead to his next fight, fans of Salido are doing likewise. How much more has the amazing veteran got left to offer? How many more great, great fights can this warrior give us before he's done? Has Salido got a shot at getting into The Hall of Fame? One of the most consistently exciting, not to mention hard working, fighters in the world today, Salido is simply a fighter for us to enjoy while we can.
Whatever he does next, Salido has already earned himself a special place in the hearts of not only Mexican fight fans, but of all fight fans. And he did it the hard way.