WBO cruiserweight champion Lawrence Okolie (18-0, 14 KOs) beat a spoiling challenger Michal Cieslak (21-2, 15 KOs) by a painfully dull lopsided 12 round unanimous decision on Sunday night at the O2 Arena in London.
The fifth round was Okolie's best of the fight, as landed a crunching right hand to the head of Cieslak that put him down on one knee.
However, Cieslak wasn't hurt enough for Okolie to finish him after he got back up. The lack of coordination and poor punch accuracy of Okolie prevented him from ending the fight in that round.
A fighter with better accuracy would have likely finished Cieskak, but Okolie looked clumsy as he repeatedly missed with his right hand.
For his part, Cieslak, 32, focused on taking away the lanky 6'7″ Okolie's booming right hand by charging forward repeatedly to grapple with him.
Each time Okolie would throw his powerful right hand, Cieslak would grab him in a wrestling hold to shut down his offense.
That strategy proved to be effective, but it wasn't useful as far as winning the fight. The pattern was repeated nonstop for the duration of the contest, making it almost impossible for Okolie to land more than two or three of his right hands in each round.
It seemed obvious from the outset that Cieslak didn't come to win the fight. He was there to survive, and make sure that he was still standing at the end of the 12 rounds.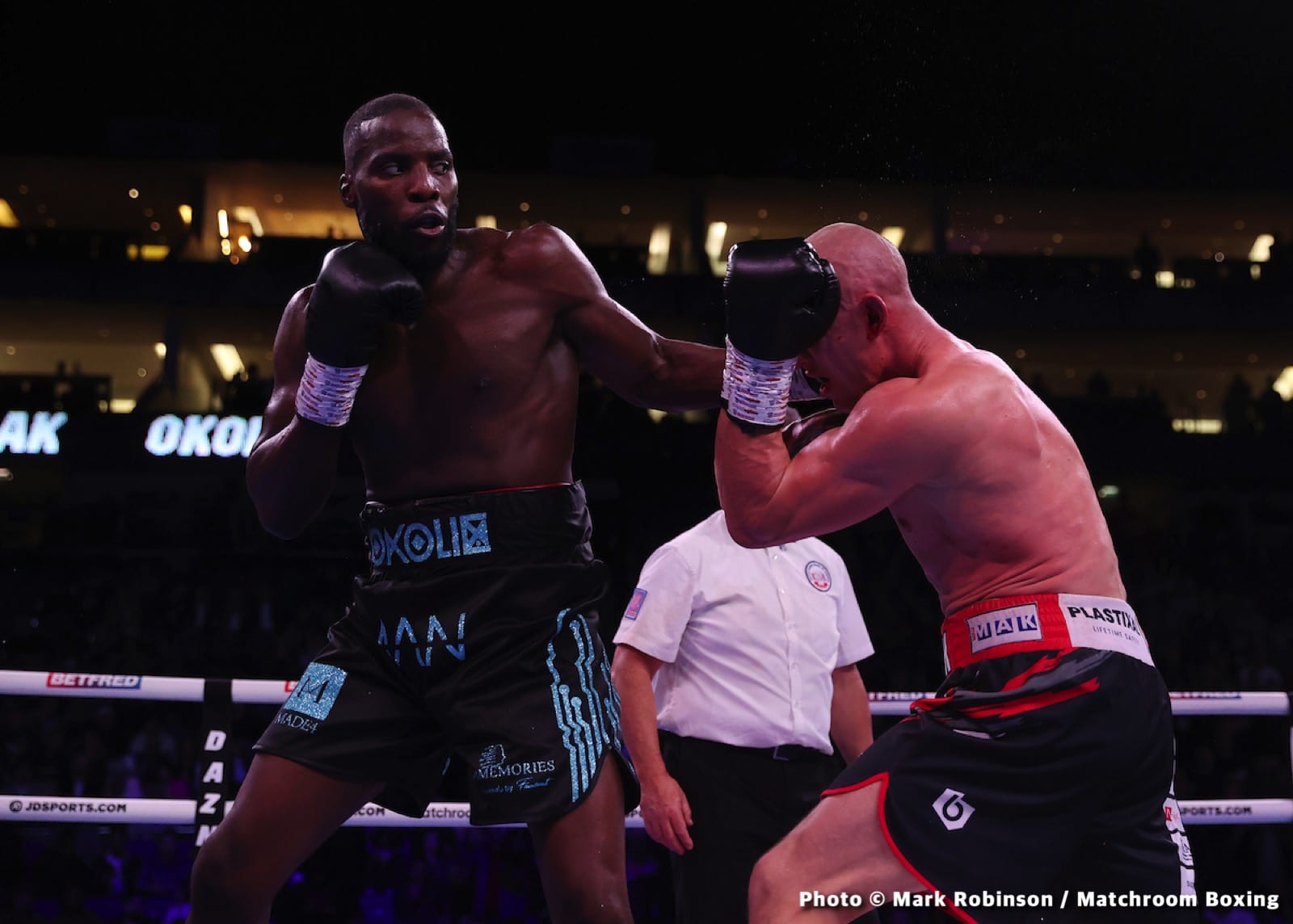 The judges' scores:
Boxing 247 had Okolie winning every round of the contest, as there was no real offense to speak of from the Polish fighter.
For the most part, the only offense from Cieslak could muster up were short punches to the head of Okolie in the clinch.
Interestingly, many of the punches hit Okolie in the back of his head, and for some reason, the referee failed to deduct points from Cieslak for his use of rabbit punches.
After the fight, IBF cruiserweight champion Mairis Briedis, dressed as Mario from the Nintendo game, came to the ring and briefly discussed a potential fight between them.
Okolie spoiled things with him looking hostile, unsmiling, failing to understand that Briedis was trying his best to build interest in a fight between them.
If this were Tyson Fury that Briedis was calling out, he would have been all over this, having fun and turning it into a comedy routine. Not Okolie, though. He clearly didn't get it. Instead of having fun with the theatrical part of the call-out, Okolie looked hostile and ruined the whole thing.
"It was very scrappy, the guy is a tough fighter and is top five in the world right now," said Okolie at the post-fight press conference in talking about Cieslak.
"It was good. I boxed well at times, boxed him at times. However, he was very physical and very dirty. A lot of shots behind the head.
"After I got to round six, I said, 'You know what? I have to grit it out and find a way to win. It was a bit more experience for me. This guy was a good fighter.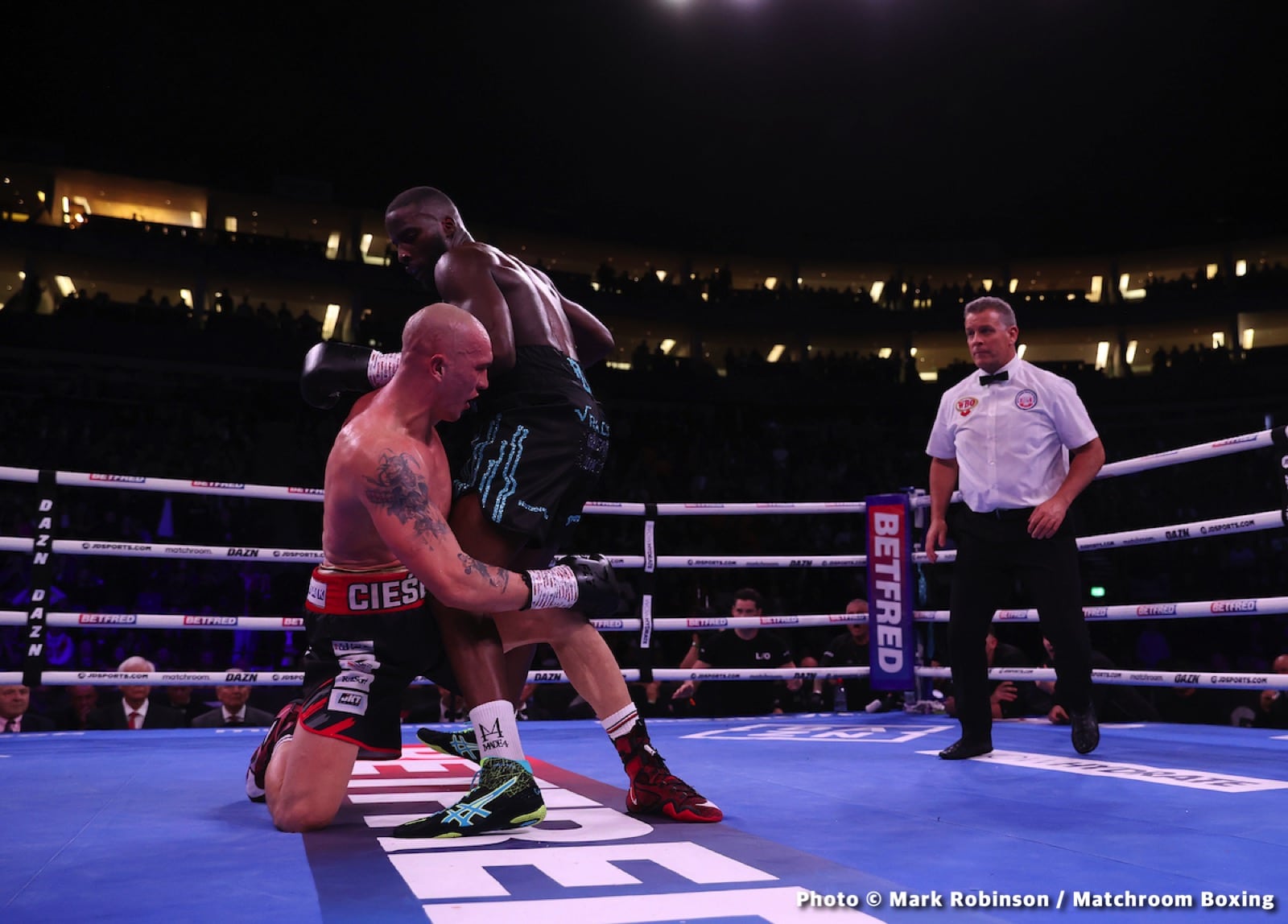 "The way I was throwing the right hand, I was looping it, but I needed to throw it a bit more straight. He was coming back with hooks. It was just a good fighter, and it's another bit of experience under my belt.
"I think it was similar to Askins, but hopefully not as bad in terms of the performance. But definitely in terms of the physicality and someone finding a way to get under the shots and graft.
"He made it very physical, the guy was strong, but like I said, I need to watch it back. It wasn't as clinical as I would have liked, but I got the 12 rounds. I was very fit.
"I don't think I lost many rounds, but some of the rounds were closer than I like them to be. It was nice. When it's all said and done, those are the moments I'm going to remember after boxing," said Okolie about being walked out by Anthony Joshua and Israel Adesanya.
"I've been very blessed outside of boxing with certain decisions that I've made. So I just like to enjoy boxing.
"I just have to watch the fight back. Honestly, I'm happy I got the win. Everyone is saying, 'Keep your head up.' But I've built up a certain thing where I like to get stoppages, I like to keep it long.
"It wasn't that but ultimately and still it was very hard to hit him with a good shot. It was very, very powerful. There's a lot to work with, but too much to work on but we'll work on still.
"Today is going to get me back in the gym learning. I think when you're blitzing people, it's very easy. With certain styles, I wouldn't say complacent, but I generally felt like I got to the point where it's easy.
"I find out that reminds me that there's more to be done," said Okolie. "Yeah, that's the type of fight where you'll see the best out of myself," said Okolie about Mairis Briedis coming to the ring and giving him a McDonald's bag.
"He's not going to come to smother. He likes to box long, he believes in his power, so it should be a good fight. Definitely," said Okolie when asked if he'd move up to heavyweight if he can't get the unification match against IBF champion Briedis.
"If there's no unification next, I'll have a little dabble at heavyweight. I think coming down in the weight as I was, if not for Scott, my nutritionist, I would have been in big trouble.
"The 12 rounds, I managed to do quite well, and very fit, but there's a sharpness that I want to maintain. It comes from a bit more discipline outside of camp.
"I'm still working, I'm a world champion, but there's more to be done in and out of the ring. So that's what I'm going to address," said Okolie.