By Joseph Herron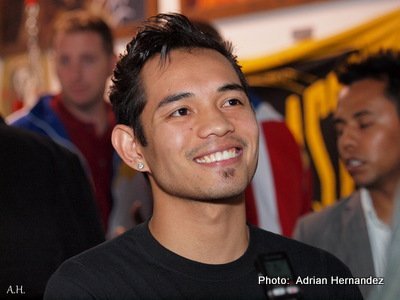 – On Saturday night, October 13th, from the Home Depot Center in Carson, California, pound for pound fighter and current IBF/WBO Super Bantamweight Champion Nonito Donaire (29-1, 18 KOs) will attempt to diversify his already successful boxing portfolio as he takes on the WBC Champion Emeritus Toshiaki Nishioka (39-4-3, 24 KOs).
The Championship contest is part of a spectacular double header, which will be broadcast tonight on HBO Boxing After Dark, beginning at 10 PM EST/PST.
While many fight fans and boxing scribes are clamoring for a super fight between Nonito and current WBA Champion Guillermo Rigondeaux, tonight's main event will pit the Ring recognized number one ranked 122 pound fighter against number three.
Because of his exposure on Showtime and HBO, it would be natural to assume that Donaire would be entering the ring as the number one ranked Super Bantamweight in the world.
But he's not.
Toshiaka Nishioka is considered to be the number one fighter in the packed 122 pound weight division…and for good reason. The Tokyo, Japan based fighter hasn't lost since entering the Super Bantamweight division back in 2004, defeating his opposition in convincing and impressive fashion.
Donaire and Mares have only been competing in the talented weight class for less than a year's time, and the number two ranked fighter in the division, Rigondeaux, didn't become a professional fighter until 2009.
For all intents and purposes, this brilliant style match-up should be for "all the marbles" at 122 pounds. Accordingly, the WBC will award the eventual winner of this contest its highest honor to an active fighter; the WBC Diamond belt.
Most boxing pundits seem to think that Nonito will completely overmatch the elder statesman of the 122 pound division with his elite level speed and power. But Donaire has yet to completely overwhelm any fighter since competing in the larger weight class. In his only two outings at Super Bantamweight, Donaire hasn't resembled the beast who blew out Fernando Montiel in 2011.
Although the Filipino fighter soundly defeated two legitimate title holders in the larger division, it remains to be seen if his brand of speed and power can devastate a very crafty 122 pound champion like Toshiaki Nishioka.
Who will reign supreme when the final bells rings? Let's take a look at the "Tale of the Tape"!
Tale of the Tape
Nonito "Filipino Flash" Donaire (29-1, 18 KOs) – "The Filipino Flash" stands 5'5 ½" tall and fights with a 68" reach out of an orthodox position. The 29 year old fighter hails from Talibon, Bohol in the Philippines, but fights out of the bay area of southern California.
The gifted fighter has captured world titles in four different weight divisions and has won 28 consecutive bouts, stopping ten of his last fifteen opponents. With his shocking pound for pound power, Nonito became Ring Magazine's "KO of the year" recipient in 2007 and 2011 for his star making performances against Vic Darchinyan and Fernando Montiel.
Since teaming up with elite level trainer Robert Garcia, Nonito has gone through a metamorphosis of sorts. His uncanny athleticism has given him the luxury of boldly experimenting against lesser opposition in previous outings. As a result, fight fans have witnessed the progression of one of the most exciting and captivating fighters in all of boxing.
Nonito Donaire has recently assembled a boxing "dream team" to further cultivate his natural gifts in the ring. He trains with nutritionist Victor Conte, strength and conditioning expert Mike Bazzel, assistant trainer Brian Schwartz, track and sprint coach Remi Korchemny, and chiropractor Cameron Fort.
Nonito's freakish speed, coordination, agility, and power in the ring, makes him a virtual nightmare for any fighter on fight night. His unorthodox and chameleon-like qualities make it nearly impossible to prepare for and anticipate.
Donaire's primary weapon is his devastating counter left hook. The Filipino fighter is supremely confident in his speed, power, and reflexes, which ultimately empowers him to adopt a fearless and often reckless mentality in the ring. Because of his iron resolve, Nonito will often place himself in harm's way to distribute his monster left hook.
His most underrated attribute is his ring intelligence. His athletic versatility enables him to adapt well to any of his opponents' strengths. Donaire identifies his opposition's qualities and ultimately exploits their weaknesses. Nonito has the ability to throw a wide assortment of punches at many different angles and ranges because of his unique athletic gifts, ultimately making him one of more enigmatic fighters in boxing.
Toshiaki Nishioka (39-4-3, 24 KOs) – the crafty fight veteran stands 5'6 ½" tall and utilizes a 68 ½" reach in the ring. The 36 year old pugilist from Tokyo, Japan fights out of a southpaw stance and fights in an almost Eastern European or Olympic style. He employs solid footwork as the foundation for his defense and offense, predominately keeping his opposition at a safe distance with his piston like jab and ability to move about the ring.
Although Nishioka isn't the most versatile pugilist in boxing, he uses his strengths extremely well and has been perfect since moving to the Super Bantamweight division in 2004. Despite only fighting in North America twice previously, he has two very impressive victories against marquee names in both appearances; a knock-out victory over two division world champion Jhonny Gonzalez in 2009, and a unanimous points victory over two division world champion and Mexican legend Rafael Marquez last year.
The ring savvy veteran has been professional fighter since 1994 and has seen a wide variety of opposition over an impressive span of eighteen years. Although Toshiaki has never matched a fighter quite like Nonito Donaire, the intelligent Japanese boxer is very poised and always remains calm under adversity.
Nishioka is a text book, fundamentally sound fighter with a very good straight left hand. He sets it up extremely well with a strong jab and beautiful footwork. Like most Euro or Olympic style fighters, his greatest deficiency is his lack of offense and defense on the inside. Once an opponent makes his way inside of Nishioka's defense, his only option is to tie his adversary up.
Aside from jabbing occasionally to the body, Toshiaki is predominately a head-hunter. Nishioka is a very proficient counter puncher who relies on using his opponent's aggression against him, but he doesn't utilize a solid body attack to slow or discourage his opposition. His punch arsenal almost exclusively consists of a straight right jab, straight left hand, and right hook.
His greatest attribute is his crafty footwork and his ability to use the entire ring effectively, while setting traps for more aggressive fighters. Nishioka also possesses deceptive power in his primary weapon or straight left hand. He is very sneaky with it and usually catches his opponent's walking into a sharp left hand that they usually don't see coming.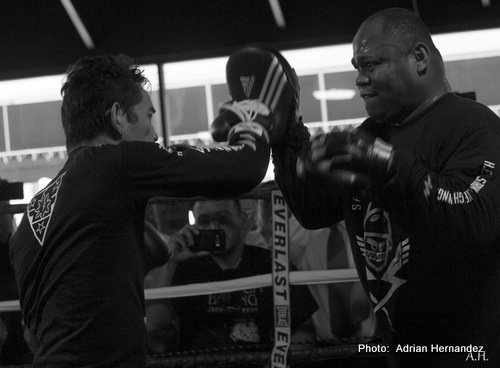 Keys to Victory
For Toshiaki Nishioka to be successful against Nonito Donaire, he has to fight to his strengths and establish his strong jab while launching the straight left hand whenever Nonito is in range. It is very important that Nishioka doesn't exchange with Donaire. He cannot match hand speed or power with the Filipino Flash, so he has to use the jab sporadically and continue moving to his left or away from Nonito's power hand.
Most southpaws are accustomed to moving to their right side and away from an orthodox fighter's power hand. Fortunately for Nishioka, he has excellent footwork and can work the ring from both sides with fluidity.
To win this fight, he has to discourage Nonito by using his height and reach effectively, keeping Donaire out of range. He has to establish his power early with the straight left hand to gain Nonito's respect. But it is imperative that Nishioka doesn't give Nonito a large sample to work with. The former WBC Champ cannot open up with combinations and give Donaire a large opening to time and counter. He has to pot shot Donaire while moving about the ring.
If he can establish the jab early while landing the straight left hand effectively and sporadically, he can maneuver his way to a unanimous decision by keeping Nonito at a safe distance throughout most of the fight.
For Nonito Donaire to be successful against Toshiaki Nishioka, he absolutely must do a better job of cutting off the ring than he's shown in his last three fights. He must use his speed and agility with his footwork and upper body movement to take the fight into close quarters.
Nonito's work to the body of Nishioka will be crucial in this fight. On the inside, Nishioka has no defensive plan and leaves himself open for a body attack. But against a very smart fighter will brilliant footwork and a heavy jab, it's going to be very difficult to close the distance.
Nonito has to use feints and work behind a jab while moving forward and anticipating Nishioka's movement. Nonito will be the smaller man in the ring, so he must get low and make Nishioka lunge in and reach with his attack. This will leave a much larger opening for an effective Nonito left hook counter.
If Nonito uses all of his athletic gifts and is ultimately more assertive than he's shown in his last three fights, he should be able to overpower the crafty fight veteran and possibly score and knock-out in the mid to late rounds.
Prediction
Nonito Donaire vs. Toshiaki Nishioka is a very intriguing fight that could realistically go either way. Nonito insists that his last three performances were experimental and we will get to see the real version of "The Filipino Flash" in this fight.
I believe that Nonito has never fought an opponent who possesses the kind of footwork and technical boxing ability from the outside like Nishioka, and it will give him a lot of problems early.
But, I do believe that Nonito is a special fighter who will use his athletic gifts to adapt and overcome the crafty Japanese fighter in the mid to late rounds.
I predict that the Donaire/Nishioka bout will end with a TKO in the 9th round. Donaire will prove to his naysayers that he is most deserving of his pound for pound ranking by decisively beating the longest reigning 122 pound champion, while earning the WBC Diamond distinction.