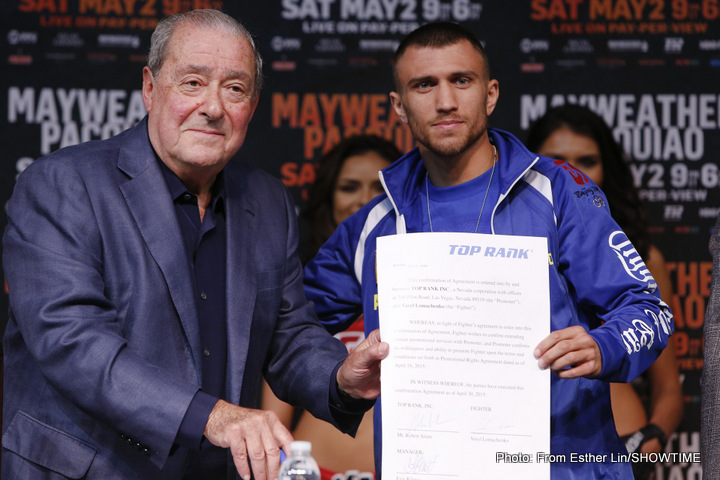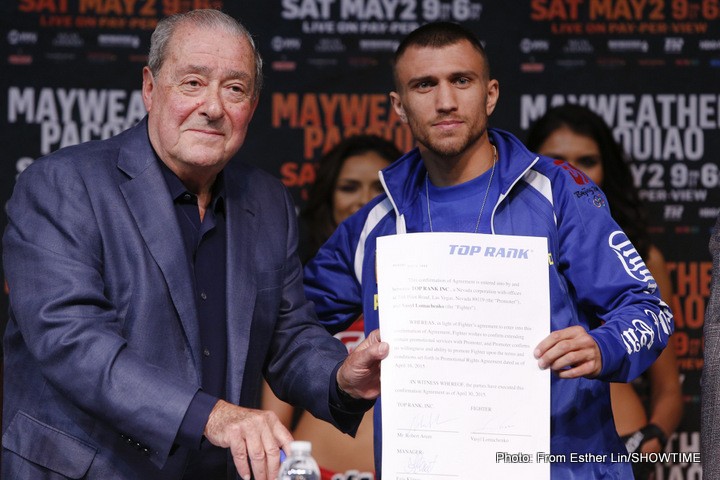 It seems P-4-P star and reigning WBO super-featherweight champ Vasyl Lomachenko got overly hopeful, even jumped the gun, when he recently stated how his next fight would be a return meeting with Orlando Salido. According to Top Rank boss and Lomachenko promoter Bob Arum, Mexican warrior Salido "Chickened Out" of a rematch.
Speaking with RingTV.com, Arum said Salido – the only man to have beaten Lomachenko as a pro – asked for "crazy money."
"Orlando Salido chickened out. It's the only way to say it," Arum told the website of The Bible of Boxing yesterday. "He asked for crazy money. We agreed to the crazy money. And then he says 'No.' He'd just as soon not take the fight. Why? Because he knows he can't beat [Lomachenko]. It was a fluke the first time. So there's no other way to paint it. Orlando Salido chickened out of the fight because whatever his demands were, we met those financial demands and then he let us know he's not interested in the fight."
Of course there are always two sides to a story and many fans will likely find it tough accepting Salido, one of the toughest, bravest fighters around today, would "chicken out" of a fight with anyone. And, in response to Arum's claims, Salido's manager Sean Gibbons used the word "ludicrous."
"Using Orlando's name and chicken in the same sentence – that's ludicrous," Gibbons shot back to Ring. "We had good talks with Bob. I thought we had come to some kind of agreement. It just didn't seem to work. Orlando wants to give the fans the fights they want. And I don't hear any fans clamouring for Salido-Lomachenko."
Gibbons said that Salido grabbed him and asked him, 'Why do I want to fight a guy in Lomachenko who I know is going to run, grab and hold when I can go Mexican-to-Mexican with Francisco Vargas and give the people what they really want to see."
It seems this is the route veteran Salido, a warrior who has more than paid his dues, will go down – hoping to again face the man he fought to a thrilling June draw after Vargas has fought Miguel Berchelt on January 28. As for who Lomachenko will box next, Arum says "Hi-Tech" will fight again in March and that the search for a suitable foe is on.
So, as much as we'd all like to see that Salido-Vargas war again, is Gibbons correct when he says no fans want to see a Salido-Lomachenko part-two?