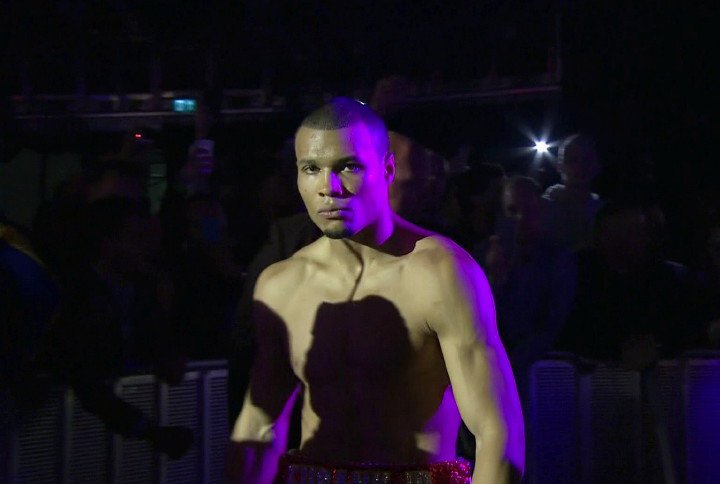 Chris Eubank Junior seems to be about the most stubborn and hard-headed fighter you could care to mention today. He may also be the most arrogant. Ahead of his February fight with little known Renold Quinlan for the equally little known (and little regarded) IBO super-middleweight belt, the former British middleweight champ who will be moving up eight pounds, claims he doesn't even need a trainer.
Speaking with Mail Online, Eubank – beaten only by Billy Joe Saunders as a pro – says he knows how to push himself and that he doesn't need anyone "to push me or tell me what to do."
Having worked in the past with Adam Booth and Maximo Pierret and still employing Ronnie Davies, who famously trained Eubank Snr, Junior says there will be no new trainer working with him ahead of the February 4 bout.
"Ronnie [Davies] doesn't train me, but he's an old dog now, he can't hold the pads any more," Eubank Jnr said. "I have a pad man, he has been with me since my amateur days and he just knows me. The rest I do myself; I don't need somebody to push me or tell me what to do. Ronnie will put the sparring together, but I know what to do now, after years of training and learning what your body does. The main thing is sparring."
Fans may ask, what does Junior do when he needs advice on a tactical approach – either in the gym as he preps for an opponent or, more crucially, in the corner during the actual fight if things are not going his way? Like in the Saunders fight, perhaps? Back then, the lack of an adequate game-plan saw Eubank lose too many early rounds and fall hopelessly behind on the cards, losing his unbeaten record as a result. Eubank Snr may have been a great fighter, but is he a great corner-man? Most people tend to say no.
Against Quinlan, 11-1 it could be argued how Eubank Jnr will be able to get himself a win without a trainer; so much of a mismatch is the upcoming fight viewed as. If he doesn't change his ways in the future, however, the thinking is Eubank's apparent arrogance will see him come unstuck (again).
The big talking point surrounding the Eubank-Quinlan fight is the fact that it will go out on pay-per-view, as ITV in the UK will go into the PPV market with this fight – the asking price possibly as high as £20. Critics are shocked by this move, and there are many people against this fight being a PPV event, such as promoter Eddie Hearn who recently told IFLtv how he will "watch the car crash unfold."
Indeed, if the fight does carry a payment fee of £20 (or any fee above something in the region of £2 or £3 come to that), the whole thing looks certain to be one great big disaster – a disaster for ITV and for the Eubanks. Why on earth would anyone pay so much money – or any money – for such a poor match-up? Some fans grumble when they have to pay £16.95 to see a stacked card on Sky Box Office in the UK; these same fans will obviously take a pass on Eubank-Quinlan.
Eubank Snr, though, is adamant millions will pay to see his son's next fight. Many people feel it will be the upset of the year if this proves to be the case. Let's see how this strange scenario unfolds next month.