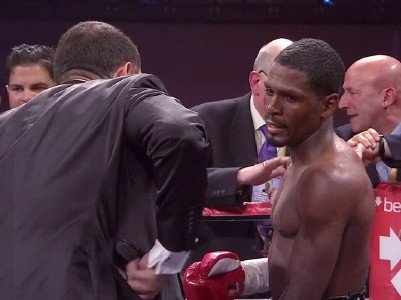 Eddie Hearn, the promoter for WBO lightweight champion Ricky Burns, won't bother giving injured challenger Jose Gonzalez a chance for a rematch after he injured his left wrist and was halted in the 9th round last Saturday night.
Hearn wants to match Burns against IBF lightweight champion Miguel Vazquez this September if he can put the fight together. That's a big question mark because Burns and Vazquez were scheduled to fight each other not too long ago and the fight failed to come off.
It's hard to imagine what Burns could gain from going back to this fight because it's not as if Vazquez has a huge worldwide fan base. However, if Burns can capture another belt it might give him more respect from boxing fans.
Hearns gave a one word answer when asked if Burns would fight Gonzalez again, saying "No."
In other words, Burns is going to take the win and run rather than risk a second fight against the dangerous and arguably much more talented Gonzalez.
Burns looked less than impressive in beating Gonzalez, that's for sure. Burns' victory basically boiled down to him winning because Gonzalez tired out while trying to stop Burns in the 7th after hurting him.
Gonzalez made a mistake of using everything he had in his stamina reservoir in trying to finish off Burns. When Burns was still standing at the end of the 7th, Gonzalez had nothing left in the next two rounds. He also had a badly injured left wrist that prevented him from throwing left hands and that didn't help matters any.
Burns was not in the fight until Gonzalez gassed out after the 7th. It was only then that Burns took over and barely won the 8th and definitely won the 9th. Burns missed almost every punch he threw in the 8th and strange watching him hit air with his shots against a fighter that was no longer throwing punches back at him.
The win is one of those bittersweet type victories because you don't like to win like that where you get totally dominated and only take over when the other guy gasses out and gets injured. Burns looks like he's not going to be the WBO champion for very much longer based on that performance, but the signs have been there for a while that he's probably not going to last too much as the champ. He didn't look good against Michael Katsidis and took a lot of shots in that fight.
Vazquez has the type to give Burns a lot of problems and it's going to take a much better performance from Burns than he showed last night to get a victory. I think it's safe to say that Vazquez isn't going to run out of gas. An injury possible for any fighter, so you never know, but I think Vazquez would fight through the injury and not quit on his stool the way that Gonzalez did.