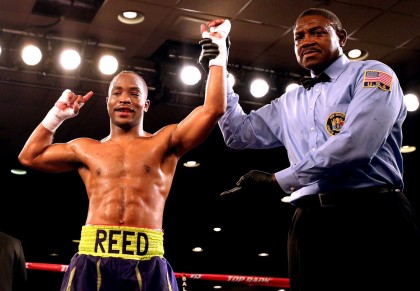 Light Welterweight prospect fights Juan Montiel in his Top Rank debut
By Paul "Paparazzi" Jones & Justin Jones | Photo © Daniel Kucin, Jr.
Undefeated Junior Welterweight Mike "Yes Indeed" Reed, 10-0 with 6 KOs, takes an important step in his pro career when he faces Juan Montiel (7-6-3, 2 KOs) this Saturday in Atlantic City, New Jersey. The six-round bout, featured on the undercard of the Junior Middleweight matchup between Glen "Jersey Boy" Tapia (21-1, 13 KOs) and Donatas Bondorovas (18-5-1, 6 KOs), marks the first contest for Reed as a Top Rank fighter. While there is pressure to validate his signing, the 21-year-old Reed is not concerned about succumbing to it.
"I put a lot of pressure on myself to get signed [and] to make one of the big promoters notice me," said Reed. "It's amazing that I signed with Top Rank, [but] the expectations are still the same. Go out, perform, and look spectacular in each and every fight."
Reed, a southpaw and amateur standout, prides himself on breaking down his opponents physically and mentally. "Boxing is a sweet science and it's a chess match," Reed said. "If you can take away all of your opponent's moves, and still have plenty of moves left, that's when it becomes enjoyable."
The Washington, DC native also possesses deceptive power. But you don't have to take our word for it. Consider Reed's 2014 wins against Jorge Marquez (4-2, 2 KOs), whom the DC-based fighter stopped by a suspected punctured eardrum, and Regino Canales (6-6, 2 KOs) who was carted out of the ring on a stretcher after being dominated by Reed.
In Montiel, 31, Reed faces a rugged opponent who comes to fight. The Mexico City-based fighter's only loss by stoppage came at the hands of Abner Cotto (18-2, 8 KOs) and he holds a draw against Carlos Molina (17-2-1, 7 KOs).
If Mike Reed is to become a known commodity in the Light Welterweight Division and follow in the footsteps of notable DC-based boxers, then he will have to dominate fighters of Montiel's caliber. Fortunately, Reed plans to do just that on October 4th in front of what promises to be an energetic crowd in AC — still one of boxing's best fight scenes.
Other notable fights on Saturday's fight card (Bally's Event Center, Atlantic City, NJ):
Jesse Hart (14-0, 11 KOs) vs. Roberto Acevedo (8-2, 5 KOs) — Super Middleweight
Mikael Zewski (24-0, 19 KOs) vs. Roberto Ventura (15-9, 14 KOs) — Welterweight
Toka Kahn Clary (12-0-0-1, 8 KOs) vs. Camilo Perez (9-2, 4 KOs) — Super Lightweight ■
Author Contact:
Justin Jones: Justinjones2112@gmail.com, @jusjones29
More from "Paparazzi"/ Justin Jones:
Glen Tapia Crushes Collins in AC — Kirkland, Cotto, More!
Miguel Cotto: Puerto Rico's Shining Star
OPEN MIC: Peter "Kid Chocolate" Quillin Discusses Golovkin, Mayweather Jr., Stevens, and More!
"The Alien" vs. "Superman" Coming Soon to a Theatre Near You?