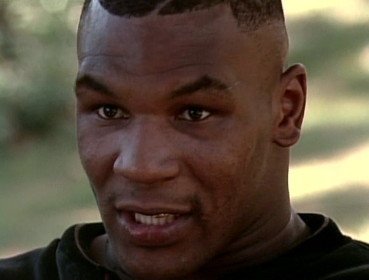 by James Slater: Somewhat as it is with Muhammad Ali and Joe Frazier, the names Evander Holyfield and Mike Tyson are destined to be forever linked. Though they only fought twice, with Holyfield winning on both occasions, Tyson and Holyfield had a long running rivalry, with a genuine grudge element added. The two were talked of as natural rivals as far back as 1987, when "The Real Deal" was a cruiserweight, but we had to wait – for one reason or another (jail, injury, etc) – until 1996 before the two mesmerizing heavyweights clashed in ring centre.
Today, quite amazingly considering the infamous "bite fight" of 1997, the rematch, the two have become pretty good friends (with Evander today releasing a Twitter pic of himself wearing a T-short mocking the bizarre DQ win he engaged in with "Iron" Mike. But who was the overall greater fighter, who has the greater legacy – Tyson or Holyfield?
Though many would ordinarily jump right on an article that prompts a debate about who was the better man between two fighters when one of them has beaten the other twice, I have a feeling this will not be the case here. Sure, Holyfield twice defeated Tyson, but this is "Iron Mike" we are talking about after all – a fighter with one of the most rabid and vocal groups of supportive and idolising fans in modern day boxing history.

As such, I'm willing to bet that many comments left on this article are ones saying that though Mike lost two out of two to "The Real Deal" his greatness still outdoes that of Evander's. And even though Holyfield was a dominant force and world champion at TWO weights, Tyson's overall greatness, in the eyes of many, will still surpass the former cruiserweight king's.
Certainly, in terms of impact made, Mike Tyson was a heavyweight who set the scene alight like no other boxer since Muhammad Ali. This excitement will not be forgotten by those supporters of "Iron Mike" who feel he should go down in the history books as having been a finer fighter than Holyfield ever was. However, let's look now at both men's achievements throughout their superb careers.
Titles won.
Mike Tyson: Tyson became the youngest claimant to a portion of the world heavyweight title at the incredibly young age of 20. Soon adding the other two versions of the championship to the WBC belt he won by smashing Trevor Berbick, as well as becoming the linear and universally known champ also, Tyson appeared invincible. He wasn't, as his need to regain the title proves. Mike was able to bounce back from his shock loss to James Douglas, however, and become a two-time holder of a heavyweight title. Winning back both the WBC and WBA versions in 1996, it is fair to call Tyson a two-time heavyweight champion of the world – even though his second reign was not that of the linear champion. Score in terms of major titles won: 8.
Evander Holyfield: Holyfield won all three belts, along with undisputed acknowledgment as the one-and-only king, at cruiserweight back in the same year Tyson first captured his portion of the world heavyweight title. Then, moving up in weight, Evander was able to become a four-time holder of world honours at heavyweight. As with Tyson, Holyfield wasn't the true linear champ in all of his reigns. He was a two-time universally recognised champ, though – in 1990 to 1992 and again in 1993 to 1994. In terms of titles won, the edge goes to "The Real Deal." Score in terms of major titles won: 9.
Quality of opposition defeated.
Mike Tyson: Tyson took on all comers throughout his time at the top in the 1980's. Mike also met some excellent opposition both before and after his 1992 incarceration. Here is a list of the quality names Tyson was able to beat: Trevor Berbick, James Smith, Pinklon Thomas, Tony Tucker, Tyrell Biggs, Larry Holmes, Michael Spinks, Frank Bruno (twice) Carl Williams, Tony Tubbs, Donovan Ruddock (twice) Bruce Seldon, Francois Botha, Lou Savarese. Overall rating for quality of opposition defeated: 7.
Evander Holyfield: Holyfield cleaned up the cruiserweight division, before attempting to do likewise at heavyweight. He wasn't anywhere as dominant as he had been at junior heavyweight, but nonetheless Evander met and defeated some fine fighters as a heavyweight. Cruiserweight first: Dwight Muhammad Qawi (twice) Ossie Ocasio, Carlos De Leon. At heavyweight: Pinklon Thomas, Michael Dokes, James Douglas, George Foreman, Larry Holmes, Riddick Bowe, Michael Moorer, Ray Mercer, Mike Tyson (twice) John Ruiz, Hasim Rahman. Overall rating for quality of opposition defeated: 9.
Impact Made.
Tyson: Tyson burst onto the heavyweight scene just when he was most needed. A blisteringly fast, well conditioned, huge punching monster of an exciting heavyweight is what he was and in terms of impact, no other heavyweight of the last 50-years, aside from Muhammad Ali, has made such a colossal one. Showing how big a deal Tyson was in his ferocious prime is the fact that many fans still had that Mike Tyson in their minds even when he was nothing but a shadow of his former self and losing to the likes of Kevin McBride. In other words, the prime Tyson is a fighter that will not be forgotten for a long, long time. Score in terms of impact made: 10.
Holyfield: Holyfield's rise to a world title actually took a lesser number of fights, at 12 compared to Tyson's 27. But Tyson undeniably captured the attention of the whole world much faster than did Holyfield. Evander earned the respect of boxing fans over a longer period of time, when he gradually won them over with his immense courage. In terms of impact made he is second to Tyson, but being second in this particular race is no bad thing. Indeed, aside from Tyson's, the impact made on the sport by Holyfield is likely the biggest since Ali's. Score in terms of impact made: 8.
Durability and Length of time at the top.
Tyson: Tyson's rise was spectacular but so was his fall. Both came quickly and this hurts him in this debate. Also, as foes became less and les afraid of him, Tyson got hit more and more and ultimately wasn't as tough as at first thought. Never once in his career did Tyson get up from a knockdown to win a fight. Once his ability at intimidation wavered, so did Tyson's time at the top. Mike's greatness was of the short and sweet variety. Score in terms of durability and time at the top: 6.
Holyfield: Who was more durable than Holyfield? As unimaginably brave and tough as they come, Holyfield's career at top level lasted so long due to his hardness and refusal to admit defeat. Consider; Evander won his first world title in July of 1986 and was still a champion as recently as 2001. If that's not a long time at the top, as well as a sure sign of durability, then what is? Score in terms of durability and time at the top: 10.
In the final analysis, Evander Holyfield was both tougher than Tyson, remained at the top for longer and when the two men finally met it was he who was further removed from his prime than Tyson. But who won? In terms of who was the greater fighter, Tyson or Holyfield, "The Real Deal" wins it going away. Evander's legacy shines far brighter than his former bitter rival's.