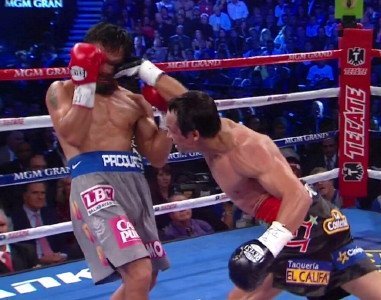 Despite all his other considerable ring achievements, Mexican great Juan Manuel Marquez seems destined to be forever remembered mostly for his shocking, utterly stunning one-punch KO of the equally great (or greater) Manny Pacquiao.
It was in the fourth meeting between the two modern day legends when it happened: an advancing Pac Man was hit flush by a monster, perfectly timed right hand that left Pacquiao face-planted on the canvas just a second or two before the bell rang to end the sixth-round. The sudden termination to the bout, and with it the rivalry, was so shocking because the previous three encounters had all gone down to the wire, so close, debatable even as they were on the score-cards.
Pacquiao wanted a fifth fight, no doubt so as to be able to redeem himself, yet Marquez was not interested; even though he was reportedly offered a staggering $100 million to take the fifth fight in the Philippines. Speaking with ESPN Deportes, "Dinamita" explained just why he never agreed to take that fifth fight.
"There was an offer for a fifth fight against Pacquiao in the Philippines for $100 million dollars, and I refused in order to keep my honour and the glory of the fourth fight from 2012," Marquez explained. "It's a lot of money – but honour, pride and what we did is more important than doing a fifth fight. Let's pretend that the fifth fight would happen – how about if I get robbed in the fight? We do not know what can happen, he's capable of hitting me with the right shot and hurting me badly. So I would not place myself at risk."
The boxing world would have tuned in had these two lower-weight giants collided again, but Marquez is clearly no gambler. Nor does the all-time great need money, obviously. Marquez is now content in retirement, yet Pac Man is still to decide on his future. But if Manny does box again, it sure won't be against his fiercest, most memorable rival.
It's actually a great debate: who is in fact the greater fighter – Pacquiao or Marquez?