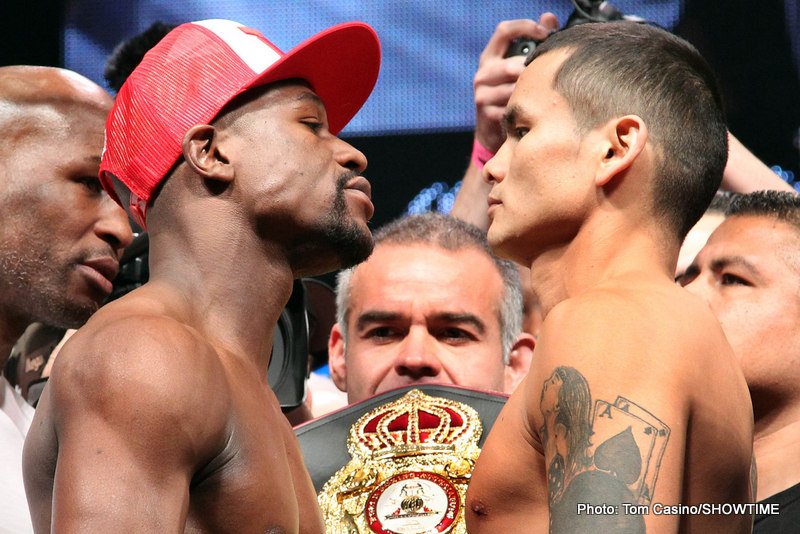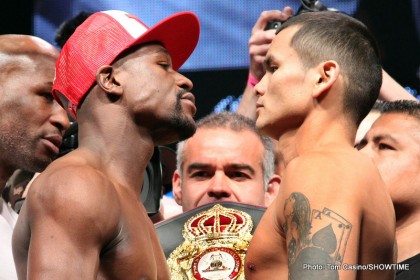 On May 3, 2014, Marcos Maidana lost a majority decision to Floyd Mayweather. Although falling short on the judges' scorecards, the Argentine hit Floyd Mayweather more times than any Mayweather opponent in history (221 times according to CompuBox). On September 13, 2014, Maidana will get another bite at the apple as he becomes the second person ever to earn a rematch against Floyd Mayweather. What follows is a look at the key factors going into their second bout.
RING REAL ESTATE
Three words describe each fighters' key to success: location, location, location. During their first bout, Marcos Maidana dominated the match when he pinned Mayweather to the ropes. Any time Maidana smothered Mayweather against the ropes, the Argentine would opened up with wild power punches at every angle. With no space between him and his opponent, Mayweather's sharpshooter accuracy and unmatched quickness were not enough to land good punches effectively. During these moments Mayweather looked human, even beatable.
On the other hand, when the pugilists fought in the middle of the ring Mayweather dominated nearly every exchange. With some space between the two, Mayweather was able to use his quickness, accuracy, and ability to judge distances to land punches that largely preempted Maidana's attacks. During these moments, Maidana looked like so many of Mayweather's prior opponents: frustrated.
WEIGHT
Like their first bout, the rematch will be fought at 147lbs. After weighing in at 146.5lbs for their first match, Marcos Maidana spent the next day hydrating over 18lbs to 165lbs. Meanwhile, Floyd Mayweather Jr. entered the ring barely over his 146lb weigh in. What followed was a bout between a welterweight and a super middleweight. In other words, Marcos Maidana entered the ring three weight classes heavier than Floyd Mayweather Jr.
Trainer Robert Garcia has announced his intentions to have Maidana enter the ring much lighter September 13. The strategy is to make Maidana a bit quicker. With added quickness, Maidana will be able to throw more punches and counter more effectively. In theory this slight difference in punching quickness and volume could result in Maidana winning a couple more of the close rounds and therefore winning the match.
However, Garcia may want to think twice before augmenting Maidana's fight night weight. An 18lb weight advantage may be the very reason Maidana was even capable of bulldogging Mayweather into the ropes and keeping him there as long as he did. Without such an excessive weight advantage, Maidana may be incapable of moving the fight out of the center of the ring and into the ropes (and keeping it there). As discussed earlier, Maidana can only succeed to the extent that he keeps Mayweather against the ropes.
THE REF
The first Mayweather vs. Maidana bout had more punches to the back of the skull than Ali vs. Wepner and more shots to the testicles than the "Roshambo" episode of South Park. The dirt behind this dirty fight lies almost entirely on Marcos Maidana's hands, save Mayweather's many forearm shivers.
Although admonished several times by referee Tony Weeks, Maidana was never disqualified, never had a point deducted, and never stopped punching illegally. Although he benefitted from these shots exponentially in their first bout, Marcos Maidana ought not to rely on similar results.
Mayweather Maidana II will feature veteran referee Kenny Bayless. Considered one of the best in the world, Bayless has refereed several Mayweather bouts in the past, including the two biggest PPV boxing matches of all time (Mayweather vs. Alvarez and Mayweather vs. De La Hoya). He is likely to maintain control of the bout and punish the fighters for rules violations fairly and accordingly.
KEY PUNCHES: MAIDANA
During the first match it appeared that Robert Garcia helped Maidana develop his jab into an effective means to move Mayweather and set up power punches. With more time to prepare for the rematch, one can imagine Garcia is continuing to sharpen Maidana's jab.
However, the most notable and unique punch in Maidana's arsenal is his big overhand right. This punch appeared to negate Mayweather's famous "shoulder roll" defensive maneuver by coming down from above and landing on top of his opponent's head. It looks almost like a reverse bolo punch. Maidana destroyed Adrien Broner with this power punch and pounded Mayweather with it regularly in May.
KEY PUNCHES: MAYWEATHER
When there was space between the fighters, Mayweather was able to land lead rights and lead left hooks throughout the first match. Both of these lead power punches availed themselves to Mayweather throughout the first bout and his quickness and accuracy should keep these two punches a major factor for the American.
However, Mayweather had no chance of using these punches when Maidana smothered him against the ropes. When Maidana moved forward to close the space, Mayweather was most effective with his straight left jab to Maidana's gut. He landed it consistently, and each time he accomplished several goals. First, these body punches took some wind out of Maidana, contributing to his slowing down as the bout went on. Moreover, it kept space between the fighters, thus allowing Mayweather to move and land more punches. Lastly, this jab was independently seen and scored by each of the three judges at ringside.
CONCLUSION
If Maidana can keep Mayweather against the ropes, then he will likely win the rematch. However, it is unlikely that he will be able to keep him against those ropes without the kind of weight advantage he had during the first match. Regardless, Garcia has indicated that this excessive weight is not part of their plan.
Floyd Mayweather Jr. must use his jab and his feet to keep space between him and his opponent. If Mayweather uses his jab to Maidana's body to keep the Argentine away and moves laterally when he feels the ropes on his back, he should be able to outpoint Maidana to a unanimous decision.
The broadcast will begin at 8:00pm, one hour earlier than the previous bout, and will appear on Showtime PPV.
Bill Barner is a former certified "USA Boxing" Judge, Referee, and Trainer. He is a former sparring partner for several amateur and professional fighters and currently practices criminal and immigration law in South Florida for BarnerRossen PA. He has appeared in The Ring Magazine, Bleacher Report, VOICE Magazine, Youngstown Vindicator, USABF, and is a regular contributor to East Side Boxing. He can be reached at barner@barnerrossen.com or on twitter @BarnerBill.