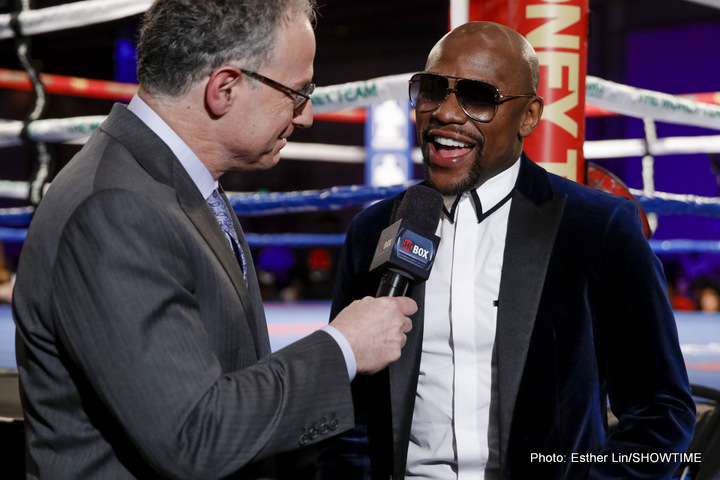 By Juan Palumbo: UFC star Conor McGregor says he's signed an agreement to fight Floyd Mayweather Jr. for a fight under boxing rules. He's now waiting for Mayweather to sign for the fight. Mayweather isn't giving any indication when he'll be getting around to signing for the fight.
Mayweather vs. McGregor has the makings of a really bad fight. When you look at the fact that McGregor has never fought inside a boxing ring, it's not even fair that he's going to be facing the fighter that is considered the best in the sport. Personally, I don't agree that Mayweather is the best in the sport at this current time, but he definitely WAS the best 2 years ago. Even a ring rusty Mayweather is more than good enough to beat the likes of McGregor.
We don't know what the price tag will be for the Mayweather-McGregor fight, but it wouldn't surprise me to see the fight going for at least $100 on PPV. Is that a fair price for a fight that amounts to be a mismatch? It'll be up to the fans to decide. For a lot of them, they might choose to turn their backs on the fight if they're asked to pay sky-high prices for what amounts to be a mismatch.
"This is the only fight that makes business sense," said Mayweather in discussing his fight with the 28-year-old McGregor. "I'm coming out of retirement because I'm a businessman and I want to give the world what they want to see. That's the fight the people want to see, the fight fans and the MMA fans," said Mayweather.
Mayweather had the option to return to boxing and face the likes of Keith "One Time" Thurman, Manny Pacquiao, Danny Garcia, Saul Canelo Alvarez or Gennady Golovkin. All of those fights would have made Mayweather a lot of money and it would have helped build the sport of boxing. Instead of taking one of those fights, Mayweather has chosen McGregor. What that does is in part is it helps MMA gain ground on boxing by building McGregor into a bigger name. That doesn't help boxing. It could help boxing grow bigger if by taking in MMA fans. But with Mayweather not interested in continuing his boxing career after the McGregor fight, the MMA fans won't be able to see him fight. So, the Mayweather-McGregor fight basically helps McGregor and the MMA more than it helps boxing.
If Mayweather-McGregor turns out to be a joke fight like the fans think it will be, there will be a lot angry fans that paid to see the fight. Those fans will less likely to want to pay to see future PPV events. Just because Mayweather can make money fighting an unproven novice like McGregor doesn't mean he should. No one is trying to say Mayweather can't make a living, but when you put together a fight against someone that has no experience and virtually chance inside of a boxing ring like McGregor, it's bad news for the sport and the fans. The only way the fans and boxing come out ahead in this fight is if McGregor can somehow land a lucky punch that knocks Mayweather out.