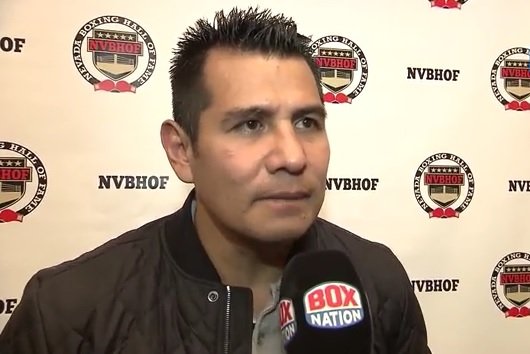 One of Mexico's finest, smartest and most resilient fighters, the great Marco Antonio Barrera will be inducted into The Hall of Fame in Canastota next week (along with, for one other true great, Evander Holyfield). Barrera thrilled millions of fans a number of times, his incredible fights lighting up the lower weight classes in a huge way.
These are some of the reasons Barrera, a three weight king, will always be remembered fondly:
Barrera turned pro back in 1989, at the tender age of 15. He proceeded to go undefeated in his first forty three bouts, capturing his very first title in 1992, in his 17th fight. Marco won the Mexican super flyweight title by beating Josefino Suarez on points over 12 rounds. This title would prove to be the first of many. It was while fighting at the very peak of his career, however, in February of 2000 that Barrera would meet his fiercest ever rival in fellow Mexican Erik "El Terrible" Morales. The 'Baby Faced Assassin' also fought the first truly great fight of his career in the month of February when he met former Olympian Kennedy McKinney in 1996.
In the bout with McKinney, staged on the February 3, both men hit the canvas (only the second ever time for Barrera) before Barrera got the job done in the twelfth and last round when the incredibly courageous McKinney was rescued by the referee. It was a fight that would be remembered by fight fans for a long, long time.
Marco carried on in his all-out aggressive style – to the delight of the fans – until he ran into "Poison" Junior Jones. Only nine months on from the McKinney fight, Barrera was beaten for the first time. His defensively neglectful style of fighting caught up with him and he was stopped in the fifth round of a stunning upset. Although officially the result was a disqualification win for Jones because Marco's corner men entered the ring unofficially, the awesome punch power of the challenger was the real and undeniable reason for the defeat.
Five months later, Barrera challenged Jones again in pursuit of revenge. This time a much closer fight ensued but for a second time the Brooklyn native prevailed – this time on points. It was clear that Junior Jones was Barrera's bogeyman. Marco just could not master his style. Some now mistakenly wrote Barrera off. There had been a prospective super fight in the works for Barrera to face new star Naseem Hamed. Such plans would have to wait – for the time being at least.
Marco regrouped and won his next seven fights; before engaging in the first of a three fight series for which he will always be best remembered. Barrera would meet his bitter Mexican rival Erik "El Terrible" Morales. Morales was the new star and he was undefeated. He was the favorite in the match-up with Barrera as most still vividly remembered the two losses to Jones that the man from Mexico City had suffered. Tijuana's favorite son was expected to dispatch his rival countryman. What followed, seven years ago this month, may well have been the greatest fight ever held at super bantamweight.
Marco fought with a kill or be killed attitude right from the start and fight fans and experts alike watched with their mouths agape as one of the most unforgettable and violent slugfests in the history of boxing took place before them. The momentum swung one way and then the other, with neither man willing to yield. It was breathtaking. Some said later that the fight was a super bantamweight version of Hagler v Hearns – but for 12 rounds! It was that good a fight. After 12 ferocious rounds the decision was awarded to Erik. Many disagreed- Marco had fought his heart out yet lost again. Officially. There would have to be a return fight, that much was obvious. But it would be some time before either man wanted to put themselves through such hell again. And who could blame them?
The two losses to Junior Jones aside, Marco was fast becoming the people's choice for the best super bantamweight in the world. He would soon move up to featherweight and claim that distinction there also. The once mooted Hamed fight was back on. However, Barrera had undergone a style makeover. Since the brutality of the Morales fight Marco had realized that if he were to continue with his career he would have to alter certain things. The world was about to see Marco Antonio Barrera the cagey boxer. Actually, if the Hamed camp had done their homework they would have seen the change in Marco's style in his fight with Jesus Salud at the tail end of 2000. They would have also realized that all the talk from Barrera going into the Hamed bout, about his intentions of coming out brawling as was the Mexican way, was a bluff. Such tactics, had they been employed, would more than likely have suited "The Prince", but Marco was now a much smarter fighter – as Naseem, and the watching audience, would soon find out.
Hamed was given a virtual boxing lesson on his way to a comprehensive points defeat, his first and only loss, at the MGM Grand in Las Vegas in April of 2001. The myth of Naseems' boxing brilliance was shattered for all to see on this particular evening (he all but retired afterwards) as once again Marco proved just how good he was. He was now a proven force at world class in two weight divisions. People now knew that Marco could do it all in the ring- be it slug or be it box, -he was more than capable of dominating his opposition. What could Marco do now to top the superb and satisfying win over Hamed? A rematch with Morales was a natural and after a successful defence against Enrique Sanchez fight two was staged.
This time, however, two years later, the roles were somewhat reversed. Now it was Barrera who was the fighter estimated to be the superior of the two. Erik had looked quite ring-worn in his fights with Guty Espadas and than In Jin Chi prior to his second encounter with Marco. He was the underdog this time as a result. The fight that followed unfortunately disappointed many who were expecting a thrilling bout like the first fight. This time, with his superb boxing skills once again in evidence, Marco fought smart and picked up the points win. As with the first fight though, the wrong man appeared to get the victory. Still, as Marco deserved to have his hand raised after fight one, things were perceived as all square and relatively acceptable now. The rubber match would have to happen.
There was an unforeseen bump in the road for Marco, however. After good wins against Johnny Tapia and Kevin Kelley, Marco ran into the Filipino fighter Manny Pacquiao. In a stunning upset, Manny manhandled the champion to defeat in 11 mostly one-sided rounds. Once again Marco was written off by many people. He was far from done yet though. He came back with a stoppage win over Paulie Ayala in June of the following year and then signed for the rubber match with Morales. Once again Marco was the underdog. He had been badly beaten in the fight with Pacquiao, while Morales looked as though he had a new lease of life – stopping Espadas in three easy looking rounds in a rematch of what was seen as a tough fight. Erik had also beaten Jesus Chavez and Carlos Hernandez in fine fights.
Now it was the decider between the Mexican rivals. A high quality and supremely entertaining fight was witnessed-this time up at super featherweight- and some actually favored it to the first thrilling bout. The fight was desperately close after 12 rounds and yet again an agonizing wait for the reading of the judges scorecards was endured. Marco prevailed by a razor thin majority verdict. Morales was bitter at the result and refused to be civil towards Barrera afterwards, choosing instead to try and throw water over him. There really was some bad blood between the two men.
This fight really capped the great career of Marco, but he still had a lot of fight in his heart. He wasn't ready to quit just yet. Barrera would see off good fighters such as Robbie Peden and Rocky Juarez (twice) but he lost back to back to Juan Manuel Marquez and Pac Man in a return, in 2007. A later loss to Amir Khan hurt the faded legend a little, but Barrera went out a winner, stopping Jose Arias in early 2011. But it is the incredible rumble with McKinney, and the savage trilogy with Morales, fight one in particular, that more than earned Barrera's greatness.
Barrera retired with a superb 67-7(44) record.