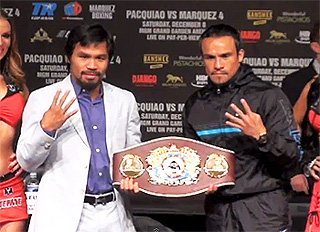 by Geoffrey Ciani – When Manny Pacquiao (54-4-2, 38 KOs) squares off against Juan Manuel Marquez (54-6-1, 39 KOs) for a fourth time this Saturday, boxing fans already have a fairly good idea of what to expect. After all, even though Pacquiao officially has two victories and a draw against Marquez, these two have essentially battled to a stalemate after thirty-six rounds of action. If their past three encounters are any indication, there is little reason to believe things will unfold much differently in this fourth installment. The natural order of these clashing styles seemingly demands a fierce and competitive contest, and there is a strong likelihood this will yet again prove true on Saturday.
The big question going into this bout is what, if anything, can either man do differently in order to secure a decisive victory? All of the previous matchups between Pacquiao and Marquez concluded with varying degrees of dissenting voices and perceived controversies, but this comes with the territory of pitting evenly matched combatants against each other, especially when they exhibit a vastly different set of skills and strengths. Is it realistic to believe that either boxer can make a significant adjustment that enables him to finally seize command? It appears unlikely, but the thing about boxing is that anything can happen when two men enter the squared circle. Even though Pacquiao and Marquez have surely each presented the other with his full bag of tricks, many times over by now, it is still possible that a subtle change in tactics can sometimes render amazing results.
The entire foundation of the conflict was firmly established during their very first fight in 2004. Pacquiao hurt Marquez dropping him three times in an opening round explosion. Had the fight been stopped then, fans may have been cheated out of a compelling historic rivalry. But Marquez was allowed to continue and he survived the follow-up onslaughts long enough to clear his head and regain his footing. Marquez then proceeded to tame Pacquiao's ferocity by neutralizing his powerful left hand and effectively outboxing and outmaneuvering him. It was a matter of Pacquiao being the more powerful and athletic, whereas Marquez proved superior as a thinking tactician. It was a matter of execution, and Marquez ultimately won more rounds after digging himself in an early hole with the knockdowns. The result was a somewhat controversial draw where each side had its own chorus of fans making their fighter's case.
When the two had their long awaited rematch nearly four years later, Pacquiao seemed like a more complete fighter going in. His right hook had developed into a tremendous weapon that nicely complimented his lethal left, and Pacquiao also fine-tuned numerous other aspects of his game. Even with the improvements, Marquez still found ways to neutralize Pacquiao's natural advantages by boxing intelligently. Pacquiao still had his fair share of moments, though, and even managed to score another knockdown in the third. Marquez again persevered and the two engaged in another close and competitive hard fought battle. This time Pacquiao was awarded a split decision victory, and again there were outcries of robbery from a vocal faction.
Going into their most recent fight last November, many observers (myself included) believed that these were fighters headed in two different directions. Pacquiao had continued improving and gone on to beat a series of much bigger foes including Miguel Cotto, Shane Mosley, and Antonio Margarito. The fact that Marquez looked so poor physically and was very ineffective in his only fight at that weight against Floyd Mayweather Junior made this one seem like a foregone conclusion, especially since Marquez was 38. But despite the fact Pacquiao was perceived as naturally bigger grown and much improved, Marquez silenced naysayers with yet another magnificent effort against Pacquiao. This time Pacquiao was awarded a majority decision victory, but based on the overall fan reaction this was probably the most controversial of the bunch.
The main theme in all of the Pacquiao-Marquez bouts has remained fairly constant. Pacquiao is capable of hurting Marquez with his power. Even in instances where he was not knocked down, Marquez always had to be weary of Pacquiao's explosive aggression. On the other hand Marquez is capable of better execution on a more consistent basis and has shown an ability to control Pacquiao for decent stretches of time. He also seems quicker to adapt and fine-tune the things that are working so that he can do them more effectively as the bout progresses. It is fairly straightforward what each man wants to do. Marquez wants a tactical chess match; Pacquiao wants a fight with heated exchanges that afford him more openings. Whichever one can dictate the range and distance best equipped for utilizing his advantages will have the edge.
The tricky part here is that neither Pacquiao nor Marquez seems able to keep the momentum on his side for an extended period. I personally scored the first fight 113-112 for Pacquiao, the second 114-113 for Marquez, and the third a draw at 114 apiece. On my ledger they are unofficially 1-1-1, and in terms of rounds won Marquez has the edge for me 20 to 16. Pacquiao's four knockdowns keep things even in my eyes, but it is interesting to note that last time around was the only time they faced when Marquez did not suffer a knockdown.
The keys to victory this time?
Pacquiao needs to get to Marquez. He needs to be aggressive, but he cannot be reckless and leave himself in unfavorable positions that keep him off balance and open to Marquez counters. He needs to be methodical in his attacks, and may want to be far more selective in turning on his aggression switch. Against Bradley, Pacquiao seemed more controlled and measured to an extent, but he also appeared lethargic at times. But even in rounds where Bradley was controlling the action for the majority of the duration, Pacquiao was often triggering off in short bursts of power that enabled him to win and sometimes even steal close rounds. Pacquiao needs to exert his energy reserves wisely, and limit committing his full ferocity to those instances where he has the best chances at hurting Marquez while avoiding counter fire. This at times might mean staying back and making Marquez come to him, but it also means setting traps and showing a more varied offensive approach. Against Marquez, Pacquiao has always had difficulty achieving his optimal in-and-out rhythm with his footwork, which is what afforded him such great success against other foes. His timing has become too predictable for Marquez, so he needs to try and subtly alter his attack patterns to confuse Marquez, open him up, and leave him off balance and out of position.
Marquez needs to continue doing many of the things that have worked for him previously. He has always done a very good job gauging Pacquiao's range and determining the timing and distance required to give him the best openings that limit his chances of getting caught with a damaging blow. Marquez excels when it comes to reading Pacquiao's feints, studying his signs to determine his next move, and maneuvering Pacquiao into spots where he can capitalize on creating favorable positions that open up punching angles. It is imperative that Marquez avoids Pacquiao's power punches, but he needs to refrain from just coasting, too, especially when skillfully playing the role of the matador. Marquez sometimes falls into lulls where he almost looks too comfortable against Pacquiao, often during moments when Pacquiao may be taking a breather. Rather than simply maintaining his tactical superiority at these crucial moments, Marquez might serve himself well by increasing his intensity and taking some calculated risks beyond his comfort zone.
At the end of the day I believe the winner on this night will ultimately be determined by who wants it more. Which fighter will really want to dare to be great while staying within himself enough that he can effectively continue doing what he does best? Pacquiao's determination has been a topic of debate in recent fights. In his last three bouts with Mosley, Marquez, and Bradley, Pacquiao just does not seem as hungry as he did during his incredible stretch starting when he first ventured north to welterweight. At the same time, it is also tough to envision a scenario whereby Marquez can be any more determined than he was last time he faced Pacquiao. Back then, it was the fight he most craved and the fight that seemed most unreachable to him. In fact I would not be surprised if neither guy is quite as hungry as they have been in previous matches. They have simply reached that stage in their respective careers that no matter what happens from here, they are both so firmly established that it makes it hard to stay hungry.
That said, I believe we are in for another fight that largely resembles the first three chapters. A draw would not surprise me in the least, nor would a close win for either. Strangely enough, I would also not be totally shocked if Pacquiao did manage to score the dynamic stoppage victory this time around that so many of us thought we would see in the third fight; I just do not think that is very likely. On the flipside, I also would not be completely shocked if Marquez finally did earn himself a wide points win because he is the superior boxer, and since their last fight was just a year ago, I still believe he is more apt to have learned something from the previous time that can benefit him. But again, this does not seem likely to me. I think we are inevitably headed towards something similar to what we have already seen and been seeing. In terms of the actual outcome and how the action unfolds, I feel we will see something along the same lines of a watered down version of their second encounter, where Pacquiao escapes with yet another somewhat controversial split decision and Marquez gets dropped once (or maybe twice) in the process.
OFFICIAL PREDICTION: Manny Pacquiao by split decision against Juan Manuel Marquez
*****
To read more by Geoffrey Ciani you can visit Ciani's Corner:
www.cianiboxing.com
To contact Ciani:
ciani@boxing247.com