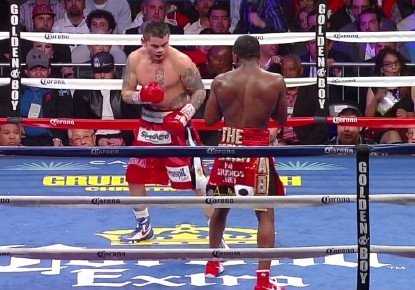 Marcos "El Chino" Maidana shook up the boxing world as he upset, Adrien "The Problem" Broner over twelve dominating rounds in which he scored two knockdowns and in the process became the new World Boxing Association Champion with an unanimous decision victory by three scorecards of 115-110, 116-109 and 117-109. This competitive and really interesting welterweight bout, which could be considered the upset of the year, was held at the Alamadome in San Antonio, Texas and was televised on Showtime.
The 30 year old, Maidana from Argentina, improved his record to 35-3, 31KOs and won his fourth consecutive bout. He won a world title in his third attempt, after trying unsuccessfully to do so against, Adriy Kotelnik and Amir Khan. Broner from Cincinnati, Ohio suffered his first professional loss and dropped his record to 27-1, 22KOs.
This was a fight that the trash talking and extremely arrogant, Broner was suppose to look good in and set himself up for significant fights in 2014; however, Maidana didn`t play along and instead took the fight to Broner as soon as the bout started. He had Broner in trouble in the first round and then knocked him down in the second round from a hard left hook, sending Broner to the canvas for the time in his professional career. Broner got up from the knockdown, but he was extremely hurt and barely survived the round. Maidana continued to take the fight to Broner, as he pressed the action, pushed Broner to the ropes and landed the much harder punches throughout the third and fourth round.
Broner, a notorious slow starter who finishes fights stronger than his opponents, came out with a much needed sense of urgency in the fifth and sixth round, as it appeared he was going to turn the fight around with his effective jab and strung together several effective combinations at Maidana who was now the fighter being backed up. Maidana, nevertheless, regained control of the fight in the seventh round by out landing Broner and then knockdown him down for the second time with another hard left hook that he successfully landed all night. Maidana was deducted a point in this round for a late head butt.
"El Chino" followed his corner`s advice and continued to press the action in the late rounds as he had Broner on the defensive as he out worked him. Both pugilists landed powerful punches in the eleventh round as they buckled each other`s knees on more than one occasion. Broner, desperately trying to get the knock out in the twelve round, had his best round of the night, as he finally let his hands go as he got Maidana in some trouble as he staggered him, yet it was a little too late for Broner.
He demonstrated in this bout that he wanted it a great deal more than Broner. Maidana landed 269 punches out of the 964 that he threw for 28 percent while Broner landed 149 punches out of the 400 that he threw for 37 percent. He landed the majority of power punches in almost every round and had Broner either on the ropes or backing up for most of the fight. Broner, besides the fifth, sixth and twelfth round, never really could regain control of this fight, as he was contempt to block Maidana punches, which he did a lot of, but he didn`t throw nearly enough of his shots to turn this bout around.
Maidana, who looked greatly improved since hiring, Robert Garcia as his trainer, has many significant options for his next bout in this extremely competitive and by far the best weight class in boxing, the welterweight division. He stated after the fight that he`s willing to give Broner a rematch if Broner wants it, even though he`s not contractually obligated to give Broner a return bout. If he doesn`t fight Broner in the rematch, he could face any of the important boxers in the division like Floyd Mayweather, Manny Pacquiao, Timothy Bradley or new crowned titlist, Shawn Porter. Whoever, Maidana fights next, we know it`ll be an entertaining and action packed event.
Broner, who a great deal of boxing experts including Ring Magazine had as a pound for pound top ten fighter in the world and a potential Mayweather protégé, took a significant step back in this fight because he didn`t look good and was thoroughly dominated by Maidana. It was reported that he might have suffered a broken jaw at some point in this bout, which hasn`t been confirmed, but if it`s true, it might explain why he fought so poorly. Broner, who always does a great of talking, quietly left the ring without his entourage after the fight and looked pretty devastated in the loss.
It`ll be interesting to see how he comes back from this defeat. Most likely, he can use this setback as a learning lesson and come back better than before. He has amazing talent, some of the quickest hands in the sport, extremely good defense and he`s really young at only 24 years old; so despite the loss, he` still one of the best fighters in this division. Hopefully, he `s not like Mike Tyson and Naseem Hamed, two brash talking boxers who were never the same after their first loss; however, only time will tell how he`ll bounce back from this defeat.