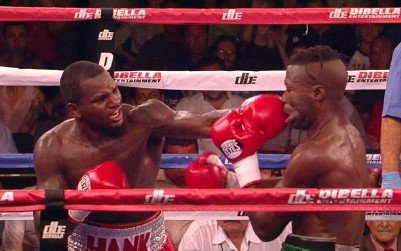 Hank Lundy (23-3-1, 11 KO's) showed a great deal of improvement tonight in pulling off a minor upset in defeating Ajose Olusegun (31-2, 14 KO's) by a fairly one-sided 10 round unanimous decision at the Rockingham Park, in Salem, New Hampshire, USA. Lundy fought a lot like Floyd Mayweather Jr. in beating what turned out to be an over-matched Olusegun by the judges scores of 100-90, 98-92, 98-92.
Lundy hurt Olusegun multiple times in the fight with hard left hands to head. Olusegun had no defense for Lundy's left hands, and he was eating them continuously from the 4th.
Lundy found out early in the fight that he could counter Olusegun when he'd throw jabs. He'd wait on the jabs and fire a left hand and nail Olusegun. In the 4th round, Lundy hit Olusegun with some big left hands. At point he went to the ropes after getting hit and faked like he was shaken up. However, in the 5th round, Olusegun really was hurt after getting hit with a series of lefts from Lundy. In the 7th, 8th and 9th, Lundy was able to tag Olusegun with lefts that snapped his head back and had him fighting in retreat mode instead of coming forward to pressure him. Olusegun was much better when he was coming forward compared to when he was backing up and fighting defensively.
Lundy called Lucas Matthysse after the fight, saying "I want Matthysse."
Lundy isn't going to get that fight, because it's going to take more than beating Olusegun for Lundy to get a fight fight against Matthysse. Lundy has lost 2 out of his last 3 fights. If he's serious about wanting to fight Matthysse then he should fight the guys that beat him recently in Raymundo Beltran and Viktor Postol.
—
Other action on the card:
Ryan Kielczweski KO 5 Miguel Soto
Russell Lamour KO 1 Aquilano Brandao
Charles Martin KO 4 Aaron Kinch
Gerald Schifone UD 4 Noel Garcia