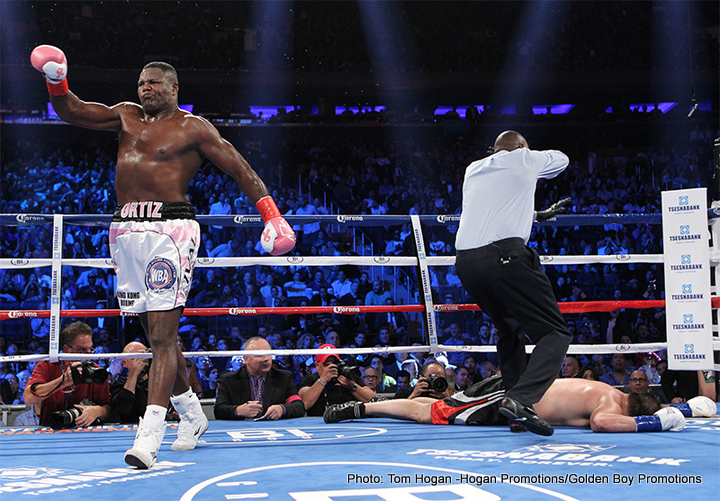 Luis Ortiz is scheduled to defend his WBA interim title against Tony Thompson on March 5 in Washington, DC. Ortiz belongs at the top of the division but has a hard time getting the exposure and especially the fights that he deserves.
Ortiz is fighting Thompson as a last resort after he was turned down by 5 other heavyweights. The Cuban is clearly being avoided and there is feeble excuse but obvious reasons for the reluctance of the big boys to face him in the ring. His record is 24-0, his skills are remarkable and he has gone the distance only once in an eight-rounder 6 years ago.
The good honest pro Tony Thompson (40-6) is 44 years old and he has been stopped only by Wladimir Klitschko. He has been a solid gatekeeper for years and has laboriously established his credentials as a slippery stepping stone. Last year he practically ended the career of another Cuban standout – Odlanier Solis – whose weight and shape suggested he had lost his fight with the US food industry before he quit in his rematch against Thompson.
Luis Ortiz is 36 years old and the clock is ticking loudly for him. He started his professional career late at 31 years of age after he defected from his native Cuba. He is undefeated but there is a blemish on his slate as a professional – a failed drug test. He was stripped of the WBA interim title as result only to regain it in his next outing. Besides this skirmish with the rules the rest of the package is more than promising except the "best before" date. His clean and stylish assault makes up amply for the minor infringement.
The Cuban boxing school rarely disappoints as far as technique and form are concerned and Ortiz is no exception. He may not be in the same league with greats like Teofilo Stevenson, Felix Savon and even Guillermo Rigondeaux who is a master class pugilist but has yet to ignite the masses and especially the networks. Unlike his "schoolmate" Rigondeaux, the heavy hitter is entertaining and exciting even for the casual fan. His style combines classic skills with brute force and his craft is punctuated by smooth power that comes from all angles.
Being a southpaw, Ortiz can bang with either hand and most notably with every punch in the book. Unlike most heavyweights of today he is equally comfortable with crosses, hooks and uppercuts and can mix them in combos effectively. He has just enough athleticism and agility to ply his trade, perhaps a little more trap muscle of obscure origin than is expected on a boxing body but nothing unforgivable. I have not seen another recent heavyweight throw a three punch flurry to the body, land it and get away with it like he does.
Adequate speed and power in a Cuban school mould – not the kind of opponent Fury, Wilder, Joshua or Klitschko for that matter would gladly fight. IBF champ Charles Martin is an illustrious example of the turmoil in the boxing industry – proper management and inflexible sanctioning can propel ridiculous performers to altitudes where their health is endangered.
Luis Ortiz will easily get past Tony Thompson but he will be faced with the same familiar obstacles after March 5. At 36 he has precious little time to grab a title and even then other champions will hardly be in a hurry to fight him. The IBF title will likely go to Anthony Joshua on April 9. Wlder and Fury will be too busy trying to work out a deal with Klitschko to let them fight and if Klitschko agrees to modify his rematch clause, he could get the winner with all belts on the line. Povetkin is Wilder's mandatory challenger and he has waited long enough as well. Ortiz is not invited to the party but given half a chance, he could turn the status quo upside down. Like the champs, up-and-comers probably wish the Cuban had missed that boat to Miami and GBP must summon all their promotional clout to get him big fights before his skills inevitably fade and their investment expires. Right now Luis Ortiz looks the part – a hungry apex predator kept in isolation but anxious to charge the apprehensive opposition.