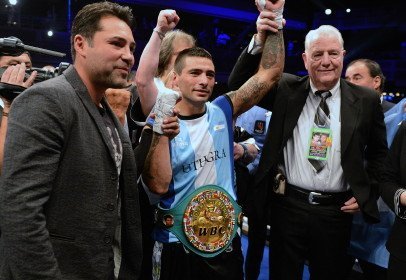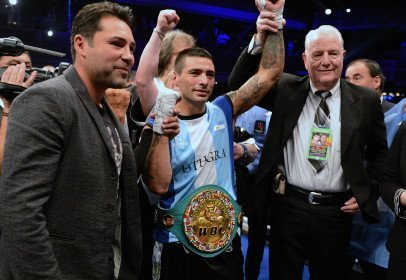 (Photo credit: Tom Casino/Showtime) By Joseph Herron: After the Argentine sharpshooter's dominant and impressive performance over the outgunned Mike Dallas Jr. this past Saturday night at the Hard Rock Hotel & Casino, most fight fans and boxing scribes are anxious to see an eventual showdown between two of the hardest punchers in the talent enriched 140 pound weight class, Lucas Matthysse versus Danny Garcia.
To wet the pugilistic whistle of the die-hard fight fan, boxing strategist and lifelong trainer James Gogue analyzes this perplexing match-up exclusively for Eastsideboxing.com.
Although many observers of the sport have a hard believing that Garcia's promoter, Golden Boy Promotions, would be willing to pit their potential superstar against a dangerous fighter like the Argentine veteran, the 30 year fight trainer insists that a super fight between Garcia and Matthysse at Junior Welterweight is unavoidable.
"Despite the cynicism of most fight skeptics, Golden Boy has plans to begin cultivating this fan friendly bout," explains the experienced fight trainer. "The GBP brass is confident that both fighters will continue knocking out their respective opposition to create an appropriate and dramatic build-up for this super fight at 140 pounds."
"The great Don Chargin always states that a great match-up is like a cake that requires time to bake. Golden Boy just popped this recipe in the oven on Saturday night when they paired Lucas with Mike Dallas Jr."
"With the timer set for fall of 2013 in Philadelphia, PA, this fight is a sure fire winner. The offensive machine facing the powerful counterpuncher…who wins this fight? Whenever you have two explosive punchers who can end the fight with one big shot, the great fans of boxing always win an overwhelming unanimous decision victory regardless of who eventually reigns supreme on fight night."
Although the two hard hitting fighters will undoubtedly have bad intentions in the ring, the veteran trainer clearly sees two very different courses of action for Matthysse and Garcia.
"Both fighters have one punch knock-out power and are very dangerous. Because the two men have contrasting styles, this match-up should be a brilliant chess match with fireworks."
"The primary objective for the current champion at 140 pounds, Danny Garcia, is to set up his devastating weapon; the big counter left hook. When any fighter who faces 'Danny Swift' throws the right hand and leaves their chin exposed, Garcia is going to precisely counter with his monster left hook and take them out…just ask Amir Khan.
"That's his money shot…if you look at all of his fights, that's the punch that he always looks to end the fight with. As far as boxing skills, he has a lot of deficiencies in the ring. He doesn't have great footwork and has never shown the ability to cut off the ring effectively as an aggressor. He likes to sit in the pocket and wait for his opponents to initiate the action so he can counter over their offense with a big left hook or sweeping right hand."
"Danny's biggest liability when analyzing this match-up is his willingness to take too many punches from his opposition. Amir Khan really exposed Garcia's lapses in defense when they fought last year. In the first two rounds of their bout, Khan was using the entire ring while using his jab and superior footwork to move in and out effectively without giving Danny a large sample to time and counter."
"Garcia wasn't effective until Khan became greedy and sat in the pocket, trying to throw in combination while sitting down on his punches.
"Against one of the hardest pound for pound punchers in boxing, the Philly based fighter can't afford to take the same number of shots and expect to win the fight."
"While looking at both fighters' previous performances, it becomes obvious that Garcia is at a technical disadvantage against Lucas Matthysse. He doesn't have the crushing KO power in both hands that Lucas possesses and is dependent on landing his left hook counter. He also doesn't move his head or upper body nearly enough to avoid big shots from an accurate sharpshooter like Matthysse."
"His footwork isn't proficient enough to stay out of danger when Lucas eventually closes the distance and finds his range."
"But the most intriguing variable in this match-up for Danny is probably his best asset. Garcia has an iron resolve and could be the most confident fighter in boxing at this time. He truly believes that he can get the better of any opponent in the ring if he can just land one big left hook to the chin of his adversary…and he's right."
"Danny Garcia always has that knock-out potential and is a real threat to anyone at 140 pounds…even a very durable fighter with a good chin like Lucas Matthysse. But does Garcia have the chin to withstand the offensive output of an equally hard puncher in Lucas Matthysse? Can he take the shots of a brutal assassin like the Argentine machine long enough to fire and land his vaunted left hook?"
"For Garcia to be successful against Lucas Matthysse, he has to stay out of Lucas' kill zone as long as he can. Danny absolutely must use his feet to stay at an angle which will force Lucas to punch across his body and leave his chin exposed for a left hand counter; it would require movement to his right while circling away from Matthysse's power right hand."
"He has to work on improving his footwork and practice moving laterally for this fight while jumping in and out with the sweeping right hands or straight left jabs. Lucas will be focusing on his left hook in the outset of their meeting, so Danny will have to show his opponent something different to set up the power shot…the straight jab while stepping to his right, the overhand right, the straight left hand to the body, the right hook to the body, and a healthy dose of feints and touch jabs could occupy the Argentine's mind long enough to set up the punishing left hook counter."
"Also Garcia cannot wait for Matthysse to get set in the pocket and throw punches when he's in range. When Lucas attempts to cut off the ring and move his way inside, he often will make the mistake of not working behind the jab or moving his head or upper body. He will regularly walk in without disguising his offense and march in nakedly."
"Garcia has to time Matthysse and crack him while he's trying to close the distance. His best chance of hurting the Argentine fighter is by catching him with something he doesn't see coming; a la Juan Manuel Marquez."
"If he can time and catch Matthysse while he's working his way inside, Danny Garcia could hand Lucas his first definitive loss as a professional."
Although James Gogue sees a realistic and possible victory for the defending Junior Welterweight Champion in an eventual super fight between Garcia and Matthysse, the experienced fight trainer recognizes how daunting of a task it would be defeat the iron fisted South American born fighter.
"While Danny Garcia has the power to put anyone's lights out with one big shot, it's easier said than done when fighting a very durable and confident fighter like Lucas Matthysse."
"Not only is the Argentine banger more technically proficient than most realize, he also has shown a world class beard against some very capable punchers. In fights against Zab Judah, Devon Alexander, Humberto Soto, and most recently Ajose Olusegun, Matthysse proved that he could take a hard punch and continue trudging forward."
"I don't know if we've ever seen that kind of physical durability from Danny Garcia. The Philly fighter has proven his toughness against guys like Amir Khan, Erik Morales, and Kendall Holt, but he's never been in the ring against an effective aggressor who has dynamite in both fists like Lucas Matthysse."
"Whoever has the better chin and the stronger mental resolve will ultimately win this fight when it takes place later this year."
Despite being largely underrated over the last several years, Gogue believes Matthysse to be the class of the 140 pound weight division. The expert trainer sees a clear advantage for the 30 year old pugilist going to into this potential match-up.
"To win this fight, Matthysse simply has to close the distance and get in punching range to land his brand of accurate power. Not only does Lucas have thunder in both fists, he is also a very accurate puncher who throws tight, compact shots that find their mark very quickly."
"Once he gets in his kill zone at close range, Matthysse has much better technique on the inside and will punish Garcia. Danny Swift has always been a mid range bomber and suffers from offensive and defensive deficiencies inside. His only option once Lucas gets inside is to tie his opponent up and wait for the referee to break up the action."
"Garcia stands straight up in the pocket and doesn't go to the body as consistently as he should to sap the power from his opponents. This will prove to be his undoing if he hasn't rectified his inadequacies underneath leading up to this bout."
"But Matthysse must be able to work his way in range behind a jab while using more head and upper body movement to avoid Garcia's punishing left hook. He must improve his methods of applying intelligent pressure or he could get caught with something big while trying to close the distance."
"If Lucas can neutralize Garcia's left hook by using feints, sporadic jabs, and irregular upper body movement, he will absolutely pick apart Danny Swift once inside. Matthysse possesses an underrated arsenal of punches. A lot like Canelo Alvarez, Matthysse mixes up his shots in combination extremely well. At short range, it will be impossible for Garcia to anticipate and defend such a wide array of lethal shots from different angles."
After outlining the keys to victory for both combatants, the experienced fight trainer believes that Matthysse and Garcia would be a stylistic treat for every fight fan and exceed all preceding expectation.
"What makes this match-up so extraordinary is the danger factor for both men. Danny and Lucas have the kind of explosive power that can end any contest with one punch. Both fighters would be taking a huge risk in this intriguing bout, but a victory for either warrior could potentially catapult their careers to super stardom."
"I firmly believe that a fight between Danny Garcia and Lucas Matthysse would not only prove to be fight of the year candidate, but also a launching pad for one of the next big stars of the sport."