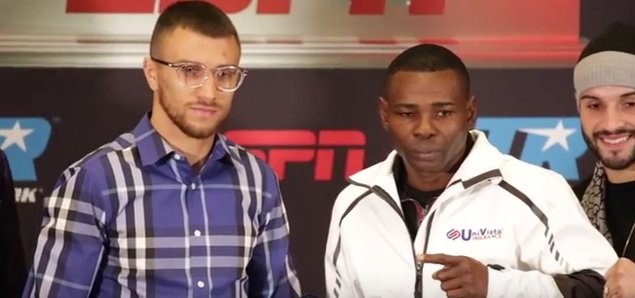 The biggest boxing match of the year airs live on ESPN Saturday, December 9 from the Theater at Madison Square Garden in New York City. Top Rank on ESPN will drop gloves just after 9 p.m. ET with a full slate of marquee fights on ESPN, ESPN Deportes on ESPN, ESPN Deportes and the ESPN App following the live presentation of the 2017 Heisman Trophy Ceremony. Calling the fight for ESPN will be Joe Tessitore and Mark Kriegel, with guest analyst Tim Bradley, reporter Bernardo Osuna and on-location contributor Stephen A. Smith. ESPN Deportes' coverage includes play-by-play from Pablo Viruega and analyst Delvin Rodriguez.
Two of the top ten pound-for-pound fighters in the world collide for the WBO Junior Lightweight World Title as champion Vasiliy Lomachenko (9-1-0, 7 KO) defends his belt against the unbeaten WBA Super Bantamweight world champion Guillermo Rigondeaux (17-0-0, 11 KO). Saturday's fight marks the first time in boxing history that two-time Olympic Gold Medal winners will face each other at the professional level. Rigondeaux won Gold at the 2000 Sydney and 2004 Athens Olympic Games while Lomachenko won Gold at the 2008 Beijing and 2012 London Olympic Games. The International Boxing Hall of Fame will enshrine both pairs of gloves used in Saturday's bout.
Three additional fights round out Saturday's TV card with marquee appearances by rising stars Shakur Stevenson, Chris Diaz and Mick Conlan. ESPN3 airs Top Rank undercards available in English and Spanish beginning at 7:30 p.m. ET.
ESPN's official coverage of fight week kicked off Tuesday, December 5 with five Top Rank athletes on the Bristol campus for a Car Wash featuring a live SportsCenter appearance for Lomachenko. The final press conference streamed live on ESPN3 Thursday, December 7 and the weigh-in airs live on ESPN2 Friday, December 8 at 2 p.m. ET. Also available on fight night Saturday, December 9 will be a five-box mosaic offering Around the Ring streaming live on ESPN3 and the ESPN App with enhanced views of the ring as well as access to both fighter locker rooms and corner cameras.
Lomachenko & Rigondeaux Gloves Headed To Boxing Hall of Fame
History will be made on December 9th. For the first time ever two-time Olympic gold medalists will meet as professionals when WBO junior lightweight champion Vasily "Hi-Tech" Lomachenko and WBA super bantamweight champion Guillermo "El Chacal" Rigondeaux square off at the Theater at Madison Square Garden.
The bout, for Lomachenko's 130-pound title, will headline an all-action card presented by Top Rank, in association with Roc Nation Sports and Madison Square Garden. The card will be televised live on ESPN and ESPN Deportes.
"The Hall of Fame's mission is to honor and preserve boxing history and this fight has historic implications as it is the first time two-time Olympic gold medalists have fought as professionals," said Hall of Fame Executive Director Edward Brophy. "To have two of the most decorated Olympic boxers of all time battle with the junior lightweight championship on the line promises to be a memorable night for the sport."
"We are thrilled that both fighters and their camps agreed to donate the gloves they will use against each other on December 9th. While the Hall's collection of fight-worn artifacts continues to grow year after year, this is the first time that gloves will go right from the boxers' fists to the hands of the Hall of Fame in the ring immediately after the bout ends."
"The Lomachenko vs Rigondeaux title fight is a signature event in the sport of boxing. The two greatest Olympic fighters facing off against each other as professional world champions. Never before in boxing history have two-time Olympic gold medalists, faced each other in a professional boxing match," said Hall of Fame promoter Bob Arum, founder and CEO of Top Rank. "It's fitting that their gloves be enshrined at the International Boxing Hall of Fame. On December 9, the gloves belong to the fighters. Beginning December 10, they will belong to history."
"My goal in this sport from the beginning was to make Boxing history," said Lomachenko. "It is a very big honor to have a part of me – my boxing gloves – to be in the Boxing Hall of Fame in Canastota. It is very exciting too to be the first to have his gloves taken from the boxing ring on December 9 to the Hall of Fame."
"Vasily and I have been together since the beginning. This is such an honor for his gloves to go into the Boxing Hall of Fame," said Egis Klimas, Lomachenko's manager. "This is exciting not just for Vasily but for all of his fans throughout the world."
"I'm truly humbled by the International Boxing Hall of Fame's decision to enshrine my gloves from this historic fight against Vasily Lomachenko. It's an incredible honor and one that wouldn't be possible without the support of my family, Roc Nation and my fans worldwide," said Rigondeaux. "I have devoted my life to the sport of boxing, so it's a blessing to know that my gloves will be commemorated forever alongside those of other boxing greats."
"There is no one more deserving of this tremendous honor than Guillermo Rigondeaux. In addition to being recognized as an outstanding Olympian, Rigo is an exceptional fighter that has displayed a winning pedigree with class, confidence and consistency. He has overcome several obstacles to reach this point in his storied career and we're proud that he will represent the Roc Nation family in the International Boxing Hall of Fame on the biggest fight night of his career," said Michael R. Yormark, President & Chief of Branding and Strategy of Roc Nation.
Lomachenko won gold medals for Ukraine at the 2008 and 2012 Olympic Games and posted an incredible 396-1 amateur record. In 2014 he won the WBO featherweight championship in only his third pro bout and captured the WBO junior lightweight title to become a two-division champion in just his seventh pro start. "Hi-Tech's" record stands at 9-1 (7 KOs) and includes wins over Roman "Rocky" Martinez, Nicholas Walters, Jason Sosa and Gary Russell, Jr.
Rigondeaux won gold medals for Cuba at the 2000 and 2004 Olympic Games and compiled an unbelievable 463-12 amateur ledger. "El Chacal" won the WBA super bantamweight title in 2012 and has defended eight times, including a 2013 unification win against WBO champion Nonito Donaire. Rigondeaux's pro record reads 17-0 (11 KOs) and includes victories over Rico Ramos, Teon Kennedy and Joseph Agbeko.
A not-for-profit organization, the International Boxing Hall of Fame opened to the public in 1989 in Canastota, New York and is located at Exit 34 of the New York State Thruway. Hours of operation are Monday-Friday 9 a.m. to 5 p.m. and Saturday-Sunday 10 a.m. to 4 p.m.