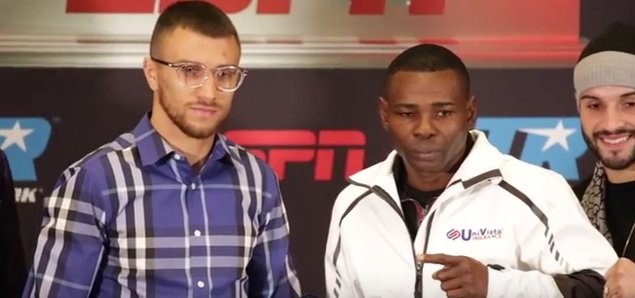 A pair of two-time Olympic gold medalists, match wits in a game of high-speed chess, with the winner in the driver seat for fighter of the year. A quality matchup on ESPN this Saturday night will be accompanied by an excellent lead-in program. Top Rank founder, Bob Arum made an intriguing matchup, now it's up to these two elite-level practitioners to shine.
Casuals will squint at the sign that reads: lab coat and goggles required past this point. That's right hardcore's from around the world will have their beakers and test tubes all ready to go for this sweet-science experiment.
Let's not beat around the bush, this highly-anticipated fight could be a bit of a snoozer in spots. Out of the two fighters, Lomachenko has shown a more aggressive offensive-style, centered in footwork. Rigondeaux doesn't waste many punches instead relies on making each one of them count.
Rigondeaux's smaller stature can be misleading and may be negated because of his long arms good for a 3-inch reach advantage. That stat could be very telling if Guillermo is able to keep Vasyl at bay or at least tentative.
Lomachenko's footwork tends to keep him in position to punch and/or quickly retreat. Will Rigo allow Vasyl to stand in front for long of stretches when throwing body punches? That fancy footwork also gives Lomachenko the ability to beat a moving fighter to the spot, thus trapping him on the ropes.
Lomachenko's offensive game is more diverse whether he's going forward or moving laterally. Rigo is probably sharper as a counterpuncher. Both have astonishing amateur records: Lomachenko (396-1) and Rigondeaux (463-12).
Activity against quality opposition in the last few years overwhelmingly favors Vasyl. Rigo having fought only 13 rounds in two years can't help rust-wise or mentally. It's difficult enough to defeat an elite fighter let alone not having faced one in 4 1/2 years. That opponent was Nonito Donaire, who is the best opponent either man has faced as a professional.
Donaire at heart is a true counterpuncher, and was caught flush all night overextending chasing Rigo down. Chances are Loma won't over extend himself in search of a one-punch knockout, unless of course he hurts or drops Rigondeaux.
As the saying goes in boxing, a great big guy will beat a great smaller guy ever time. Most believe that theory applies here as do I but only to an extent. The weight differences, not height or necessarily size, will be the biggest impact. It's likely that Guillermo's power won't carry up from 122 to 130. That combined with a possibly weaker punch resistance taking the bigger man in Loma's shots may be too much to overcome. Four separate trips to the canvas, gives an impression that Rigondeaux is a touch chinny.
Based off the majority of media members and the odds on the betting line, Lomachenko is the clear-cut favorite. However this fight will be nip-and-tuck in many of the rounds meaning not much will separate the two. That's where punch volume and effective-aggressiveness of Loma will come in to play.
This MSG Theater main event will start at a snail's pace and quite honestly may never catch fire. Workrate and being the house-fighter will be enough for Lomachenko to get the victory. But it won't come easy so look for a closer than expected fight which may or may not reflect on the scorecards.
If Rigo sits back in the cut to counter he won't score enough points. If he opens up on offense out of his comfort-zone, he'll take a seat on the mat. Competitive but a clear win for Lomachenko via outhustling and from time to time stinging Guillermo with flush shots.
My Official Prediction is Vasyl Lomachenko by Majority Decision.
Side Note: This Saturday night Orlando Salido returns to face Saul Roman on HBO along with Farmer vs. Ogawa in the co-feature. Saturday afternoon James DegGale and Lee Selby stay busy on Box Nation/Showtime Facebook. Also, keep an eye out for the 4-fight PBC card on FS1 Friday as well.
Written by Chris Carlson Host/Producer of The Rope A Dope RadioPodcast Available on Apple Podcast (ITunes), Player.FM, Stitcher, Tunein, Spreaker www.blogtalkradio.com/ ropeadoperadio & TheGruelingTruth.Net. Sports Network! Follow on Twitter @RopeADopeRadio