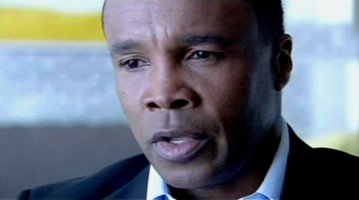 The date of April 6, 1987 is etched firmly in the memory banks of all boxing fans who were of sufficient age to have been aware of "The Superfight" – the astonishing world middleweight title fight between defending champ Marvelous Marvin Hagler and underdog challenger Sugar Ray Leonard – when it took place.
The fight caused an enormous stir when first made official; in large part due to the perceived "crazy" decision former welterweight king Leonard was making in attempting to come back, after almost five years out of action, to challenge the formidable Hagler – this after having undergone major retinal surgery. But the debate that followed – one that continues to rage a full three decades later and shows no sign of fading away – proved absolutely monstrous.
Just who won the fight? Officially, as we all know, Leonard, the slightly younger man, emerged victorious via 12 round split decision: one judge having Sugar Ray the winner by a 115-113 margin, the other by a whopping, universally condemned, 118-110. The third official had Hagler retaining his beloved middleweight crown via a 115-113 tally.
But almost as soon as the late, great Chuck Hull finished his M.C duties with the words, 'and the new middleweight champion……' the fierce debate began. Never has a fight polarised opinion the way this one has. There have been hugely controversial decisions before of course – with the likes of the Pernell Whitaker-Julio Cesar Chavez draw and the Lennox Lewis-Evander Holyfield tie being two fights of recent years that upset millions of people – but Leonard WS12 Hagler is different.
There are no arguments over who won the two fights listed above as examples of dodgy decisions: everyone knows Whitaker and Lewis won and won clearly. But for every argument that says Leonard beat Hagler, comes as compelling an argument that insists Hagler topped Leonard. Also, many millions of fans, who re-watch the fight in an attempt to score the bout, often come up with a different result than they did the previous time they watched it. It seems that nobody is 100-percent sure who really, honestly and truly won this fight!
Perhaps the fairest result handed in that special night in Las Vegas would have been a draw: Hagler keeps his belt, Leonard proves to the world what a great fighter he really is; and everyone's happy (well, maybe!). Had it been a draw, Leonard-Hagler would almost certainly have spawned a sequel (there was talk of a return bout anyway), and with it maybe a clear winner.
Instead, and to the delight of fight fans who love a good argument/debate/row as much as they love watching a great boxing match, we have what we have today: the single most talked about fight in modern day boxing history.
Here on its anniversary, how many of us will grab a DVD or tune into You Tube and re-watch the Superfight one more time?