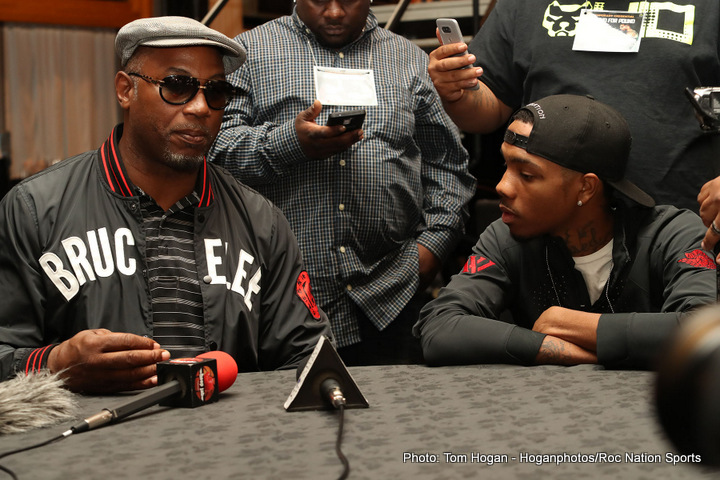 Like the rest of the planet, retired heavyweight great Lennox Lewis is simply unable to forget the shocking, sickening scenes the boxing world was unfortunate enough to have endured twenty full years ago today. It was two decades ago today when, as every fight fan, casual observer and even non-sports fans knows, Mike Tyson twice plunged his bared teeth into the ears of Evander Holyfield.
As disturbing and maddening to watch all these years later, the unhinged actions of the completely crazed Tyson really do churn the stomach. One man who actually felt Tyson's teeth himself, and also fought and brutally KO'd the one-time great, is Lennox Lewis. Speaking with The Star as the 20th anniversary of Holyfield-Tyson II approached, Lewis said that when he was watching the carnage unfold he felt he had forever lost his chance of taking on "Iron Mike."
"One hundred percent, at the time I thought this man Tyson is a mad man and I will never fight him now," Lewis told the newspaper. "What had got him mad was the head-butt (Holyfield caught Tyson with) and he just switched. I saw it coming to a certain degree but just couldn't believe it. Tyson watches a lot of old fighters, like Max Baer, who could get away with an elbow or head-butt back then. Holyfield was jumping up and down but in the old days they just got on with it."
From his last sentence in the above paragraph, it does come across as though Lewis is suggesting Holyfield should perhaps have "just got on with it," as the old-time fighters did. But surely, Lewis can fully understand the pain Holyfield was in when Tyson's fangs ripped a chunk of flesh from his ear! Okay, the tired old story tells us how the old-time warriors were tougher than today's fighters, but even the likes of Baer, Rocky Marciano and, even further back, Jack Johnson never had to contend with the surreal events "The Real Deal" had thrown at him.
How would Lewis have handled things if Tyson had bitten him during their fight (the two fought, finally, in 2002, with Lewis smashing a faded Tyson to painful KO defeat; with no biting on display from Tyson on this night)?
"I would have gone berserk if that would have happened to me," Lennox concedes. "I actually thought Tyson was trying to get out of the fight with me because he bit me (on the leg) at a press conference. I though he was a cannibal, and maybe he was trying to get out of the fight with Evander."
One man who actually predicted that Tyson would indeed "try and get out of the fight" with Holyfield was none other than Teddy Atlas, one of Tyson's first trainers and arguably a man who understood his mental make-up better than anyone. Atlas was, and is, under no illusions: Tyson bit Holyfield because he knew he simply could not beat him.
Many other people agree with Atlas, and today, when trying to make sense of what occurred twenty years ago, Teddy's opinion seems the most valid.