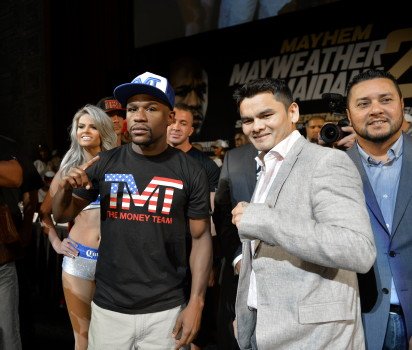 (Photo credit: Idris Erba) Kaleb G. (Boston, MA): I noticed that you've been pretty quiet on the topic of Floyd Mayweather and the way the media overlooks his past, as it relates to domestic violence and so forth. What are your thoughts on the recent article in "Deadspin"?
Vivek W. (ESB): I've received several emails from fight fans asking for my thoughts on this topic. I initially chose not to comment, for the simple fact that I prefer not to talk on topics in which I don't have a complete education on. And furthermore, I'm not familiar with Deadspin, and have never seen them represented in a Boxing media room; so that's a dead giveaway that their sources probably have limited facts, as well. That said, here's what I am willing to say on record: Yes…..I read the article, and I'm aware of many of the circumstances surrounding the topics discussed. I would never condone a man placing his hands on a woman, physically. That being said, those who continue to ask me "why is society celebrating him when he has such a history"? My response is simple:
There's a legal process in place. That legal process placed him behind bars for the allocated amount of time commensurate to requirements as mandated by the Nevada state statues. After he served that time, he was allowed to continue his career. It's not my job to keep allegations alive, and I have no intent to do so. When Donald Sterling of the NBA's L.A. Clippers was found to have racial bias, the league removed him. Boxing has not removed Floyd Mayweather, and it is not my job to request that of the sport. The bigger issue here is that many of these infractions have no "face" attached. We have no photos and no official medical documents to support any of these allegations. In this paparazzi driven era of TMZ and other frenzy-based media groups, it is hard to truly place blame when proof is not tangible in any of the cases cited.
Accepting a plea deal is NOT an admission of guilt. It's the act of taking a lesser sentence to void the requirement of having to prove ones innocence. This is why ESPN, Showtime, etc have never truly jumped on that "Anti-Mayweather" bandwagon. It is also why I will stick to what I do know (which is his talent); not what I don't know (which is the details of these allegations). I've never followed or really read "DeadSpin", and if they're the type of publication to drive webpage hits on allegations, I don't think I'll be following the site any time soon, as I'd rather deal with facts. When I hear an interview from one of these women allegedly struck or see some photos supported by a medical staff, I will have the ammunition to speak. Until then, I'm not saying anything, because technically, there isn't anything (factual) to say.
Hector, L. (San Antonio, TX): I noticed that Team Mayweather has asked Team Maidana to stay mum on the glove controversy, but no one is stupid! Why are they preventing Maidana from wearing gloves that the sport have deemed eligible for competition?
Vivek W. (ESB): There's a growing sentiment that Mayweather opted not to allow Maidana to use the MX Everlast gloves because of the trouble he encountered against Cotto (who allegedly wore them). I'll start by saying that Cotto has never confirmed that these were the gloves he used and it's pure conjecture to allege that this was the case. That said, my response is this: Floyd Mayweather faced Cotto in 10oz gloves, (as jr. middleweights are required); not 8oz gloves. So, no…they were NOT the same. As we witnessed, those 10oz gloves Cotto used did do great damage. Fighting at welterweight, Madiana would have the privilege of using an 8oz glove in the same type.
I can certainly see the logic in Mayweather not wanting him to use a more puncher-friendly 8oz glove, so if this theory is true, as the A-side of the promotion, it's Mayweathers option to decline. ODH did it, Tyson did it, Pacquiao does it, and Cotto just did it; so where's the infraction? As I've often said, FMW didn't reinvent the wheel. He simply found a way to make it take him further than those who came before him have. He's not the 1st. He won't be the last. On the strength of that alone, it's a non-issue to me. Conspiracy theorist and some media have gone very far attempting to turn this glove controversy into something it doesn't have to be.
ESPN's Dan Rafael was initially quoted in stating that there was pretty much an unaccounted for $1.5M that Maidana received, which seemed to be compensation for the fact that he couldn't use his choice of gloves. Well, Maidana dispelled that myth himself by saying on record that this is absolutely not true, and that he did not receive any compensation for changing gloves.
At the end of the day, despite the fact that he's simply the man most love to hate, I think fans have to settle for the fact that this is Floyd Mayweather's call to make, and he did. It may not be the move we support or want, but it's simply his call. To use his words: "Since Maidana felt he won the first fight, he should be able to do it again with the same gloves". Not exactly the words everyone wants to hear, but those are the ones that we'll all have to accept.
Andrei S. (San Diego, CA): Manny Pacquiao has signed to face Algieri and Guillermo Rigondeaux has received no promotional support at all. What are your thoughts on the way Top Rank has handled their talent (lately in particular)?
Vivek W. (ESB): I'll start by saying that they remain one of the most successful promotional outfits in the sport, so despite the constant rhetoric, that truth has to be kept in perspective. That being said, I do find myself a bit baffled with some of the business decisions we've seen lately. Not too long ago, Oscar De la Hoya and Bob Arum made it clear to the world that they would be working together, and that there were no roadblocks (perhaps alluding to the departure of Richard Schaefer). Here we are, months later, and with a ton of talent under the GBP tents between jr. welterweight and jr. middleweight, we still find ourselves being force fed a showdown between Pacquiao and a man most didn't know 3 months ago, and to make it worst, it's a PPV fight that fans will have to shell out for.
I don't want to come down on Algieri, as he did his job and earned this shot; but what I don't like about this move is that it continues a trend that hasn't been very healthy for the sport. Canelo had one major victory under his belt (Trout, who had previously defeated Cotto) when he earned a shot at Mayweather. But Canelo had also been touted very strongly through various promotions, so we knew who he was. In the case of Algieri, he defeated Provodnikov in a spirited battle, but outside of that, he was very much under the radar.
After that one strong performance, (which came against a guy who was barely known himself), we're now getting a chance to see Algieri for the very first time as a known and somewhat proven commodity, and it'll come with sticker shock, as fans will have to pay. How is this possible, when a fighter like Rigondeaux has beaten the best? From a business perspective, it's safe to say that Top Rank wants to cater to the fan-friendly style of Algieri as opposed to the more technical style of Rigondeaux, but what that does is send the message to young, up and coming fighters that there's a higher premium on the way you fight, as opposed to whether or not you win.
In a sport that credits a Champion and governs itself by wins and losses, there's no leverage for success if all you have to do is "put on a good show". That's WWE type stuff! At the end of the day, I can see the angle of Top Rank from a business standpoint, and I can't say it's bad if it helps drives sales (which it does); but I do think it's a bit unfair and some could even argue discriminatory, as it unfairly cuts the growth potential of certain fighters who bear certain styles.
Bradley went life and death with Provodnikov in an effort to live up to this hype. He saw a few nice paydays. Rigondeaux opted to stay true to himself….and he's now a fallen star from the roster! Perhaps good guys do finish last! Or in an odd way, perhaps at Top Rank they actually finish first! How else can we explain seeing a guy perform so good that he can no longer get TV dates or promotion from the company he works for? Just a little something to think about!
(Vivek "Vito" Wallace can be heard every Tuesday night at "Left-Hook Lounge Radio", or reached at 954.770.9807, Twitter (@vivekwallace747), Instagram (ViveksView), and Facebook).