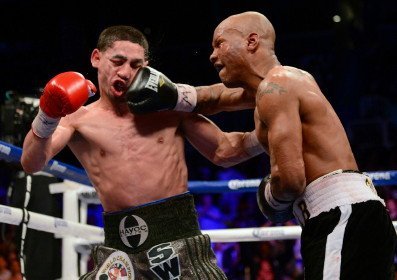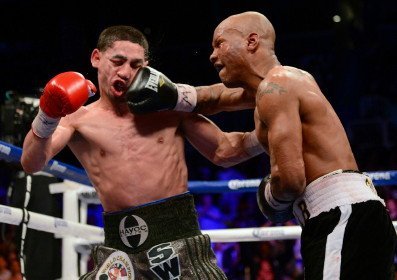 (Photo credit: Naoki Fakuda) By Vivek Wallace:
Jaron H. (Queens, NYC): Would you say that Garcia's performance cleared him as the best 140lb'er in the world? I thought he weathered the storm nicely and proved so. Would you agree?
Vivek W. (ESB): I think Garcia did a very good job and earned the victory, but I would also say lets keep things in perspective. Judah is a solid veteran and one who knows the boxing game as well as most. Sadly for him, execution is another story. The biggest subplot coming into the night for Judah was whether or not he would stay on course after getting touched up a little. What we learned is he would try a bit harder, but in the end it wouldn't be enough, as again, his effort fell short on the big stage. I commend Judah for his effort, but at this stage he just doesn't take chances any more. And ultimately, that's what ended his chances against Garcia.
Had he fought with the same aggression early in the fight that he did late, the outcome could have been entirely different. When I look at things from that angle, my personal opinion is that the final outcome had more to do with what Judah didn't do than what Garcia did. And there lies my biggest concern with Garcia. When I look at him I see a fighter who doesn't do any one thing incredibly great. I see a guy who has been a slight notch above average on every level, yet possess that proverbial calling card (in this case…..left-hook) which serves as an 'eraser', allowing him to overcome what's usually very average performances.
When I look at his fights of the past, I don't see a guy who did something superb enough to consistently win fights on the elite level. I see a guy who has faced men who haven't been solid enough to require him to win without using that calling card. In the first fight, Morales gave him all he could handle for the duration of the fight. Khan was ahead before being stopped in their fight. All in all, as we go down the line, Garcia has proven to be a fighter with potential to be elite. But the reason we haven't seen him cross that barrier just yet is because he hasn't quite put it all together against the type of fighter who's established enough to propel him to that level.
I would stop short of saying he's hands down the top fighter in the division. I like his ability and I like his heart, but I'm just not sold him being the top fighter in the division based on what I've seen. I think Matthyssee, Alvarado, and possibly even Rios all give him big problems. The relentless nature of those men and their durability would allow them to do more far damage than many of his past resume. And I'm certain that each of them could nullify the big left hook with both pressure and/or the ability to land so hard that it gives him second thoughts about throwing it. Again, I like Garcia, but I can't say that he's the top dog on the strength of a victory over a man many questioned coming in. Just my thoughts…..
Barry N. (Chicago, IL): I read your Facebook comments on Sergio Martinez. Before, I thought you were a hater, but I feel he isn't evolving as a fighter at all. Where does he go from here after a questionable victory?
Vivek W.: (ESB): With me, I have a genuine respect for every last man that enters the ring. So it's never personal. Just like they have a job to do, so do I. Part of my job is to take the emotions out of the process and simply speak on a level scale. That being said, I have the utmost respect for Martinez, but two things should be analyzed closely when judging this recent performance. For starters, I had Murray penciled in as the winner of this bout, for the simple fact that I knew he would bring more to the table than anyone we've seen Martinez face to this stage. He's a spirited fighter. He comes with a solid gameplan. He has defensive skills to match a decent offense. And simply put, he's no slouch.
All that being said, you have to acknowledge that Martinez did in fact face a very solid opponent, so that has to be considered for those that want to be overly critical. At the end of the day, I think Murray showed a solid level of skill that simply put Martinez into perspective for those led by the often blind media. Martinez, much like Donaire and others, established an elite reputation very quickly from beating men who weren't totally elite themselves. Paul Williams was a very spirited fighter but Paul Williams was not elite. The same can be said of his other victims. This was the closest Martinez has probably ever faced to an elite fighter, and it totally neutralized everything perceived to be his strengths coming in. He was tagged at will with the jab. He ate powershots. He simply looked very marginal.
Some will point to the hand injury he was said to sustain. My response would be this: "if his hand was broken….fair play. But what does that say for the shots that he has consistently taken in this fight as well as those prior to it"? Last time I checked, that's how an opponents points accumulate, and that's how punishment registers. Again, I like Martinez and what he brings to the sport. But please don't sell me on the mythical top 3 P4P stuff. My definition is vastly different from the typical. And as good as he is, he isn't there. Top quality. But not quite a true P4P material. Let me see him decisively defeat a top level of competition without question or controversy. Then I can join the supportive chant for him that appears to be weakening with each fight.
Kevin N. (London, UK): I feel Amir Khan has shown improvement and can push for a title soon, but the U.S. media doesn't show him much respect. Would you agree that he looks better at this stage in his career?
Vivek W. (ESB): Unfortunately, I beg to differ. The most credit that I can give Khan today is that he is part of a new tandem, and it will take time for things to materialize the way we would like. That being said, the same problem I saw him fail to address against Prescott is the same problem I see him continue to fail at, regardless of who is in his corner, which tells me that not only is it two-fold, but it's all on him! Khan continues to get wobbled, because he simply has troubles executing the gameplan.
Similar to Judah, Cintron, and a few others, when he gets hit, he has the heart to continue, but it's simply a lot of nervous energy. He's bouncing and shuffling all over the place so much that he often lands right in the line of fire. That's OK if you have the chin to support taking a few shots. But unfortunately for him, the 'Pacquiao template' simply doesn't work. He needs to learn how to stick to a plan rich in speedy jabs, escape-route driven footwork, and timely powershots. If he only learned to master this plan, Khan could very well be one of the best talents in the sport. Weak chin and all.
Unfortunately, he starts out solid every time, but somewhere along the line he gets reckless and typically pays for it. More often than not, it's a price he can't totally sustain. I would like to say that Hunter will be able to get him right, but it's like Andre Ward once said regarding this tandem when it was first announced: "All Virgil can do is prepare the fighter. But once the bell rings, that fighter has to be intelligent enough to remain disciplined and execute the strategy". That discipline and execution is what continues to separate the Mayweathers, Wards, and Rigondeaux's of the world. They perform to perfection, section for section.
Khan has a talent that could be equally as deft. Unfortunately, the brain game is where he falls short. And until he gets the mental aspect down, he'll continue to be a window shopper. He'll get you to the store….he'll get you in the dressing room….but you'll never walk out with the bags, as they remain outside of his range. It's that simple. For now, we wait to see what adjustments he and Hunter can come up with. For later…..we simply see if they'll stick. Until then….we hold on to our thoughts and questions, as they have yet to be answered.
(Vivek "Vito" Wallace can be reached Monday nights 9ET/6PT and Saturday Afternoons at 2ET/11am Pacific at Left-Hook Lounge Radio. Also at 954.300.5692, Twitter (@vivekwallace747), Instagram (ViveksView), and FaceBook).