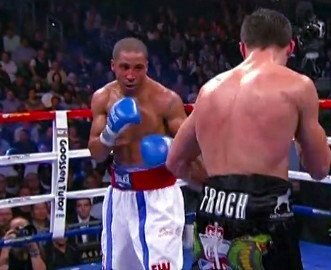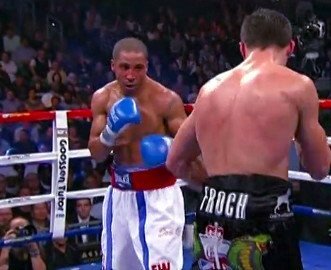 Marshall T. (Queens, NYC): When you look at Carl Froch's resume, he has faced everyone who is someone in the super-middleweight division. Andre Ward is being considered for a rematch, but Hopkins makes a strong case too. Who do you think he should face and why?
Vivek W. (ESB): This is a very interesting scenario we have brewing here. In Andre Ward, we have arguably the #2 best fundamentally sound fighter in the sport. In Bernard Hopkins, we have what can be defined literally as a living and active legend. His historical effort in the sport may never be duplicated again. When we look at who Froch should face next, I think it's actually an easier decision than many think. Ward and Froch have faced off. To be quite frank, it wasn't even really close. Ward white-washed him on the cards and although Froch will make adequate adjustments to compete, when the smoke clears, does anyone really think the outcome changes? I'm not so sure it does.
I think he should ultimately face both guys. But relative to who he should face next? I think without doubt it should be Bernard Hopkins. Of the two, Hopkins is a more notable global name. Ward is absolutely incredible, and he's a talent that many have seen me boast since well prior to the Super-Six Tournament. But Hopkins is an icon. He's legendary. Froch has faced everyone on the radar…..but him! I think win, lose, or draw, this could be the feather in his cap that Froch needs to solidify himself as one of his countries true greats of this era. Ward is a young fighter. He's on the rise and he'll be there. Why wait for Hopkins to get old overnight, or potentially walk away?
Without hesitation, if I was advising Froch, Hopkins in Wembley Stadium would be the name I target first and foremost. Golden Boy Promotions and Froch's promoters would make it an epic affair in the U.K. Right now Froch is in a perfect position. He's facing the proverbial westside of his career watching the sunset. He can face the best super-middleweight of the modern era in America, and follow that act with a bout against the best super-middleweight of the next American era. Old school AND new school………all in one swoop!
I think both men should get a crack at him, but Hopkins probably makes more sense right now. He's the bigger name, and without hesitation, he's willing to travel! Can either of America's recent best break Froch's home field advantage streak? The stage is now set to find out! Hopkins first, Ward second! In the meantime, if Ward wants a money fight, he can have his promoters push the Cinco de Mayo fight with Chavez. If Mayweather and Canelo fight that night it may not be the money affair they want (based on PPV buy rate); but it'll still be a larger purse guarantee than he's EVER had. Take Chavez….then Froch II. Only downside is a total white-wash of Froch at the hands of Hopkins. But win, lose, or draw, my money says it'll be a great night and a great fight!
Richard B. (Houston, TX): On your radio show last week and your facebook page I've listened to your comments on Lucas Matthysse. You were referencing two things that I would like you to speak on. A potential matchup against Shane Mosley, and his (according to some) suspicious amino acid intake. Can you elaborate on both?
Vivek W. (ESB): Regarding Shane Mosley, I'd like to start by saying that this isn't a fight currently being discussed (to my knowledge). But, I do think it should be. I think Mosley still has enough chin and power to make it a very interesting affair. And more notably, enough of those attributes to make it competitive enough for fans to give Lucas credit in the end for what I forecast would be an eventual win. Flipside to that is the fact that Mosley will also have a shot at doing something most don't think he's capable of doing at this stage. When you have power punchers like this, it's a dangerous fight for all parties involved. For all the accolades we've seen Lucas get lately, we still have no idea how he'd hold up against a shot that big.
Pacquiao and others recently avoided Shane's power, but Lucas doesn't have Pacquiao type footwork. He's very hittable and although he hasn't been down, we could see his strategy change a bit if that shot Mosley landed on Mayweather connects. That scenario would change the entire fight. I think it would be a good fight. I think it allows Lucas to put a legendary name on his resume and serve as a bridge to bigger fights against more modern rising stars. Relative to the amino acid scenario, I was simply stating that it's very interesting, because many fight fans aren't educated on the truth about certain products, as it relates to permissible and non-permissible supplements in the sport.
When you think performance enhancement, you think about things like HGH. But the reality is, several other supplements categorically fit in this same echelon. When you take it back down to the root, the term "performance enhancement" is used to describe anything that allows one man a boost over the natural ability of the other. The logic is that basic supplements, diet, and exercise should be the only elements used to equip each competitor. Anything else is considered "performance enhancement", and is viewed as an edge over the non-using opponent.
The irony in the amino acid scenario is that amino acids are actually banned and deemed "impermissible" in the collegiate athletic ranks. No collegiate player can use amino acids while in competition without facing consequences (Reference Link —> http://www.drugfreesport.com/newsroom/insight.asp?VolID=31&TopicID=10). In some ways this may seem extreme. Particularly considering that Green Tea, excessive doses of coffee (caffeine) and other seemingly harmless products are included in that list. Not only do some of these products enhance performance, but some can also conceal (intentionally or unintentionally) the trace of true banned substances. For these reasons, several agencies ban the products.
I don't know that there's a need to ring the alarm in the case of Matthyssee. But if we want to be truthful about it…..although it isn't an HGH or anything considered to be too incriminating, if the opponent isn't taking it, it's an edge in performance enhancement (in the eyes of some athletic bodies) and he would not be able to take it. So far, it appears to be OK, however, it is rumored that the NSAC did in fact confiscate the product for examination. I haven't heard any additional news. Not so sure we will, as amino acids are not banned in boxing. Then again….what is, now days??? Stay tuned.
Kevin B. (London, UK): I think many in America continue to underestimate the true greatness of Carl Froch. How did you rate his performance?
Vivek W. (ESB): For starters, while some would argue with the term "greatness" to define Froch, I don't know that I totally agree, but I certainly wouldn't argue with someone who feels they want to use that term to define him. On a broad scale, I think his body of work…..his resume…..including all victories and defeats, have to be considered. He truly has taken on all comers, and done an adequate job against each, which is all we can ask of a fighter. Relative to his performance, I think it all depends on what a person is grading on.
I love all styles of boxing. In some guys you have that constant fireworks where they go straight at opponents like rock-em-sock-em robots and keep bangin' til the last bell sounds! That style puts cheeks-in-seats, but it doesn't totally do it for me. In Froch, you don't have a pure fundamentalist, but he offers enough of both styles to make me respect his delivery of his patented style. Few give him credit for his defense, but he's actually a very crafty fighter when he wants to be. He can put hands on you and and avoid the onslaught when he fights smart.
Against Kessler, he fought a very good fight offensively, with a busy jab and a final punch stat that tallied over 1,000 punches. But defensively, as Lennox Lewis and several others publicly stated, his flaws and mental lapses proved that against a truly elite fighter he may be in for a tough night. It isn't to say he will lose. It is to say the odds increase substantially as a result. Overall, I liked what I saw. But he will really need to fight a disciplined fight if he plans to compete on the elite level with any true success.
(Vivek "Vito" Wallace can be heard tonight on Left-Hook Lounge Radio at 9ET/6PT. Also, he can be reached at 954.300.5692, Twitter (@vivekwallace747), Instagram (viveksview), and FaceBook).