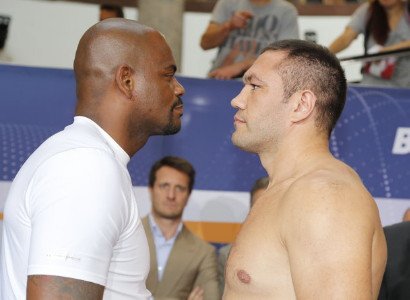 (Photo credit: Wende) The 6'4 ½" Bulgarian heavyweight Kubrat Pulev (17-0, 9 KO's) will be taking his real first of his 5-year pro career tonight against the 6'5" American Tony Thompson (38-3, 26 KO's) at the Sport and Congress Center, Schwerin, Mecklenburg-Vorpommern, Germany.
This is a fight where anything can happen, because Pulev hasn't been in with good heavyweights since he turned pro at the ripe age of 29 after a long amateur career. Pulev was a good amateur fighter in Bulgaria, but he had problems when he had to face heavyweights with power like Roberto Cammarelle and Odlanier Solis. With only jab to try and beat them, Pulev was overmatched and dominated by both of them.
At the pro level, Pulev hasn't been put in with guys with any kind of power in what appears to have been a strategic move by his handlers to keep Pulev out of harm's way before he got his big payday fight against Wladimir Klitschko. However, Pulev will have to face a heavyweight in Tony Thompson tonight that could give him some problems with his power if he's able to turn this fight into a war the way that Solis and Cammarelle did in dominating Pulev.
Thompson knows that Pulev's only offensive weapon in his arsenal is his jab, so you can expect him to force Pulev to fight in an all-out war that will match Thompson's superior power against Pulev's lighter shots.
This fight will be interesting because Pulev will try and keep the fight on the outside so that he can exclusively throw jabs, but Thompson will be trying to get in range to bomb Pulev out of there or at least batter him the way Cammarelle did in the amateurs the last time he whipped Pulev in 2009.
Incidentally, that was the last time Pulev fought a good heavyweight. Can Pulev jab his way to a victory over Thompson tonight? We'll find out, but I think Pulev is going to be in a world of hurt if Thompson is able to nullify his jab, because once you take that away from Pulev then all you have is a light hitting heavyweight that likes to clinch a lot.