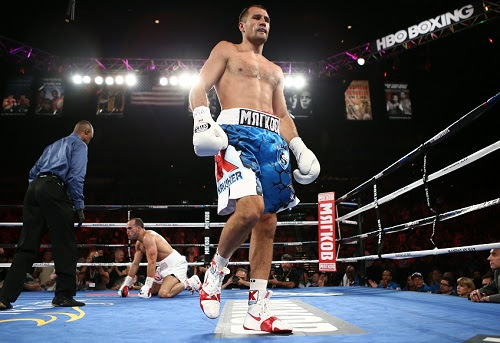 Sergey "Krusher" Kovalev is rapidly becoming the most dominating force the 175 lb division has witnessed since Roy Jones Junior began hoovering up his collection of world title belts at the tail end of the 20th century.
Super middleweight king Andre Ward is being considered as a potential opponent for Krusher. Victory over Ward would be a significant scalp but it would not complete his supremacy at light heavyweight. If Ward were to lose he would presumably return to his natural weight division at 168 lb, explaining that the difference in size was too great, and some of the sheen would be wiped from Kovalev's triumph.
Adonis Stevenson – the man who bulldozed Chad Dawson for the lineal light heavyweight championship via a 1st round knockout in 2013 – has the experience and the explosive left hand power to trouble Kovalev, although Krusher would still probably have the overall edge in this writer's opinion. Is a unification fight with WBC champion – Stevenson, necessary to strengthen Kovalev's resume? The Russian's popularity and fan-base has sky-rocketed, and he has already easily laid waste to several top contenders, so surely it is acceptable to side-step a clash with just one fighter? When that fighter is your leading rival within your weight class, modern boxing history reveals the importance of seizing such an opportunity.
Roy Jones Junior, often cited as the best boxer of the 1990's was a physical phenomenon. His jaw dropping blend of bullet-like hand-speed and one-punch knockout power helped him blaze through title holders in four weight classes, but it was the light heavyweight division where he reigned the longest. Yet despite his undoubted talent, it is unlikely RJJ will be placed in the top five, or even the top ten of a list assessing the greatest light heavyweight boxers of all-time.
Boxing Scene ranked Roy at No.12 in their 2009 list of all-time great light heavyweights. More recently, in June, 2015, The Sweet Science ranked Jones at No.13 in their fifty greatest light heavyweights in history. The reason RJJ missed the top ten?
"Roy never attained lineage; he needed Michalczewski for that and he decided he had better things to do," Matt McGrain of The Sweet Science explained.
"That's fair enough, but it means he can't be credited with being "the man" in this division in the way his fans might wish. Yes, we can suppose he is the best of this era, but it was never proven beyond hope of contradiction. That hurts him."
In November, 1996, WBA titlist Virgil Hill – the man widely considered to be the world's leading light heavyweight – outpointed the division's second best 175 pounder, IBF holder Henry Maske, establishing himself as the new lineal champion. In his first defence he lost to WBO champion, Dariusz Michalczewski. Dariusz was now the lineal, IBF, WBA and WBO light heavyweight champion. To those not accustomed to the absurdities of professional prize fighting, it seemed logical that Dariusz was the champion – boxing however, is a bizarre sport.
Barely one month had passed since the most illustrious night of his career when Michalczewski had his recently captured treasures stolen from him. The WBA did not recognize the WBO as legitimate, so when Dariusz refused to relinquish his WBO title they immediately ripped their title from him. Next, the IBF ordered that Dariusz had to fight mandatory challenger, William Guthrie, within just five weeks of his Hill victory. Unable to do so, the IBF also stripped him.
By 1999 RJJ had claimed the Polish-German's old titles. The final insult came when in 2002, The Ring – traditionally synonymous with awarding its title to the linear and true divisional champion – chose to ignore Michalczewski's claim to the linear title, and instead awarded Jones their championship for defeating Glen Kelly.
Thirteen years later: Kovalev has torn through Nathan Cleverly (WBO holder), Bernard Hopkins (IBF/WBA holder) and Jean Pascal (former lineal champion) with relative ease, but, most extraordinarily of all, the man from Kopeysk, Russia, has achieved this feat on his opponents' home turf – in Wales, America and Canada. The fearless WBO, WBA and IBF champion has no qualms about fighting top level opponents on foreign soil, and is clearly keen on eradicating all doubt as to who the world's best light heavyweight is.
The 6-feet tall power-puncher boasts an excellent amateur foundation (195 wins from 213 fights), and so far his experienced promoter, Kathy Duva – CEO of Main Events – has expertly steered his professional career, so that he is now viewed as a must-see attraction throughout the boxing world. There are few certainties within sport, but, still only 32-years-of-age, Kovalev looks well poised to continue establishing a lasting legacy in his division. Even wily old Hopkins was unable to fluster him, and instead received the most comprehensive beating of his hall of fame-bound career. In the USA and beyond, Sergey's limited grasp of the English language and unfamiliar roots have been brushed aside – Duva has ensured fight fans get the message: Kovalev is a destructive, exciting, knockout artist – that is all you need to know.
Roy Jones did not fight his most qualified opponent at 175 lb, but the American superstar's legacy is elevated by his outstanding performances at three other weight classes: outpointing a 28-year-old Hopkins at middleweight, outclassing an undefeated James Toney at super middleweight, and pasting John Ruiz at heavyweight. Kovalev is unlikely to have such varied multi-weight success, so his achievements at light heavyweight are even more crucial to his legacy.
The failed negotiations between Main Events and Yvon Michel have been tedious. Stevenson was initially reluctant to agree to the fight, departing HBO for Showtime/Al Haymon back in 2014. Despite efforts by the WBC to make Kovalev mandatory challenger to Stevenson's title, Main Events have all but pulled the plug on the bout, dictating that Kovalev-Stevenson can now only take place on HBO, irrespective of whether Showtime offer a higher sum financially or not.
In May, 2000, prior to the start of RJJ's defence against Richard Hall, Jim Lampley posed the following question to Larry Merchant:
"Roy Jones says that he's fighting against a mandatory challenger, in what odds-makers say is a mismatch, simply because there are no serious contenders in his division. True or false?"
"It's true that there are no serious challengers for Roy Jones as a light heavyweight" Merchant agreed.
Had they not heard of Michalczewski?
After the 11th round TKO, Michael Buffer announced that Roy was "still the reigning and defending, undisputed light heavyweight champion of the world."
The post-fight interview centred on Roy's potential move up to heavyweight in search of a worthy challenger. Not once during the entire broadcast was Dariusz Michalczewski's name mentioned – even though Dariusz was still unbeaten, having already unified the IBF, WBO, WBA and lineal titles just three years earlier.
Kovalev's affiliation with HBO and his rivalry with Stevenson draws an uncanny resemblance to the Jones-Michalczewski shenanigans. Sergey's post-Mohammedi fight interview with Max Kellerman focused on a possible clash with Andre Ward – there was no discussion about Adonis Stevenson. Is HBO's refusal to appropriately acknowledge Stevenson an attempt to portray a Kovalev-Stevenson fight as irrelevant so that more convenient match-ups are made? Whatever the reasoning such short-sighted ostracism thwarted a Jones-Michalczewski unification fight fifteen years ago, and it looks set to do the same with Kovalev-Stevenson.
Adonis, the Haitian-born Canadian is 38-years-old on 22nd September. The likelihood is that a deteriorated Stevenson will soon lose to a lesser fighter, and Kovalev will have missed his chance to reap the glory for himself.
The greatest light heavyweights of all-time – Ezzard Charles, Archie Moore and Michael Spinks – all fought their leading competitors. If Kovalev has any desire to join them in the history books, it is imperative he does the same: he must fight and beat Adonis "Superman" Stevenson for the lineal title.
As his promoter, it is Duva's responsibility to do everything in her power to give him the opportunity he deserves.
FB – DoubleJab WriteCross