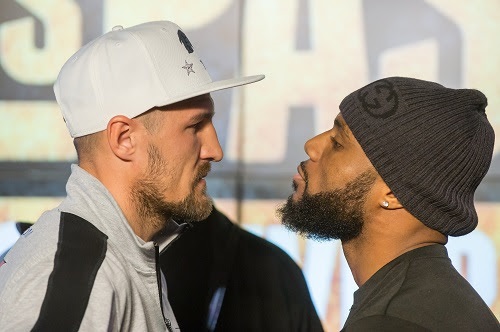 (Photo Credit: Vincent Ethier – Interbox) Sergey Kovalev, WBO, WBA and IBF Light Heavyweight World Champion
"I want to thank you. I am really excited to be here in Canada and repeat this fight again. I am really happy. I am happy to fight Saturday and show you quality boxing. I have nothing to say just watch HBO channel on Saturday night and at the Centre Bell in Montreal. It should be a very interesting fight in the ring because is going to be two good boxers. It is going to be very not a war; it is going to be a mental fight who is personal fight for me. I have nothing to say. He is not a fighter. I hope that he will bring something in the ring.
We will be great fight for boxing fans. Appreciate to all my fans worldwide and more to my Canadian fans. Montreal remind me of my hometown in Russia with the snow and the weather. Thank you so much. I will try to make shorter. See you Saturday."
Jean Pascal, Former Light Heavyweight World Champion
"Saturday night I am not just a boxer, I am a promoter. I have my boxer Joel Diaz on the card. He is my boxer. He is a rising star. Right now we have a chance to have this young lion in our backyard. He is 20-0 and is going to be 21-0 on Saturday. Don't miss his fight. The reason why I am a promoter is Kovalev said he is going to end my career. Do good on Saturday night, Diaz, because Saturday night is supposed to be the end of my career. I woke up good this morning and in a great mood. I don't want to insult anybody. I don't want to trash talk to anyone. I feel like training camp was great. I did 12 weeks: four in weeks in Canada and eight weeks in California with Freddie Roach. It was great. I had a great time in Los Angeles. The training was intense. I pushed myself beyond the limits. I woke up late this morning. I did not have breakfast. I feel hungry right now. He called me and [Adonis] Stevenson a piece of shit, because we are black. The things that Kovalev don't know yet he is going to find out Saturday night."
Kathy Duva, CEO of Main Events
"Always a pleasure to be back in beautiful Montreal. This is another tremendous event. Main Events is promoting again in cooperation with the wonderful people at Interbox. If I could do every show with them, my life would be easy. Sadly, when the bell rings on Saturday, we will not be on the same side. I want to thank HBO and Peter Nelson, without whom I would not be here today. He is the reason Sergey Kovalev got the chance he got. He has converted on that opportunity. I look forward to continue to work with them in the future. Also on the HBO telecast is a great fight between Dmitry "The Mechanic" Mikhaylenko against Karim "Hard Hitta" Mayfield. It is a 10-round fight for the vacant USBA Welterweight Title. Watching Mikhaylenko fight is just amazing. It should be a terrific fight. When you get in the ring with Mikhaylenko, it is always a challenge. I would also like to thank our Russian sponsors, Rosneft and Myakhov Vodka. Thank you all for welcoming us the way you do. It is always a pleasure to come to Montreal."
"I just have one question for Pascal, where did you get those sparkly sneakers because I need a pair."
Jean Bedard, President of Interbox
"I would like to welcome everybody to Montreal. Who knows what we can expect on Saturday? I would like to thank Peter Nelson and HBO. Peter, I know you have big plans for Sergey in the future, but I think you will have to go back to the drawing board on Monday. I would like to thank Main Events and Kathy Duva. We have the same culture as them and that is to bring the best fights to the fans. Thank you Sergey Kovalev and his team for coming back to Montreal."
Peter Nelson, Executive Vice President, HBO Sports
"Thank you Kathy. Jean [Bedard], to your point, I am keeping my Monday morning schedule open. I am excited to see what happens on Saturday. I want to thank the fighters for taking this high-risk, high-reward fight. This is our first World Championship Boxing event of 2016. Thank you to Jean Bedard and Kathy Duva. Kathy, between exporting Arturo Gatti to the United States and importing Sergey Kovalev to Canada, I don't know if this makes you an honorary citizen or an enemy of the state here in Canada. To Kathy's point about Sergey Kovalev, we are not the ones toiling for years, sacrificing to train and develop these fighters, to earn their opportunity to be on HBO. Sergey did it the hard way. Jean Pascal has never turned down a challenge. We are excited and looking forward to a terrific event."
Egis Klimas, Manager of Sergey Kovalev
"Welcome to circus for free. We want to thank Canadian fans. This is a beautiful country and beautiful city. All of this talking is nothing. Pascal has a reason to be scared. He didn't know the last time how hard Sergey can punch. He is more scared than the first time. We can't blame Jean Pascal because he is scared. I don't know why boxing always brings a war. It is still a spot it isn't a war zone. We came to compete. Saturday is going to be a good fight."
John David Jackson, Trainer of Sergey Kovalev
"Thank you very much. It is good to be here in Montreal once again. The fans are very warm and welcoming people. There is a lot I can say about Jean Pascal. He expressed his true colors. Sergey may say things that may come out the wrong way. If he was racist, I wouldn't be in his corner. Marc [Ramsay] isn't here because he told you [Pascal] will get knocked out this fight again."
Freddie Roach, Trainer of Jean Pascal
"Thank you. We have had a really great training camp. Working very, very hard. His weight is good. Everything is spot on. I would like to wish Sergey Kovalev and John David Jackson the best of luck. We are ready and we are going to war."
Dr. Robert Schinke, Pascal's Sports Psychologist
"This is not about us, it is about the boxers. They are precious resources. Jean is a world class performer who always takes the best of opponents. Sergey Kovalev is the best of opponents and we respect him to the utmost. There has been a lot of verbal sparring in the last few weeks; it is going to be a war. We prepared well for it. Pascal is prepared. He has a full eight weeks of preparation with Freddie Roach. In the past, he has picked up the very skills he has needed to. He is happy to be back for this second fight. We believe he is fully capable and we will see Saturday night that our assessment is spot on."
HBO BOXING RINGS IN THE NEW YEAR WITH THE INTERNATIONAL SHOWDOWN WORLD CHAMPIONSHIP BOXING®: SERGEY KOVALEV VS.
JEAN PASCAL II AND DMITRY MIKHAYLENKO VS. KARIM MAYFIELD, PRESENTED FROM MONTREAL SATURDAY, JAN. 30
HBO Boxing's flagship program kicks off 2016 with a highly anticipated light heavyweight title rematch when WORLD CHAMPIONSHIP BOXING: SERGEY KOVALEV VS. JEAN PASCAL II AND DMITRY MIKHAYLENKO VS. KARIM MAYFIELD is seen SATURDAY, JAN. 30 at 9:45 p.m. (live ET/tape-delayed PT) from the Bell Centre in Montreal, exclusively on HBO. The HBO Sports broadcasting team will call the action, which will be available in HDTV, closed-captioned for the hearing-impaired and presented in Spanish on HBO Latino.
Other HBO playdates: Jan. 31 (9:30 a.m.) and Feb. 1 (11:30 p.m.)
HBO2 playdate: Feb. 2 (11:30 p.m.)
Undefeated Sergey "Krusher" Kovalev (28-0-1, 25 KOs) of Kopeysk, Russia, now living and training in Los Angeles and Ft. Lauderdale, defends his light heavyweight crown for the second time against Jean Pascal (30-3-1, 17 KOs) of Quebec, Canada, in a scheduled 12-round bout. The 32-year-old Kovalev, who owns one of the highest knockout percentages in boxing and is among the fiercest punchers, has been a force in the 175-pound division, beating ring legend Bernard Hopkins in a unification bout, as well as knocking out Nathan Cleverly and Cedric Agnew prior to his fiercely contested victory over Pascal in March 2015. His name appears on virtually every list that ranks the sport's pound-for-pound aces.
After losing to Kovalev via technical knockout, Pascal, 33, rebounded with a decision win against Yunieski Gonzalez in Las Vegas last July and now seeks victory before a hometown Montreal crowd. The fight marks Kovalev's eighth appearance on HBO and Pascal's sixth.
The opening bout features undefeated welterweight prospect Dmitry Mikhaylenko (20-0, 9 KOs) of Gelendzhik, Russia, and San Francisco's Karim Mayfield (19-2-1, 11 KOs) in a 147-pound contest set for 10 rounds. Mikhaylenko's opponent was originally slated to be Ray Robinson, but an injury suffered in an automobile accident caused Robinson to withdraw. Mayfield hopes to upset Mikhaylenko's plans to fast-track up the ladder in the deeply talented welterweight division.
HBO's flagship "World Championship Boxing" series marks its 44th year in 2016, while HBO Boxing presented its 1,000th fight last year.
Follow HBO boxing news at hbo.com/boxing, on Facebook at facebook.com/hboboxing and on Twitter at twitter.com/hboboxing.
All HBO boxing events are presented in HDTV. HBO viewers must have access to the HBO HDTV channel to watch HBO programming in high definition.
The executive producer of WORLD CHAMPIONSHIP BOXING is Rick Bernstein; producer, Dave Harmon; director, Johnathan Evans.
® WORLD CHAMPIONSHIP BOXING is a registered service mark of Home Box Office, Inc.