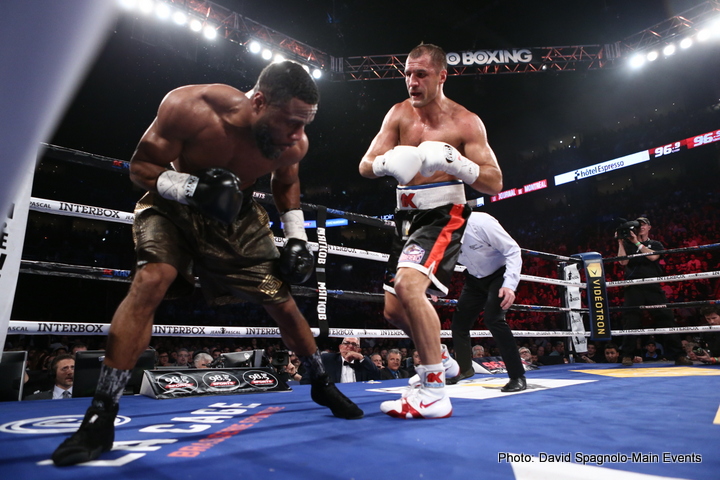 The undefeated WBA, IBF, and WBO light heavyweight champion of the world Sergey "Krusher" Kovalev promised before the bout to severely punish Jean Pascal and he did just that for seven one-sided rounds after which Pascal's trainer Freddie Roach mercifully stopped the bout and saved Pascal from taking anymore unnecessary punishment. Kovalev retained his world titles with the seventh round technical knockout victory and improved to 29-0-1, 26 KOs while Pascal dropped to 30-4-1, 17 KOs, at the Bell Centre in Montreal, Canada.
"No, I don't like rematches, but this was a personal fight because Pascal was a special person," said Kovalev. "I mean, he's not polite with anybody around him and don't respect fighters. Anybody he don't respect, believe me. When I'm in Montreal, everyone said to me, 'Kick his ass.'"
Kovalev displayed his strong dislike of Pascal from the opening bell as he dominated the first round and appeared to knockdown Pascal from a powerful jab to the head; however, referee Michael Griffin incorrectly ruled it a slip. Kovalev continued to press the action for the next two rounds as he landed pretty much whatever he wanted and connected on several powerful combinations that had Pascal covering up and back peddling. Pascal landed a couple of big left hooks as he engaged Kovalev in a good back and forth action at the end of the third, which ended up being his best round.
Pascal seemed to be affected by the heavy punishment that he absorbed in the early going because for the next four rounds he barely threw any punches and was badly staggered on several occasions by Kovalev who couldn't miss. Kovalev almost ended the bout in the fifth round as he connected on a devastating right hook and then unload numerous punches on a defenseless Pascal who was barely standing at the end of their encounter. The fight was going so badly for Pascal that Roach, who was working in Pascal's corner for the first time, wanted to stop the fight after the fifth and sixth round; however, both times Pascal convinced Roach to allow him to continue to fight. After the seventh round in which Pascal didn't threw many punches and took more punishment, Roach had seen enough and stopped the bout. Kovalev was up 70-62 on all three scorecards at the time of the stoppage and scored a 10-8 round in the fifth without scoring a knockdown.
"I would fight more rounds and make him more pain and punish him more," said Kovalev. "Oh, wait, they stopped the fight before the eighth round. I don't respect him at all."
Kovalev looked extremely impressive as he put on a flawless performance. He displayed powerful jabs and left and right hooks that accurately landed and he dealt a great deal of punishment on Pascal who offered very little offensive output in return. Kovalev easily destroyed Pascal in a much easier fashion than was expected. According to CompuBox statistics, Kovalev threw more shots, (412 to 108), out landed Pascal (165 to 30), and connected on more power punches (78 to 16).  Kovalev ended this bout earlier than their previous encounter in March of last year when he scored an eighth round technical knockout over Pascal, in a bout that was a great deal more competitive than this one. If Kovalev wanted to, he probably could have ended this fight even earlier than the seventh round because he punished Pascal on the ropes and then back off and then do it again. He demonstrated that he was more content on prolonging the fight and punishing Pascal then ending it, which probably had a lot to do with their hostile name calling toward one another leading up to this rematch.  
"Kovalev, you did a better job tonight," said Pascal. "He's a great champion. I'll be back. Don't worry, guys. I love you and thank you very much."
This victory kept the hopes of Kovalev fighting one of the best pound for pound fighters in the world Andre Ward in the autumn. This would be an extremely intriguing bout that would feature two of the best fighters in the sport and give boxing fans a good indication just how good Kovalev really is. Ward will fight Sullivan Barrera on March 26th in a battle of undefeated fighters in Ward's second bout in the light heavyweight division after spending most of his career in the super middleweight weight class. There is also the extremely unlikely chance that he could finally face off against WBC and lineal light heavyweight world title holder Adonis Stevenson, the only other great matchup left for Kovalev in this division, at some point in the future. Stevenson stormed into the ring after the bout and challenged Kovalev to a fight after Kovalev called him a chicken; however, Stevenson has done everything he can to avoid fighting Kovalev.
Pascal meanwhile displayed a tremendous heart as he endured a great deal of punishment in this bout, a swollen left eye and nose that might have been broken, yet he refused to quit even when Roach wanted him to. He'll have to figure out how to get back to the top of the top of light heavyweight division after losing for the second time in his last three fights and the other bout he won against Yunieski Gonzalez was a fight that many individuals thought he lost. Pascal's great chin, grit, and skills will most likely get him another significant bout in the division in the near future and there is no shame in losing to one of the better fighters in the sport, especially when he lasted much longer than most of his opponents.